Like a breath of fresh ocean air, the announcement made by Captain Kate McCue was a wave of excitement for the crew of Celebrity Edge.
In a show of exceptional leadership, she revealed that the hardworking employees would be staying in balcony staterooms, much to the delight of officers, attendants, and all those who call the ship their home away from home.
This well-deserved reward allows them to experience the ship's amenities and live like guests for a while. It's a dream come true for the crew of Celebrity Edge.
Key Takeaways
Crew members on Celebrity Edge live like guests and enjoy ship amenities, creating a unique experience.
Working on the ship presents challenges such as long hours and being away from loved ones.
Balcony staterooms are provided as a reward for hard work, offering a comfortable space to relax and recharge.
Overcoming challenges at sea requires adaptability, resilience, and teamwork, with a strong sense of community and utilization of onboard resources.
The Unique Experience of Working on Celebrity Edge
Working on Celebrity Edge provides a unique experience as I get to live like a guest and enjoy the amenities of the ship. As a cruise ship employee, I face challenges that come with the job, such as long hours and being away from loved ones for months.
It's similar to being a doctor on call, always ready to serve the guests. Maintaining work-life balance at sea can be a struggle, but the opportunity to live like a guest is a well-deserved reward for our hard work.
We are provided with balcony staterooms, allowing us to experience the ship's amenities and temporarily change our living arrangements. It's a chance to relax and recharge before continuing to fulfill our duties onboard.
Creating a Home Away From Home
Staying in the balcony staterooms has allowed me to create a comfortable and welcoming space aboard the ship.
Balancing work life has always been a challenge for cruise ship employees, but the impact of the pandemic has made it even more difficult.
We work long hours, live on board, and are away from our loved ones for months at a time.
The uncertainty and concerns surrounding the coronavirus have added to our worries about our family's safety and health.
However, being able to live like guests in the balcony staterooms is a well-deserved reward for our hard work.
It gives us the opportunity to experience the ship's amenities and create a temporary home away from home.
Despite the challenges, we continue to work diligently to ensure that the ship is running smoothly.
Overcoming Challenges at Sea
Overcoming the challenges at sea has required adaptability, resilience, and teamwork from all of us on board. It's not always easy being away from loved ones for months on end, but we find ways to stay connected and support each other.
Here are three key ways we have overcome isolation and maintained our mental health:
Building a strong sense of community: Despite being from different parts of the world, we have come together as a tight-knit family. We support and uplift each other through daily interactions, shared meals, and even impromptu celebrations.

Engaging in activities and hobbies: Finding ways to stay occupied and entertained is crucial. Whether it's participating in onboard sports tournaments, attending dance classes, or joining book clubs, we make an effort to engage in activities that bring us joy and keep our minds stimulated.

Utilizing onboard resources: Our ship provides various resources to help us cope with the challenges of isolation. We have access to counseling services, wellness programs, and even virtual communication tools to stay connected with our loved ones back home.
Overcoming isolation and maintaining our mental health requires constant effort and support. But together, we navigate the sea with resilience and a strong sense of unity.
Celebrating the Hard Work and Dedication
I'm grateful for the opportunity to experience the amenities of the ship and live like a guest in the balcony staterooms. It truly is a well-deserved reward for the hard work and sacrifices made by the cruise ship employees.
These dedicated individuals work long hours, away from their loved ones for months at a time, similar to doctors on call. The uncertainty surrounding the current situation with the Coronavirus only adds to their concerns for their family's safety and health.
However, despite these challenges, the importance of leadership and appreciation in the workplace cannot be overstated. Captain Kate McCue's announcement, where she demonstrated true leadership, received applause from officers, attendants, and employees.
It is important to recognize and celebrate the hard work and dedication of these employees who continue to work diligently to ensure that everything runs smoothly on the ship.
Exploring the Ship's Luxurious Amenities
Exploring the ship's luxurious amenities is an incredible experience that allows me to indulge in the finer things aboard. From the moment I step foot on the Celebrity Edge, I am transported into a world of luxury and comfort. Here are some of the amazing features that I get to enjoy:
The Spa: A tranquil oasis where I can unwind and pamper myself with rejuvenating treatments.

The Pool Deck: A sprawling area with multiple pools and hot tubs, perfect for soaking up the sun and relaxing.

The Fine Dining Restaurants: A culinary haven offering a variety of exquisite cuisines prepared by world-class chefs.

The Theater: A state-of-the-art venue where I can immerse myself in captivating performances and Broadway-style shows.

The Rooftop Garden: A breathtaking outdoor space filled with lush greenery, live music, and cozy seating areas.
As a crewmember, I'm grateful for these amenities that allow me to escape the demands of work and enjoy moments of pure bliss on the ship.
Building Relationships With Crewmembers From Around the World
Building relationships with crewmembers from different countries is an enriching experience that broadens my understanding of diverse cultures and fosters a sense of unity onboard the ship.
As we work together day in and day out, we learn to appreciate our differences and find common ground. It's fascinating to hear stories from my colleagues about their home countries, their traditions, and their perspectives on life.
We share meals, laughter, and memorable moments that create lasting bonds. However, being away from loved ones for months at a time can be challenging. Thankfully, technology allows us to maintain communication with our families and friends back home.
We cherish every call, video chat, and message, knowing that our loved ones are safe and healthy. Building cross-cultural relationships while staying connected to our loved ones is what makes our time onboard the ship truly special.
The Impact of the Coronavirus on Crew Life
Navigating the uncertainty of the Coronavirus outbreak has brought about significant changes to my daily routines and concerns as a cruise ship employee. The emotional well-being of myself and my fellow crew members has become a top priority.
With the threat of the virus looming, support systems have been put in place to help us cope with the stress and anxiety. Regular check-ins with onboard counselors and access to mental health resources have been provided to ensure that we are taking care of ourselves. It's comforting to know that we have someone to turn to during these challenging times.
Additionally, the company has implemented new safety measures and protocols to protect our physical health, further alleviating some of our worries. While the situation remains uncertain, having these support systems in place helps us feel more secure and allows us to focus on our work, knowing that our well-being is being looked after.
Balancing Work and Personal Life on the Ship
After discussing the impact of the coronavirus on crew life, let's now delve into the topic of balancing work and personal life on the ship. As a crew member on the Celebrity Edge, maintaining mental health and coping with isolation are crucial aspects of our daily lives.
Creating a routine: To maintain a sense of normalcy, many of us establish daily routines that involve exercise, hobbies, and connecting with loved ones back home.
Finding support: We rely on our fellow crew members for support and camaraderie. Whether it's through organized activities or simply spending time together during breaks, having a strong support system is essential.
Making the most of downtime: While work keeps us busy, we also make sure to take advantage of our downtime to relax and recharge. Whether it's enjoying the ship's amenities or exploring the ports we visit, we find ways to make the most of our free time.
The Rewards of Living in Balcony Staterooms
Experiencing the comfort and luxury of the balcony staterooms is truly a rewarding perk of being part of the ship's crew. These spacious and well-appointed rooms have a positive impact on crew morale and well-being.
Transitioning from regular crew quarters to these balcony staterooms, however, does come with its challenges and adjustments. We go from tight and shared spaces to having our own private oasis, complete with a stunning ocean view right outside our door. It's a welcome change that allows us to relax and recharge after long hours of work.
The balcony staterooms also provide us with an opportunity to experience the ship's amenities like never before. We can unwind on our own balcony, enjoying the fresh sea breeze and soaking up the sun. It's a temporary change in living arrangements that truly feels like a well-deserved reward for our hard work.
Celebrity Edge: A Dream Come True for Crew Members
Living in balcony staterooms on the Celebrity Edge has been an amazing experience. The rewards of having our own private space and being able to enjoy the ship's amenities have been incredible. But what truly makes this ship a dream come true for crew members is the camaraderie we have built with one another.
Working and living on a cruise ship can be challenging. We are away from our loved ones for months at a time and work long hours. It's like being on call, similar to doctors. But despite the challenges, the sense of community and support among the crew is remarkable.
To emphasize the importance of crew camaraderie, here is a table showcasing the challenges we face and the support we provide each other:
| Challenges of Long Term Ship Life | Crew Camaraderie |
| --- | --- |
| Months away from loved ones | Emotional support |
| Long working hours | Collaboration |
| Uncertainty due to Coronavirus | Unity |
| Concerns for family's safety | Friendship |
| Communication worries | Encouragement |
We rely on each other for emotional support, collaboration, unity, friendship, and encouragement. The crew on the Celebrity Edge truly feels like a family, making this dream at sea even more special.
Frequently Asked Questions
What Is the Daily Schedule Like for Cruise Ship Employees on Celebrity Edge?
The daily schedule for cruise ship employees on Celebrity Edge is filled with various routines and challenges at sea. From long hours of work to being away from loved ones, it's a demanding yet rewarding experience.
How Do Cruise Ship Employees Stay Connected With Their Loved Ones While Working on the Ship?
Staying connected at sea is a challenge, but it's vital for our mental health. We have access to internet and phones, allowing us to communicate with loved ones. It's a lifeline that keeps us grounded amidst the vastness of the ocean.
How Are the Concerns and Uncertainty Surrounding the Coronavirus Addressed for Crew Members?
Addressing concerns and managing uncertainty for crew members during the pandemic is essential. Communication with loved ones is possible, but worries persist. The crew deserves recognition and reward for their hard work and dedication amidst the ongoing challenges.
What Type of Work Do Cruise Ship Employees on Celebrity Edge Perform?
Cruise ship employees on Celebrity Edge perform a variety of job responsibilities, including housekeeping, food service, entertainment, and guest services. These career opportunities on cruise ships offer a unique and exciting work environment.
How Do Crew Members on Celebrity Edge Maintain a Work-Life Balance While Living on the Ship?
Maintaining work-life balance on a cruise ship can be challenging. Coping with isolation is a constant struggle. However, finding time for self-care, connecting with colleagues, and utilizing ship amenities can help in achieving a healthier balance.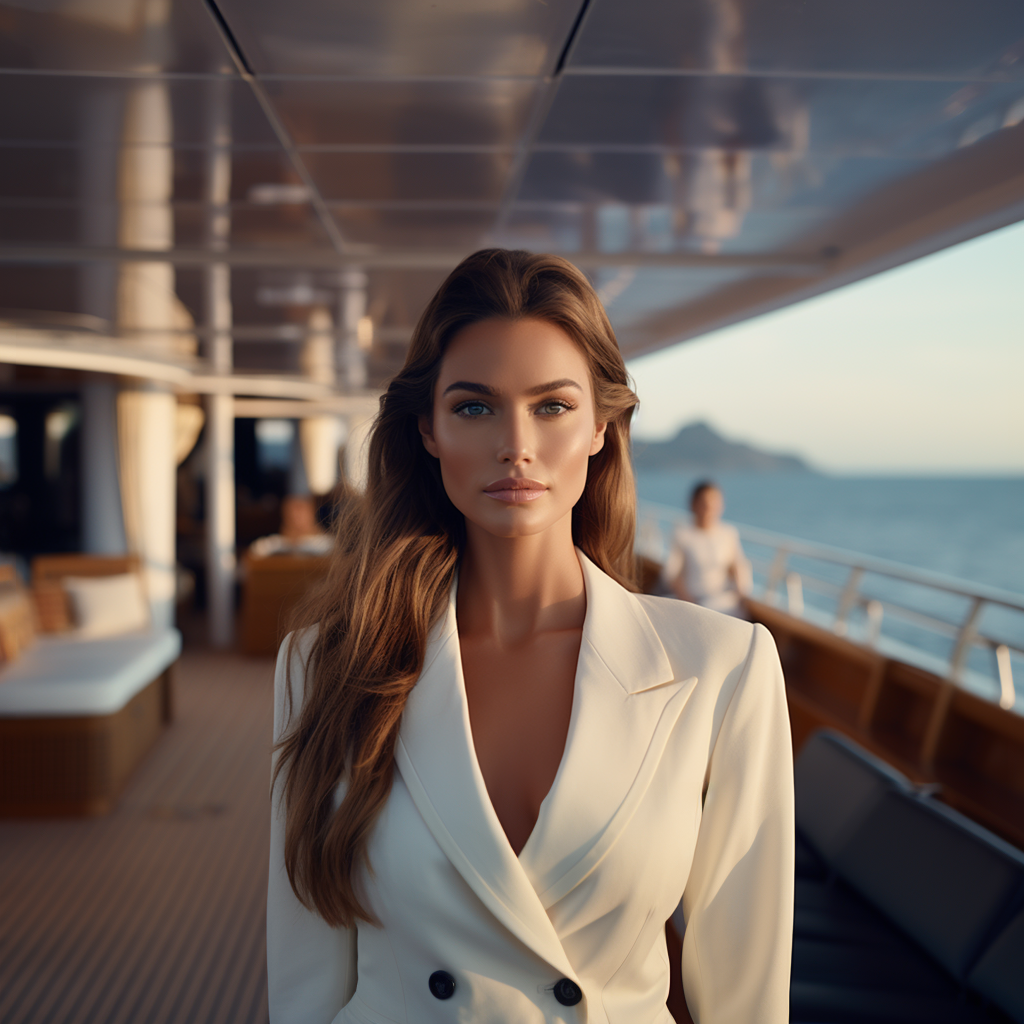 Claire, a creative soul with an unquenchable thirst for storytelling, is an integral part of the Voyager Info team. As a dedicated writer, she weaves captivating narratives that transport readers to enchanting cruise destinations and beyond.
Claire's love affair with writing began at an early age when she discovered the magic of words and their ability to craft worlds and emotions. Her innate curiosity led her to explore various literary genres, but it was travel writing that truly captured her heart. Drawing inspiration from her own globetrotting adventures and encounters with diverse cultures, Claire embarked on a journey to become a travel writer par excellence.