Have you ever dreamed of embarking on a truly luxurious and unforgettable cruise experience?
Well, look no further than the relaunch of Crystal Serenity, the stunning luxury cruise ship managed by AK Travel Group.
With redesigned suites, award-winning dining options, and rejuvenating public spaces, Crystal Serenity is ready to welcome guests for a new era in cruising.
As the CEO of AK Travel Group, I am thrilled to invite you aboard this magnificent vessel as we set sail on incredible itineraries, indulge in spa treatments at the Aurora Spa, and savor delectable cuisine.
Get ready for a voyage like no other on Crystal Serenity!
Key Takeaways
Crystal Serenity has been relaunched with redesigned suites, specialty dining restaurants, and restorative public spaces.
The ship can accommodate 740 guests and is the first of two ships returning to the water this summer.
Crystal Serenity will sail to Northern Europe, the Americas, and embark on a 2024 World Cruise.
Two new guest room categories, Jr. Crystal Penthouse Suite and Single Guest Room with Ocean View, are available on Crystal Serenity.
The Revamped Crystal Serenity: A Luxurious Cruise Experience
I'm excited to experience the revamped Crystal Serenity. It promises a truly luxurious cruise experience with its redesigned suites, award-winning dining options, and restorative public spaces.
The ship's revamped amenities provide guests with a heightened level of comfort and elegance. The redesigned suites offer spacious accommodations and modern furnishings, ensuring a relaxing and enjoyable stay onboard.
The award-winning dining options cater to a variety of culinary preferences. From Japanese-Peruvian cuisine at Uma Uma to Italian dishes at Osteria DOvidio, there is something to satisfy every palate.
Crystal Serenity is known for its exceptional service. The dedicated staff members go above and beyond to ensure that guests have a memorable and enjoyable cruise experience. Whether it's attending to your needs in the suites or providing top-notch service in the dining venues, the crew is committed to delivering exceptional service at every turn.
Unveiling the New Suites and Dining Options on Crystal Serenity
The redesigned suites and diverse dining options aboard the ship offer guests a truly luxurious and indulgent experience.
The Crystal Serenity has undergone suite enhancements to provide guests with unparalleled comfort and elegance. From the Single Guest Room with Ocean View, featuring a spacious bedroom and butler service, to the Sapphire Veranda Suite with a private veranda and ample space, the guest rooms on Crystal Serenity cater to every need. The Junior Crystal Penthouse Suite takes luxury to another level with separate dining and living areas and personalized butler service.
Additionally, Crystal Serenity offers a range of culinary delights with its eleven dining options. Whether you're craving Japanese-Peruvian cuisine at Uma Uma, Italian dishes at Osteria DOvidio, or poolside favorites at Trident Grill, there's something to satisfy every palate.
Indulge in the delectable offerings aboard Crystal Serenity and experience a truly unforgettable journey.
Crystal Serenity Itineraries: Explore the World in Style
Embarking on exciting voyages, Crystal Serenity will take me to a variety of captivating destinations. From Northern Europe to the Americas, including Canada and Colombia, the ship offers an array of itineraries that allow travelers to explore the world in style.
One highlight is the 2024 World Cruise, which spans 125 nights and visits 29 countries and 62 destinations. Departing from either San Diego or Miami, this extraordinary journey promises an unforgettable experience.
From the picturesque landscapes of Northern Europe to the vibrant cultures of the Americas, Crystal Serenity's destinations offer something for every traveler. Whether it's the majestic beauty of Iceland or the colorful streets of Cartagena, the ship's itineraries ensure a truly immersive and memorable adventure.
Indulge in Relaxation at the Aurora Spa on Crystal Serenity
Indulging in relaxation at the Aurora Spa on Crystal Serenity promises a rejuvenating experience with its serene ambiance and array of luxurious treatments. The spa boasts a stunning illuminated fiber optic starlight ceiling, creating a tranquil atmosphere. The use of organic materials, such as natural salt crystal and silk brushed slate stone, adds to the spa's soothing environment.
Guests can choose from a variety of indulgent treatments, including signature facials, massages, and salon services. The Aurora LED and Cryo Facial Experience is a unique offering that combines advanced technology with rejuvenating effects. Additionally, the Biotec 2.0 is available for those seeking cutting-edge skincare treatments.
One of the spa's highlights is the Aurora Stone Signature Massage, which utilizes hot stones to provide deep muscle relaxation. Serenity's spa amenities truly cater to those seeking ultimate relaxation and pampering.
Culinary Delights: Dining Experiences on Crystal Serenity
I can't wait to try the Japanese-Peruvian cuisine at Uma Uma on Crystal Serenity. This unique fusion cuisine is one of the many gourmet dining experiences offered on the ship. Crystal Serenity boasts a total of eleven dining options, ensuring that guests have a wide variety of culinary delights to choose from.
One of the highlights is Uma Uma, where the flavors of Japan and Peru come together to create a truly memorable dining experience. To give you a taste of what to expect, here is a sample menu from Uma Uma:
| Starter | Main Course | Dessert |
| --- | --- | --- |
| Tiradito Nikkei | Miso Glazed Black Cod | Matcha Cheesecake |
| Salmon Tiradito | Wagyu Beef | Yuzu Tart |
| Ceviche Mixto | Sushi Rolls | Green Tea Tiramisu |
Whether you're a sushi lover or eager to try something new, Uma Uma offers a unique fusion of flavors that will leave you wanting more. Crystal Serenity truly offers gourmet dining experiences at sea.
Frequently Asked Questions
What Safety Measures Are Being Implemented on Crystal Serenity in Response to the COVID-19 Pandemic?
Safety protocols and health measures have been implemented on Crystal Serenity in response to the COVID-19 pandemic. These measures include enhanced cleaning and sanitation procedures, onboard medical staff, pre-boarding health screenings, and social distancing measures throughout the ship.
Can Guests Bring Their Own Alcoholic Beverages Onboard Crystal Serenity?
No, guests are not allowed to bring their own alcoholic beverages onboard Crystal Serenity. The ship offers a wide range of dining options and a 24-hour in-suite dining service where guests can enjoy a variety of beverages.
Are Pets Allowed on Crystal Serenity?
Pets are not allowed on Crystal Serenity. The ship does not permit guests to bring their pets onboard. This policy ensures the comfort and safety of all passengers during their cruising experience.
What Types of Entertainment Options Are Available on Crystal Serenity?
Crystal Serenity offers a variety of entertainment options. Guests can enjoy live performances, including music, dancing, and theater shows. The ship also has a casino for those who enjoy gaming and trying their luck.
Are There Any Age Restrictions for Guests on Crystal Serenity?
Yes, there are age restrictions for guests on Crystal Serenity. While children are welcome, the ship primarily caters to adults seeking luxurious amenities. The onboard experience offers a range of activities and facilities for guests of all ages.
Conclusion
To sum it up, the relaunch of Crystal Serenity has brought forth a new era in cruising.
With its redesigned suites, award-winning dining options, and rejuvenating public spaces, this luxury cruise ship offers an unforgettable experience.
Whether you choose to explore Northern Europe, the Americas, or embark on the 2024 World Cruise, you'll be treated to exceptional service and breathtaking destinations.
And let's not forget the indulgent Aurora Spa and the tantalizing culinary delights available onboard.
Crystal Serenity truly paints a picture of luxury and adventure on the high seas.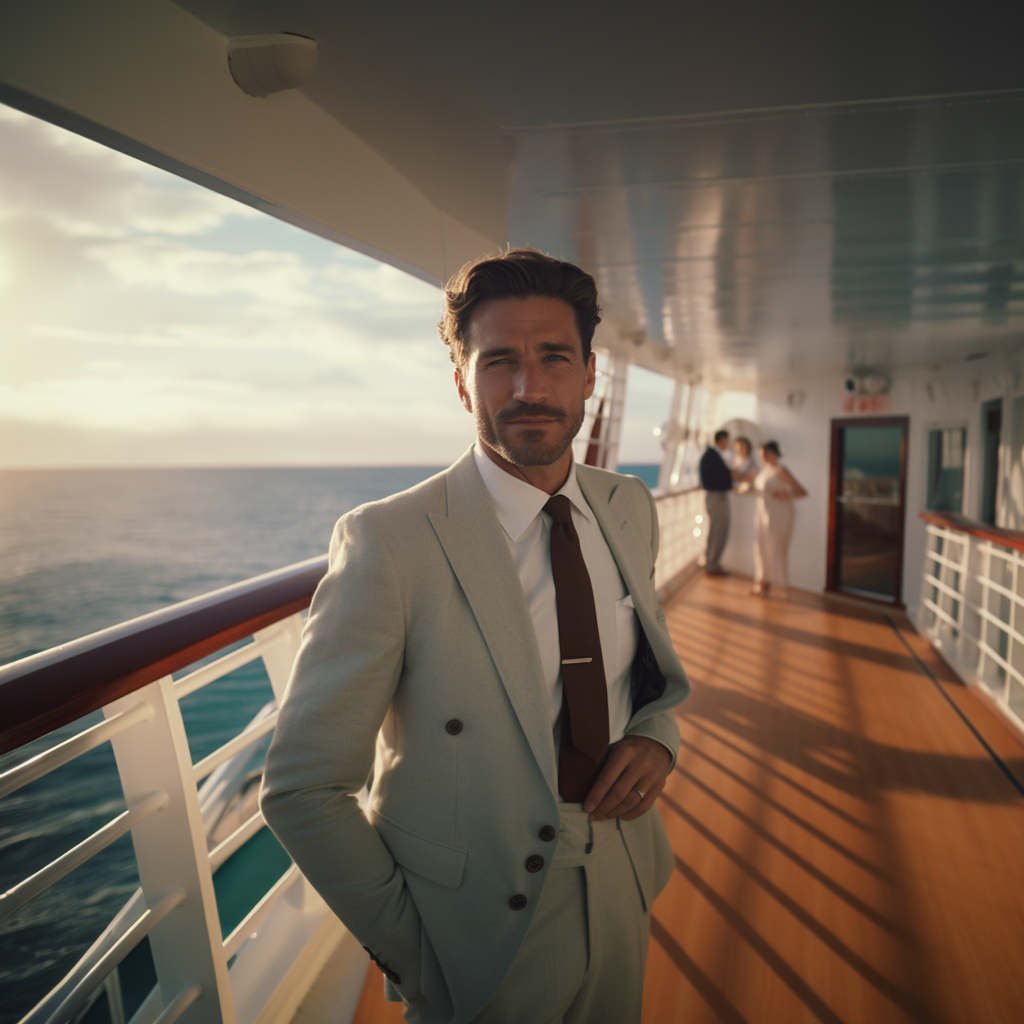 Alfons is the visionary leader and driving force behind Voyager Info's success. As the Editor in Chief, he brings a wealth of experience and an unwavering passion for travel to the helm of our cruise-centric platform.
With a lifelong fascination for exploring new horizons, Alfons discovered his love for the ocean and cruising at a young age. From sailing across pristine Caribbean waters to embarking on daring expeditions to far-flung destinations, he has amassed a treasure trove of first-hand experiences in the world of cruising.