I've just discovered the most incredible luxury hybrid cruise ship called World Navigator. This stunning vessel combines intrepid exploration with lavish amenities, making it the perfect choice for adventure-seeking travelers who crave a touch of luxury.
With spacious suites, delectable locally-inspired cuisine, and a SeaSpa by LOCCITANE, this ship truly has it all. Equipped with zodiac boats, jet skis, paddleboards, and kayaks, you can embark on thrilling adventures right from the ship.
And with a pool, hot tubs, gym, library, and observation deck, relaxation and entertainment are never far away.
Get ready to experience the ultimate blend of luxury and adventure on World Navigator.
Key Takeaways
World Navigator is a hybrid power vessel that combines intrepid exploration with luxury.
The ship offers spacious suites with balconies or hidden balconies, as well as suites with separate sitting areas and bathtubs.
Guests can enjoy regionally inspired cuisine in the ship's main dining room, Portuguese-inspired eatery, and unique chophouse experience.
The ship provides various entertainment options, including lectures and expedition cruises, performances by former Broadway actors, and a dome lounge for evening entertainment.
The Concept of a Luxury Hybrid Cruise Ship
I love the concept of a luxury hybrid cruise ship like World Navigator, where intrepid exploration is mixed with luxurious amenities.
The concept of eco-friendly cruising is becoming increasingly important in today's world, and it's refreshing to see a ship that embraces sustainable travel. World Navigator's hybrid power vessel not only reduces emissions, but also allows for quiet and smooth sailing, minimizing its impact on the environment.
The ship's commitment to sustainability extends beyond its power source, with locally-inspired gourmet cuisine that focuses on using fresh, seasonal ingredients sourced from local communities.
From the spacious suites to the SeaSpa by LOCCITANE, every aspect of World Navigator exudes luxury while being mindful of its ecological footprint.
This fusion of luxury and sustainability creates a truly unique and unforgettable cruising experience.
Unveiling the World Navigator: A Blend of Luxury and Adventure
Exploring the unveiling of this new vessel, I am amazed by the perfect blend of adventure and high-end experiences on the World Navigator. This luxury hybrid cruise ship offers a unique blend of luxury and exploration that is truly unparalleled.
Hybrid Power Vessel: The World Navigator is a cutting-edge hybrid power vessel, combining sustainability with performance for a truly unique cruising experience.
Intrepid Exploration Mixed with Luxury: This ship offers intrepid exploration opportunities, allowing passengers to discover the world's most remote and captivating destinations, all while enjoying luxurious amenities and accommodations.
Spacious Suites: The World Navigator features spacious suites, each beautifully appointed with separate sitting areas and bathtubs, ensuring the utmost comfort for passengers.
Locally-Inspired Gourmet Cuisine: Indulge in regionally inspired gourmet cuisine onboard, with dining options ranging from the main dining room Porto to the Portuguese-inspired eatery Alma, and a unique chophouse experience at 7Aft Grill.
Unveiling the World Navigator: A Blend of Luxury and Adventure offers a truly extraordinary experience, where guests can immerse themselves in the beauty of the world while enjoying the finest amenities and accommodations.
Exquisite Suites and Locally-Inspired Gourmet Cuisine
Indulging in the locally-inspired gourmet cuisine and experiencing the exquisite suites on board is a true delight.
The World Navigator offers a range of exquisite suite designs that cater to every traveler's preferences. From spacious suites with separate sitting areas and bathtubs to veranda and horizon rooms of varying sizes, there is something for everyone. The suites feature an art-deco style, complete with Egyptian linens and Nespresso machines for that added touch of luxury.
As for the culinary experience, the World Navigator takes pride in its locally inspired culinary creations. Guests can savor regionally inspired cuisine in the main dining room Porto, indulge in Portuguese-inspired dishes at Alma, or enjoy a unique chophouse experience at 7Aft Grill. Every meal is a feast for the senses, showcasing the flavors and ingredients of the destinations visited.
Indulge in Luxury at SeaSpa by LOCCITANE
Relaxing at SeaSpa by LOCCITANE is a rejuvenating experience that transports me to a world of serenity and bliss. The spa offers a range of luxurious amenities and treatments that cater to both my body and mind.
As I enter the spa, I am greeted by the calming aroma of essential oils and the soothing sounds of soft music. The elegant decor and tranquil atmosphere instantly put me at ease.
From indulgent massages to rejuvenating facials, SeaSpa offers a variety of treatments that leave me feeling pampered and refreshed. The expert therapists use high-quality LOCCITANE products, known for their nourishing and hydrating properties. Whether it's a deep tissue massage or a rejuvenating body scrub, each treatment is tailored to my specific needs, ensuring a truly personalized experience.
The luxurious amenities, combined with the skilled therapists and serene ambiance, make SeaSpa the perfect place to unwind and indulge in self-care.
Explore the Polar-Class Ship and Its Amenities
As I step on board the Polar-Class vessel, I am immediately drawn to its impressive amenities and luxurious accommodations.
Exploring the world-class entertainment options, I am amazed by the theater that hosts lectures and expedition cruises. The Dome Lounge provides evening entertainment with performances by former Broadway actors, all enhanced by an advanced lighting and sound system. The ship also offers a variety of entertainment options throughout the day and evening.
Discovering the luxurious staterooms and amenities, I am captivated by the spacious suites with separate sitting areas and bathtubs. The veranda and horizon rooms of varying sizes offer stunning views from the balconies or hidden balconies. The ship also features ADA-compliant quarters, each adorned with art-deco style, Egyptian linens, and Nespresso machines.
This polar-class vessel truly offers a remarkable experience in both exploration and luxury.
Relaxation and Recreation: Pool, Hot Tubs, Gym, Library, and Spa
I love spending my free time at the pool and hot tubs, working out in the gym, reading in the library, and pampering myself at the spa on deck 4.
Here are some of the highlights of these onboard amenities:
Pool and Hot Tubs:

The pool on the lido deck offers a refreshing escape from the sun.
Relax in the hot tubs while enjoying breathtaking ocean views.
The pool area is the perfect spot to socialize and unwind.

Gym and Library:

Stay active and maintain your fitness routine at the well-equipped gym.
The gym offers state-of-the-art equipment for a satisfying workout.
If you prefer a quieter activity, the library provides a tranquil space for reading and expanding your knowledge.
Whether you're seeking relaxation or a burst of energy, the pool, hot tubs, gym, and library on World Navigator cater to your needs.
Thrilling Activities: Zodiac Boats, Jet Skis, Paddleboards, and Kayaks
Exploring the thrilling activities available on deck, I can't wait to hop on the Zodiac boats, jet skis, paddleboards, and kayaks for an exhilarating adventure at sea.
The World Navigator offers an array of thrilling water activities that cater to every adventurer's desire for aquatic adventures. Whether it's exploring hidden coves on a kayak or feeling the rush of speed on a jet ski, there's something for everyone.
The Zodiac boats allow for up-close encounters with marine life, while paddleboarding provides a unique perspective of the surrounding ocean. These activities not only provide excitement and thrill, but also allow guests to immerse themselves in the beauty of the sea.
With the World Navigator, the possibilities for thrilling water adventures are endless.
Up-Close Encounters With Sea Life From the Observation Deck
After an exhilarating day of exploring the waters on Zodiac boats, jet skis, paddleboards, and kayaks, I found myself on the observation deck of the World Navigator, ready for a unique and unforgettable experience.
As I gazed out at the vast ocean, I couldn't help but feel a sense of anticipation for the marine life encounters that awaited me. The observation deck provided the perfect vantage point to spot dolphins gracefully leaping out of the water, whales breaching in the distance, and colorful schools of fish darting beneath the surface.
With binoculars in hand, I scanned the horizon, hoping to catch a glimpse of a majestic sea turtle or perhaps even a playful seal. The observation deck truly offered a front-row seat to the wonders of the ocean, allowing me to connect with nature in a way I had never experienced before.
Unforgettable Dining Experiences: Regionally Inspired Cuisine and Unique Chophouse
Savoring the regionally inspired cuisine onboard the World Navigator, the unique chophouse experience at 7Aft Grill was a highlight of my dining options.
The elegant atmosphere of the chophouse, with its dim lighting and plush seating, set the stage for an unforgettable dining experience.
As I perused the menu, I was delighted to see a variety of culinary delights, from perfectly seared steaks to succulent seafood dishes. The attention to detail was evident in every bite, with flavors that danced on my palate.
Each dish was expertly prepared, showcasing the skill and artistry of the talented chefs onboard.
The combination of exquisite flavors, impeccable service, and stunning ambiance made this dining experience truly unforgettable.
Frequently Asked Questions
What Are the Entertainment Options Available on the World Navigator Cruise Ship?
The entertainment options on board are truly impressive. There is a theater for lectures and expedition cruises, a Dome Lounge for evening entertainment, and performances by former Broadway actors. There's always something exciting happening!
How Many Staterooms Are There on the World Navigator and What Are Their Features?
There are 98 staterooms on the World Navigator cruise ship, each with balconies or hidden balconies. The staterooms feature separate sitting areas, bathtubs in the suites, and varying sizes in the Veranda and Horizon rooms. For dining options, there is regionally inspired cuisine and all-inclusive dining.
Are There Any Accessible Rooms Available on the World Navigator for Guests With Disabilities?
Yes, there are accessible room options on the World Navigator for guests with disabilities. The ship offers ADA-compliant quarters, ensuring comfortable and accommodating accommodations for all passengers.
What Kind of Performances Can Guests Expect in the Dome Lounge?
In the dome lounge, guests can expect breathtaking performances such as aerial acrobatics and live music. It's a mesmerizing experience that adds an extra touch of excitement and entertainment to the luxurious atmosphere onboard.
Is There a Music Library Available for Guests to Enjoy on the World Navigator?
Yes, there is a music library available for guests to enjoy on the World Navigator. The ship offers music streaming options and amenities, allowing guests to explore and listen to a variety of music during their voyage.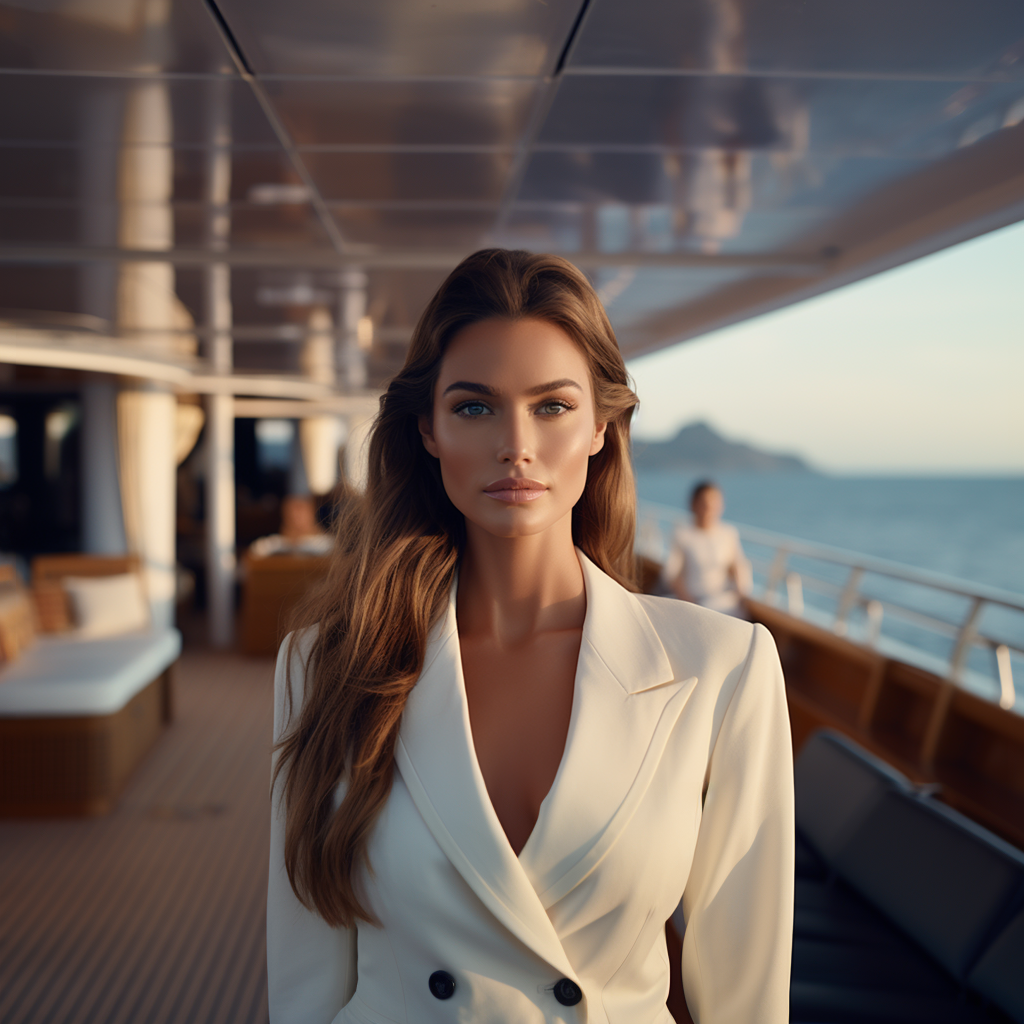 Claire, a creative soul with an unquenchable thirst for storytelling, is an integral part of the Voyager Info team. As a dedicated writer, she weaves captivating narratives that transport readers to enchanting cruise destinations and beyond.
Claire's love affair with writing began at an early age when she discovered the magic of words and their ability to craft worlds and emotions. Her innate curiosity led her to explore various literary genres, but it was travel writing that truly captured her heart. Drawing inspiration from her own globetrotting adventures and encounters with diverse cultures, Claire embarked on a journey to become a travel writer par excellence.