I've discovered a paradise that combines the best of luxury shopping, stunning beaches, and mouthwatering dining – St. Barthelemy, or St. Barth.
Picture this: strolling along the charming streets of Gustavia, surrounded by major French luxury brands, all duty-free. As you explore the boutiques on Rue De General De Gaulle, you'll find yourself torn between the allure of Shell Beach and the tranquility of St. Jean Beach.
And don't even get me started on the breathtaking views you'll discover while touring the island.
Get ready for a vacation that will indulge your senses and leave you longing for more.
Key Takeaways
St. Barthelemy offers a range of luxury shopping options, with major French luxury brands represented in Gustavia and a duty-free port with no sales or value added tax.
The island boasts beautiful beaches, including Shell Beach, St. Jean, Nikki Beach, and Salines, each offering unique features and amenities.
Touring St. Barthelemy is convenient and accessible, as no place on the island is more than a 20-minute drive, and Oscar Car Rental delivers and retrieves cars with any valid driver's license.
The dining scene in St. Barthelemy is diverse, ranging from casual options like the original Cheeseburger in Paradise location at Le Select, to luxurious experiences at the Sand Bar at Eden Rock Hotel, and reasonably priced yet delicious options at Kiki e Mo and Le Piment.
Major French Luxury Brands in Gustavia
I can't wait to explore the major French luxury brands in Gustavia while shopping in St. Barthelemy. The town is known for its high-end fashion and impeccable taste.
As I stroll down the Rue de General De Gaulle, I am surrounded by shops offering the latest luxury fashion trends. From boutiques like Victoire and Linen to Calypso and Laurent Eiffel, there is something for every style and taste.
The shopping etiquette here is refined and sophisticated. The staff is knowledgeable and attentive, ready to assist with any request. I am excited to immerse myself in the world of luxury fashion and experience the elegance of Gustavia.
It's going to be a shopping spree like no other.
Duty-Free Shopping in St. Barthelemy
While exploring St. Barthelemy, don't forget to take advantage of the duty-free shopping opportunities available. The advantages of duty-free shopping in this luxurious island are immense.
The popularity of luxury brands in St. Barthelemy is evident, with major French luxury brands represented in Gustavia. Here are five reasons why duty-free shopping in St. Barthelemy is a must:
No sales or value added tax, allowing for significant savings.
Rue de General De Gaulle, lined with shops at various price points, offers a diverse shopping experience.
Boutiques like Victoire, Linen, Calypso, and Laurent Eiffel showcase a wide range of high-end products.
The chance to shop for luxury brands without breaking the bank is a dream come true for fashion enthusiasts.
With duty-free shopping, you can indulge in the finest products without worrying about excessive costs.
Don't miss the opportunity to shop for your favorite luxury brands at unbeatable prices while enjoying the beauty of St. Barthelemy.
Lined With Shops on Rue De General De Gaulle
Walking down Rue de General De Gaulle is a delightful experience as it is lined with a variety of shops catering to different price points. The street is bustling with locals and tourists alike, creating a vibrant atmosphere. As I stroll along, I can't help but be drawn to the enticing displays in the shop windows. From high-end boutiques like Victoire and Laurent Eiffel to more affordable options like Linen and Calypso, there is something for everyone's taste and budget.
To give you a glimpse of the shopping experience on Rue de General De Gaulle, here is a table showcasing some of the popular dining spots you can find along the way:
| Dining Spot | Cuisine |
| --- | --- |
| Le Select | American |
| Sand Bar | Luxurious |
| Kiki e Mo | Reasonable |
| Le Piment | Delicious |
Whether you're in the mood for a cheeseburger in paradise at Le Select or a taste of the luxurious experience at Sand Bar, Rue de General De Gaulle has it all. So come and indulge in a shopping spree while also satisfying your taste buds at these popular dining spots.
Boutiques to Explore in St. Barthelemy
Exploring the island of St. Barthelemy, I can't wait to discover the unique boutiques that offer a variety of fashionable options for every style and taste. St. Barths is renowned for its luxury boutiques, providing an unparalleled shopping experience.
As I stroll down the charming streets of Gustavia, I am drawn to the exquisite displays and elegant storefronts that showcase the latest fashion trends. From high-end designer labels to chic local brands, these boutiques cater to the discerning shopper seeking luxury and sophistication.
The shopping experience here is elevated by the personalized service and attention to detail that are synonymous with St. Barths. I am excited to indulge in a day of retail therapy, immersing myself in the world of fashion and style that this island paradise has to offer.
Shell Beach and Its Amenities
As I make my way to Shell Beach, I can't help but admire the amenities available such as beach towels, lounge chairs, and umbrellas for rent at Shellona restaurant. The beachfront dining experience is unparalleled here, with the sound of crashing waves and the gentle sea breeze creating the perfect ambiance. The table below showcases the variety of beach amenities that Shell Beach offers:
| Amenities | Description |
| --- | --- |
| Beach towels | Soft and plush for ultimate comfort |
| Lounge chairs | Relax and soak up the sun in style |
| Umbrellas | Shade from the hot Caribbean sun |
| Drinks | Refreshing cocktails and beverages |
| Snacks | Delicious bites to satisfy your cravings |
With these beach amenities, my day at Shell Beach is sure to be unforgettable. Whether I choose to relax on a lounge chair, enjoy a refreshing drink, or indulge in a tasty snack, Shell Beach has it all. The beachfront dining experience at Shellona restaurant truly elevates the beach-going experience, allowing me to unwind and enjoy the stunning surroundings.
St. Jean Beach and Its Cove
Arriving at St. Jean Beach, I'm captivated by the protected cove and the shops that line the sandy shore. The turquoise water sparkles in the sunlight, inviting me to dive right in.
As I stroll along the beach, the scent of salty sea air fills my nostrils. I can't help but notice the array of beachfront dining options, each offering a unique culinary experience. From fresh seafood to tropical cocktails, there's something for everyone's taste buds.
The beach is buzzing with activity, with people engaging in various water sports activities. I see surfers riding the waves, paddleboarders gliding across the calm waters, and snorkelers exploring the vibrant marine life below.
St. Jean Beach truly offers a perfect blend of relaxation and adventure.
Hiking to the Beautiful Salines Beach
Hiking through the lush greenery, I can't help but be in awe of the breathtaking scenery that surrounds me on the way to Salines Beach. The hike itself is an amazing experience, as I navigate through the vibrant tropical vegetation and listen to the soothing sounds of nature.
As I reach the beach, I am greeted by crystal clear turquoise waters and soft golden sands. The beauty of Salines Beach is unmatched, with its pristine shoreline and panoramic views of the ocean. It's the perfect place to relax, soak up the sun, and take a dip in the refreshing waters.
Here are five beach activities you can enjoy at Salines Beach:
Swimming and snorkeling in the clear waters
Sunbathing on the soft sands
Picnicking and enjoying a beachside meal
Exploring the rocky outcrops and tide pools
Taking a leisurely stroll along the shoreline
Salines Beach truly offers a memorable hiking experience and a range of beach activities for everyone to enjoy.
Touring the Island for Breathtaking Views
After an invigorating hike to Salines Beach, I was ready to explore more of the breathtaking beauty that St. Barthelemy has to offer. So, I decided to rent a car and embark on a self-guided tour of the island. With no place on the island being more than a 20-minute drive away, it was the perfect way to discover hidden gems and capture stunning views.
I opted for Oscar Car Rental, a reliable company that delivered and retrieved cars right at my doorstep. The best part? They accepted any valid driver's license, making it hassle-free. As I cruised along the well-maintained roads, I marveled at the diverse landscapes, from lush hillsides to pristine beaches. One of the most picturesque driving routes was to Columbier, where panoramic vistas awaited me at every turn.
Touring the island by car allowed me the freedom to stop whenever a captivating view caught my eye. It was a truly unforgettable experience, and I highly recommend it to anyone looking to soak in the natural beauty of St. Barthelemy.
Frequently Asked Questions
What Are Some Popular Local Dining Options in St. Barthelemy?
Some popular local dining options in St. Barthelemy include Le Select, Kiki e Mo, and Le Piment. These restaurants offer unique cuisine experiences that are both reasonable and serve delicious food.
How Much Does It Cost to Rent a Car in St. Barthelemy?
Renting a car in St. Barthelemy is a convenient option. There are several rental companies to choose from, and prices can vary. Comparing costs and checking for any additional fees is essential.
What Is the Best Way to Travel to St. Barthelemy From St. Maarten?
The best way to travel to St. Barthelemy from St. Maarten is by ferry. It's a scenic journey that takes about 45 minutes and offers stunning views of the Caribbean Sea.
Are There Any Restrictions or Requirements for Driving in St. Barthelemy?
There are no restrictions or special requirements for driving in St. Barthelemy. All you need is a valid driver's license. Explore the island at your own pace and enjoy the breathtaking views.
Can You Anchor Larger Ships in Gustavia or Do They Need to Use Tenders?
Yes, larger ships cannot anchor in Gustavia and must use tenders due to anchoring restrictions. However, there are yacht services available to assist with the transportation of passengers and supplies.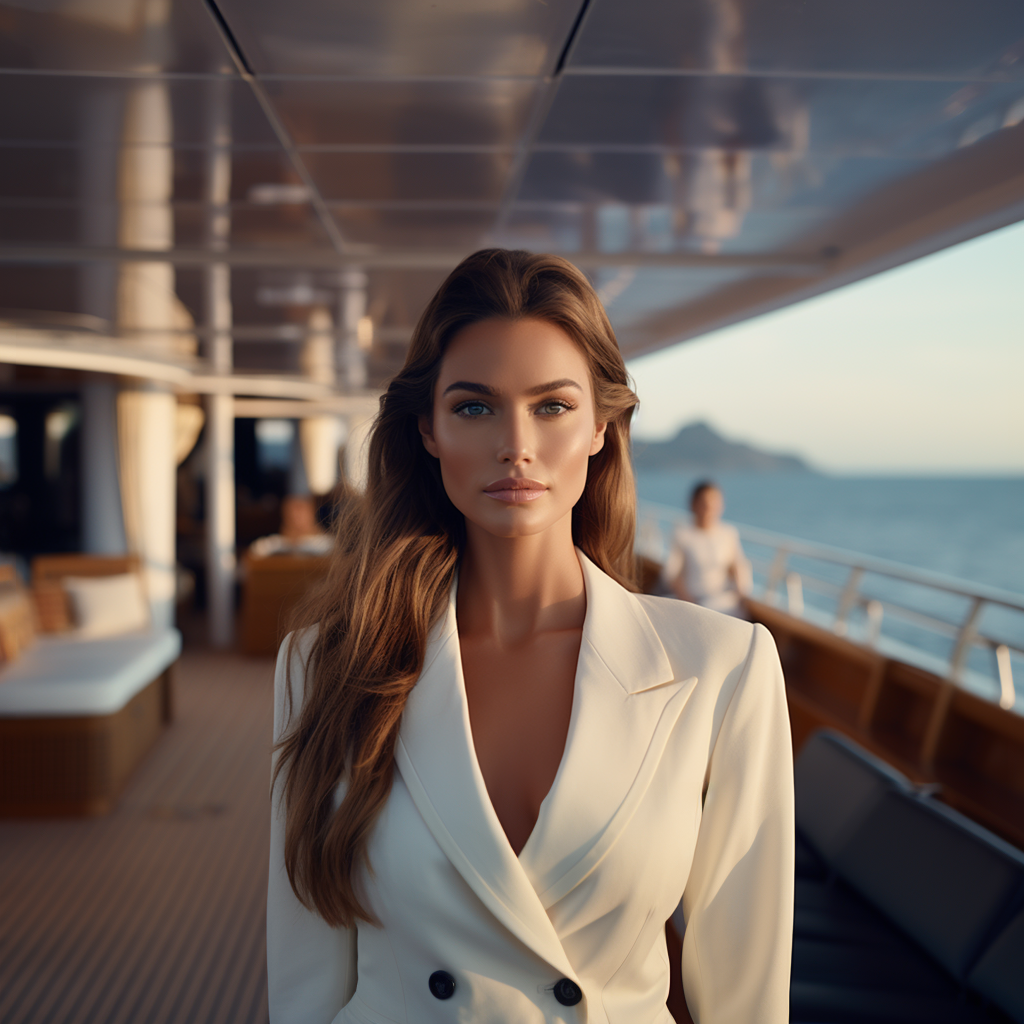 Claire, a creative soul with an unquenchable thirst for storytelling, is an integral part of the Voyager Info team. As a dedicated writer, she weaves captivating narratives that transport readers to enchanting cruise destinations and beyond.
Claire's love affair with writing began at an early age when she discovered the magic of words and their ability to craft worlds and emotions. Her innate curiosity led her to explore various literary genres, but it was travel writing that truly captured her heart. Drawing inspiration from her own globetrotting adventures and encounters with diverse cultures, Claire embarked on a journey to become a travel writer par excellence.