As I stood on the deck of Norwegian Getaway, the largest ship to ever grace Miami's shores, I couldn't help but be captivated by the stunning mermaid design adorning its exterior. Created by Miami artist LEBO, this vessel truly stands out in the bustling port. The ship's recent naming ceremony was a star-studded affair, featuring electrifying performances by Pitbull, Brooke Burke-Charvet, and Nestor Torres. As a Miami native, it fills me with pride to see Norwegian Cruise Line, the pioneers of modern cruising in our city, continuing to make waves. Join me as we explore the incredible features, amenities, and experiences awaiting passengers on board this magnificent ship.
Key Takeaways
Norwegian Getaway is the largest ship ever to homeport in Miami year-round.
The ship features a giant mermaid design created by Miami artist LEBO, reflecting the energy and tropical location of Miami.
The ship offers a new magic-focused dinner theater experience called The Illusionarium.
The ship's debut in Miami was a flashy event, featuring performances by Pitbull, Brooke Burke-Charvet, and Nestor Torres.
Arrival and Naming Ceremony of Norwegian Getaway in Miami
I was thrilled to witness the arrival and naming ceremony of Norwegian Getaway in Miami, where the ship showcased a stunning mermaid design created by Miami artist LEBO. The arrival ceremony was a grand event, filled with excitement and anticipation. As the largest ship to ever homeport in Miami year-round, Getaway holds great significance for the city. Miami is not only the home of Norwegian Cruise Line but also where they started the modern cruising industry almost 50 years ago. The city's vibrant energy and tropical location perfectly complement the ship's Miami-centric theme. The naming ceremony was a star-studded affair, featuring performances by Pitbull, Brooke Burke-Charvet, and Nestor Torres. It was a true celebration of Miami's connection to the cruise industry and the beginning of a new chapter for Norwegian Getaway.
Features and Amenities on Board Norwegian Getaway
The Illusionarium offers a unique magic-focused dinner theater experience on board. It is one of the many exciting features and amenities available on the Norwegian Getaway. Here are some of the dining options and onboard activities you can enjoy:
The Illusionarium: Immerse yourself in a world of magic and illusion while enjoying a delicious dinner. Witness mind-bending acts and tricks that will leave you in awe.

Aqua Park: Experience thrilling water slides and splash around in the Aqua Park, which is shared with the sister ship Norwegian Breakaway.

The Waterfront: Take a stroll along this ocean-view promenade lined with various restaurants and bars. Enjoy breathtaking views while savoring a delectable meal or sipping on a refreshing cocktail.

The Grammy Experience: Get ready to groove to the music at this new live music venue, hosting Grammy award-winning artists. Dance the night away to incredible performances.

Latin-focused options: Norwegian Getaway introduces new Latin-inspired music, food, and drink options. Immerse yourself in the vibrant culture and flavors of Latin America.
With these dining options and onboard activities, Norwegian Getaway promises a truly unforgettable cruise experience.
Miami-centric Design and Theme of Norwegian Getaway
Arriving at PortMiami with a stunning mermaid design created by a local artist, Norwegian Getaway showcases the vibrant energy and tropical essence of its Miami-centric theme. The ship is adorned with captivating Miami-inspired artwork that instantly transports you to the sun-soaked beaches and vibrant streets of this iconic city. As you step onboard, you can feel the tropical vibes enveloping you, setting the tone for an unforgettable cruise experience. From the moment you lay eyes on the giant mermaid design, you know you're in for a Miami-inspired adventure. The ship's interior reflects the same lively spirit, with vibrant colors, sleek designs, and a lively atmosphere. Every detail, from the decor to the entertainment options, is carefully curated to immerse guests in the Miami culture. Norwegian Getaway truly captures the essence of this vibrant city and offers a unique experience that is both exciting and memorable.
Performances and Entertainment on Norwegian Getaway
Pitbull, a Miami-based recording artist, performed at the official naming ceremony on Norwegian Getaway. The energy in the air was palpable as he took the stage and delivered an electrifying performance. His music echoed throughout the ship, captivating everyone in the audience. It was a truly unforgettable experience.
But the entertainment on Norwegian Getaway doesn't stop with Pitbull. The ship offers a wide variety of performances and shows to keep guests entertained throughout their cruise. From hit Broadway musicals like Legally Blonde to mesmerizing magic shows in The Illusionarium, there is something for everyone.
The Illusionarium, in particular, is a must-see. This magic-focused dinner theater experience will leave you in awe as you witness mind-bending illusions and tricks right before your eyes. It's an immersive and captivating show that will keep you on the edge of your seat.
Cruise Itinerary and Destinations of Norwegian Getaway
Sailing on Norwegian Getaway's weekly cruises to the Eastern Caribbean and Bahamas offers breathtaking views of the Magic City and a range of activities and amenities to enjoy onboard. Whether you choose an Eastern Caribbean cruise or a Bahamas cruise, you'll be treated to stunning turquoise waters, white sandy beaches, and vibrant island culture. The Eastern Caribbean itinerary includes stops at popular destinations like St. Thomas, Tortola, and Nassau, while the Bahamas itinerary takes you to Nassau and the private island of Great Stirrup Cay. Onboard, you can indulge in world-class dining, relax by the pool, catch a Broadway show, or try your luck at the casino. With a variety of excursions and activities to choose from, Norwegian Getaway ensures that every moment of your cruise is filled with adventure and relaxation. So, pack your bags and get ready for an unforgettable experience in the Eastern Caribbean or the Bahamas.
Dining and Culinary Experiences on Norwegian Getaway
When I stepped on board, I couldn't wait to explore the diverse dining options and culinary experiences available on Norwegian Getaway. From casual eateries to upscale restaurants, the ship offers a wide range of food options to satisfy every palate. Whether you're in the mood for a juicy burger at Jimmy Buffett's Margaritaville at Sea or a gourmet meal at the signature steakhouse Cagney's, there is something for everyone. Additionally, Norwegian Getaway hosts a variety of culinary events and experiences that are sure to delight food enthusiasts. From cooking demonstrations and wine tastings to themed dinner parties, guests can indulge in a world of flavors and culinary creations. The ship truly takes dining to a new level, making every meal a memorable experience.
Activities and Excursions on Board Norwegian Getaway
After indulging in the delectable dining options on Norwegian Getaway, it's time to explore the plethora of recreational activities and exciting excursions available on board. The ship offers something for everyone, whether you're seeking relaxation or adventure. Lounge by one of the pools and soak up the sun, or test your skills on the sports deck with activities like basketball and rock climbing. For those who crave excitement, the Aqua Park features thrilling waterslides that will get your heart racing. If you prefer sightseeing, Norwegian Getaway offers a range of excursions at each destination, allowing you to explore the beautiful Eastern Caribbean and Bahamas. From snorkeling in crystal-clear waters to exploring historic landmarks, there's no shortage of options to make your cruise an unforgettable experience.
Frequently Asked Questions
How Many Passengers Can the Norwegian Getaway Accommodate?
The Norwegian Getaway can accommodate a large number of passengers with its spacious design and numerous amenities available. It offers a variety of activities and entertainment options to ensure a memorable and enjoyable cruise experience.
What Other Cities Does the Norwegian Getaway Sail to Besides Miami?
Norwegian Getaway offers a variety of cruise destinations besides Miami. Experience incredible travel opportunities to the Eastern Caribbean and Bahamas, where you can enjoy beautiful views, exciting activities, and unforgettable travel experiences.
Are There Any Special Dining Options for Guests With Dietary Restrictions?
Yes, there are special dietary options on board. The ship offers vegan-friendly restaurants that cater to guests with dietary restrictions. These restaurants provide a variety of delicious and satisfying plant-based meals.
Can Passengers Participate in Water Sports or Other Outdoor Activities During the Cruise?
Yes, passengers can participate in a variety of water sports and outdoor recreational activities during the cruise. From swimming in the pools to kayaking or paddleboarding, there are plenty of options to stay active and have fun onboard Norwegian Getaway.
Are There Any Spa or Wellness Facilities on Board the Norwegian Getaway?
Yes, there are spa treatments and fitness classes on board Norwegian Getaway. You can indulge in various treatments like massages and facials, and participate in fitness classes to stay active during your cruise.
Conclusion
As I step off the Norwegian Getaway, I can't help but be in awe of the magnificent mermaid design that adorns its exterior. This ship truly embodies the spirit of Miami, with its vibrant colors and Miami Dolphin Cheerleaders as its godmothers. From the moment I stepped on board, I was immersed in a world of luxury and entertainment. Whether I was enjoying the magic of The Illusionarium or sliding down one of the five thrilling waterslides, there was never a dull moment. And let's not forget the delectable Latin-inspired cuisine and the Grammy award-winning artists performing live. As the ship sets sail to the Eastern Caribbean and Bahamas, I am left with memories of a truly unforgettable experience.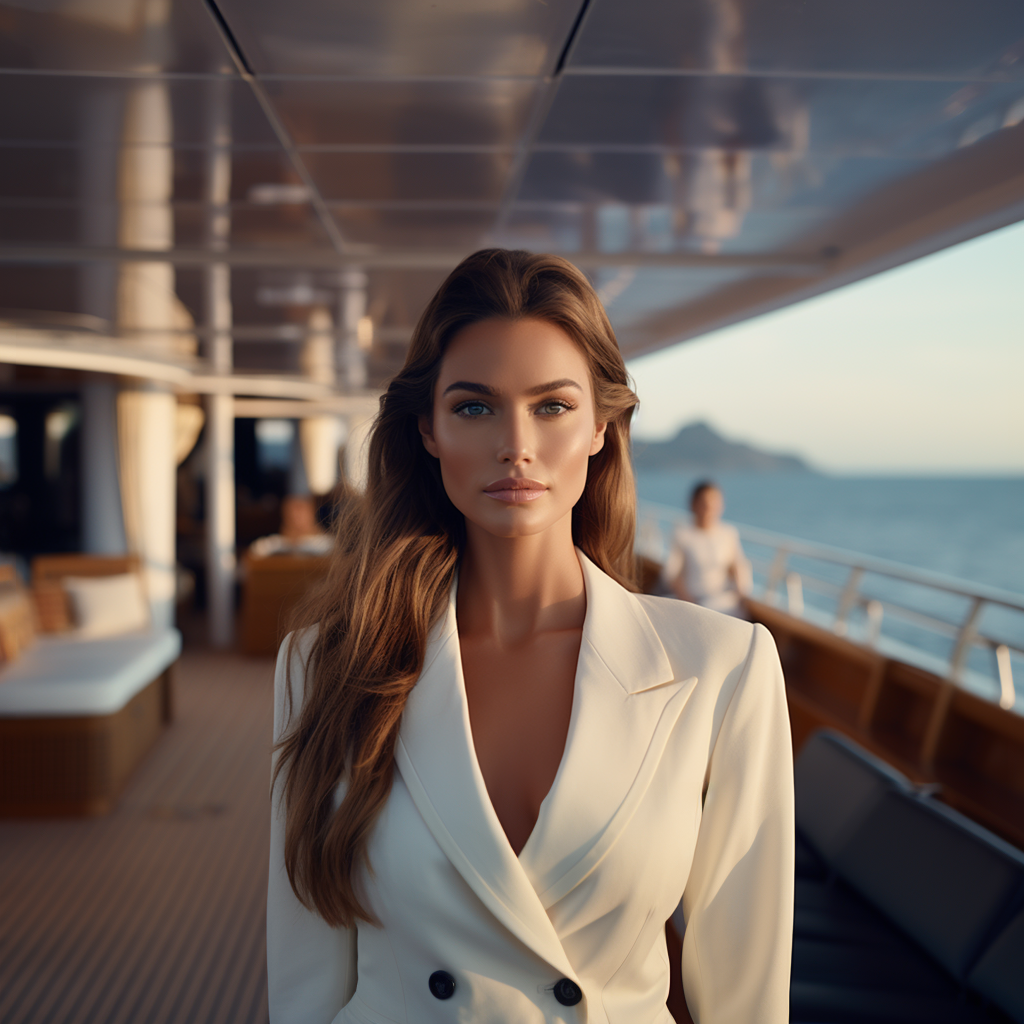 Claire, a creative soul with an unquenchable thirst for storytelling, is an integral part of the Voyager Info team. As a dedicated writer, she weaves captivating narratives that transport readers to enchanting cruise destinations and beyond.
Claire's love affair with writing began at an early age when she discovered the magic of words and their ability to craft worlds and emotions. Her innate curiosity led her to explore various literary genres, but it was travel writing that truly captured her heart. Drawing inspiration from her own globetrotting adventures and encounters with diverse cultures, Claire embarked on a journey to become a travel writer par excellence.