As a seasoned traveler, I've experienced my fair share of luxury cruises. But let me tell you, Norwegian Viva takes it to a whole new level.
From the moment you step on board, you'll be captivated by its unparalleled elegance and world-class service.
But what truly sets this ship apart are its unique features. Imagine soaring down the fastest freefall drop dry slides at sea or racing around the largest three-level racetrack.
Intrigued? Well, buckle up and get ready for an unforgettable journey on Norwegian Viva.
Key Takeaways
Norwegian Viva sets the standard for a premium cruise experience, focusing on wide open space, guest-centered service, thoughtful design, and exceeding expectations.
The ship offers quality dining, entertainment, and relaxation, with the highest staffing levels and space ratio in the contemporary and premium cruise categories.
Norwegian Viva features unique amenities such as The Haven by Norwegian, the fastest freefall drop dry slides at sea, the largest three-level racetrack at sea, and Ocean Boulevard, a 44,000 square foot outdoor walkway.
The ship incorporates environmental technology to reduce its environmental impact, including a NOx reduction system, an exhaust gas cleaning system, advanced wastewater treatment system, and cold ironing functionality.
Unparalleled Luxury and Service
I am amazed by the unparalleled luxury and service offered on Norwegian Viva. It truly makes for an exceptional cruise experience. From the moment I stepped on board, I was greeted with unmatched opulence and a warm smile. The attention to detail and the level of service provided by the staff was beyond compare. They anticipated my every need and went above and beyond to ensure my comfort and satisfaction.
Whether it was the personalized greetings, the exquisite dining options, or the pampering spa treatments, every aspect of the cruise was designed to provide an exceptional experience. Norwegian Viva truly sets the standard for exceptional service, making me feel like a VIP every step of the way.
Spacious Design and Thoughtful Layout
With its wide open spaces and thoughtful layout, the ship sets the standard for a premium cruise experience. Every aspect of the design has been carefully considered to create a guest-centered service that exceeds expectations. From the moment you step on board, you are greeted by a sense of spaciousness and elegance. The ship's layout is intuitive, making it easy to navigate and explore all the amenities it has to offer. The thoughtful design extends to every corner of the ship, from the quality dining venues to the relaxing entertainment spaces. Whether you're enjoying a meal at one of the 11 eateries in the Indulge Food Hall or racing down the fastest freefall drop dry slides at sea, you'll be surrounded by a sense of luxury and comfort. The ship's wide open spaces and thoughtful layout truly make it a premium cruise experience.
| | | |
| --- | --- | --- |
| Spacious Design | Thoughtful Layout | Guest Centered Service |
| ————————— | ————————— | ————————— |
| Wide open spaces | Intuitive navigation | Exceeding expectations |
| ————————— | ————————— | ————————— |
The Prima Class Experience
Experiencing the Prima Class on the Norwegian Viva is like stepping into a world of luxury and innovation. The amenities and exceptional onboard service truly set this experience apart. Here are five reasons why the Prima Class is a must-try:
Impeccable service: From the moment you step onboard, the attentive and friendly staff go above and beyond to make your cruise unforgettable.

Lavish accommodations: The Prima Class offers a range of elegant suites, each designed with comfort and style in mind. Picture yourself relaxing in a spacious and beautifully appointed room.

Gourmet dining: Indulge in a culinary journey with a variety of high-quality dining options. From fine dining restaurants to casual eateries, there is something to satisfy every palate.

Unparalleled entertainment: Prepare to be entertained with world-class shows, live music, and a vibrant nightlife scene. The Prima Class offers a wide range of entertainment options to suit every taste.

Relaxation at its finest: Whether you choose to unwind at the luxurious spa or soak up the sun by the pool, the Prima Class provides the perfect environment for relaxation and rejuvenation.
Get ready to be pampered and delighted as you embark on a Prima Class journey on the Norwegian Viva.
Unmatched Dining and Entertainment Options
Indulging in a variety of high-quality dining options and being entertained by world-class shows and live music are just a few of the reasons why the dining and entertainment options on the Norwegian Viva are unmatched.
The ship offers interactive dining experiences that will delight your taste buds and engage all your senses. From extravagant buffets to intimate fine dining, there is something for everyone's palate. The culinary team on board is dedicated to providing exceptional service and creating memorable dining experiences.
And when it comes to entertainment, the Norwegian Viva truly shines. With world-class entertainment offerings, including Broadway-style shows, live music performances, and comedy acts, there is never a dull moment on this ship. Get ready to be entertained like never before as you sail to your dream destinations.
The Haven by Norwegian: A Ship-within-a-Ship Concept
I'm amazed by The Haven by Norwegian, a ship-within-a-ship concept that offers premium suites and exclusive amenities.
The Haven amenities are truly exceptional, providing a luxurious and personalized experience for discerning travelers. From the moment you step into The Haven, you are greeted with impeccable service and a sense of exclusivity.
The Haven suite options are diverse, ranging from spacious staterooms to extravagant penthouses, each designed with elegance and comfort in mind.
As a Haven guest, you have access to a private courtyard, complete with a pool, hot tub, and sun deck, where you can unwind in tranquility.
Additionally, you can enjoy exclusive dining venues, a dedicated concierge, and priority embarkation and disembarkation.
The Haven by Norwegian truly sets a new standard for luxury cruising.
Thrilling Onboard Adventures: The Rush and The Drop
Racing down the fastest freefall drop dry slides at sea, The Rush and The Drop offer thrilling onboard adventures for adrenaline-seeking guests. These heart-pounding slides at sea are sure to get your heart racing and provide an exhilarating experience like no other.
As you slide down, the rush of wind in your face and the excitement in your veins create an unforgettable moment. The feeling of weightlessness as you plummet down is truly exhilarating.
These exciting water adventures are a must-try for anyone looking for an adrenaline rush on their cruise vacation. Whether you're an experienced thrill-seeker or just looking to step out of your comfort zone, The Rush and The Drop are guaranteed to provide an unforgettable and exciting experience at sea.
Unleash Your Need for Speed: Viva Speedway
After experiencing the heart-pounding thrills of The Rush and The Drop, it's time to unleash your need for speed at Viva Speedway. This three-level racetrack is the largest at sea, offering racing excitement and an adrenaline rush like no other. Strap into a high-speed go-kart and navigate hairpin turns, straightaways, and chicanes as you compete against fellow passengers for the checkered flag.
To give you a taste of the exhilaration that awaits, take a look at this table showcasing the key features of Viva Speedway:
| Feature | Description |
| --- | --- |
| Length | 1,000 feet |
| Levels | Three |
| Capacity | Up to 10 go-karts per race |
| Speed | Top speeds of up to 30 miles per hour |
Whether you're a seasoned racer or a first-timer, Viva Speedway promises an unforgettable experience that will leave you craving for more. So, rev up your engines and get ready for the ride of a lifetime.
Ocean Boulevard: A Spectacular Outdoor Walkway
Walking along Ocean Boulevard is like strolling through a captivating outdoor oasis with its expansive 44,000 square feet of space and breathtaking views of the sea. It's a place where you can truly immerse yourself in the beauty of nature while enjoying all the amenities of a premium cruise experience.
Here are three reasons why Ocean Boulevard is a must-visit destination on Norwegian Viva:
Design Collaboration: The outdoor walkway on Norwegian Viva is not just any ordinary space. It is a result of a design collaboration between renowned architects and designers, including the Rockwell Group, SMC Design, and Studio Dado. Their expertise and creativity have transformed Ocean Boulevard into a visually stunning and functional area.

Variety of Activities: Ocean Boulevard offers a wide range of activities to suit every guest's preferences. Whether you want to take a leisurely stroll, enjoy a refreshing drink at one of the outdoor bars, or simply relax and soak in the stunning views, this outdoor walkway has something for everyone.

Connection to the Sea: One of the most enchanting aspects of Ocean Boulevard is its direct connection to the sea. As you walk along the outdoor walkway, you'll feel the gentle breeze and hear the soothing sound of the waves crashing against the ship's hull. It's a truly immersive experience that allows you to feel closer to nature and appreciate the beauty of the ocean.
Indulge Food Hall: A Culinary Delight at Sea
I can't wait to explore the culinary delights of the Indulge Food Hall on Norwegian Viva. This onboard dining destination offers a wide range of options, ensuring culinary diversity and gourmet cuisine for every taste. The Indulge Food Hall is a vibrant space, buzzing with energy and aromas that entice your senses. As you step inside, you'll be greeted by a beautifully designed area with a variety of eateries to choose from. Let me paint a picture for you:
| Eateries | Cuisine |
| --- | --- |
| La Piazza | Italian |
| Le Boulangerie | French |
| The Street Food Market | Global street food |
| The Grill | Classic burgers |
| Ocean Blue | Seafood |
| The Sweet Shop | Desserts |
From traditional Italian dishes at La Piazza to mouthwatering French pastries at Le Boulangerie, the Indulge Food Hall offers a culinary journey around the world. Whether you're in the mood for street food or savoring a juicy burger, you'll find it all in this culinary haven. And don't forget to satisfy your sweet tooth at The Sweet Shop, where decadent desserts await. Norwegian Viva truly knows how to cater to food lovers with its diverse and gourmet dining options.
Frequently Asked Questions
What Are the Alternative Technologies Used on Norwegian Viva to Reduce Environmental Impacts?
On Norwegian Viva, we prioritize environmental sustainability with alternative technologies. These include a NOx reduction system, an Exhaust Gas Cleaning System, an Advanced Wastewater Treatment System, and Cold Ironing functionality while in port.
Who Designed the Hull Art for Norwegian Viva?
The hull art for Norwegian Viva was designed by Italian artist Manuel Di Rita, also known as Peeta. His artistic vision brings a unique and captivating aesthetic to the cruise ship, enhancing the overall experience for guests.
How Many Guests Can Norwegian Viva Accommodate at Double Occupancy?
Norwegian Viva can accommodate up to 3,219 guests at double occupancy. It also incorporates alternative technologies, like the NOx reduction system and Advanced Wastewater Treatment System, to minimize its environmental impact.
Which Company Is Building the Norwegian Viva?
Fincantieri is building the Norwegian Viva, a premium cruise experience. With their expertise, they are constructing a ship that will set new standards in the industry.
What Are the Different Suite Categories Available on Norwegian Viva?
Norwegian Viva offers a wide range of suite categories, providing guests with luxurious cabin amenities and a variety of dining options. From spacious suites to exclusive amenities, there's something for everyone on this premium cruise experience.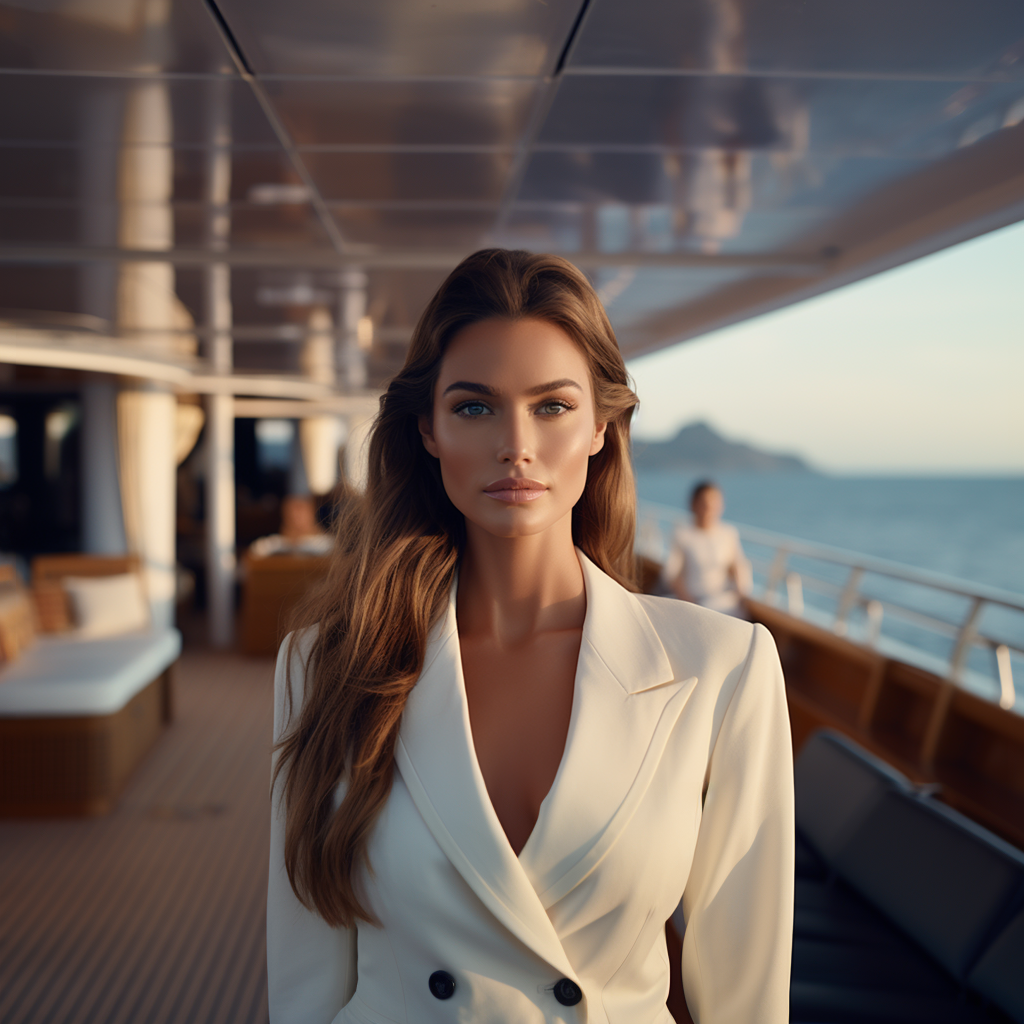 Claire, a creative soul with an unquenchable thirst for storytelling, is an integral part of the Voyager Info team. As a dedicated writer, she weaves captivating narratives that transport readers to enchanting cruise destinations and beyond.
Claire's love affair with writing began at an early age when she discovered the magic of words and their ability to craft worlds and emotions. Her innate curiosity led her to explore various literary genres, but it was travel writing that truly captured her heart. Drawing inspiration from her own globetrotting adventures and encounters with diverse cultures, Claire embarked on a journey to become a travel writer par excellence.