As a travel enthusiast, I am always on the lookout for unique and captivating experiences.
Imagine cruising through England's enchanting waterways, surrounded by the splendor of historic castles and mansions.
Well, look no further! With Regal Barging, you can embark on a truly regal adventure aboard the Magna Carta.
Picture this: a champagne welcome, gourmet meals paired with international wines, and guided tours of iconic landmarks like Hampton Court Palace and Windsor Castle.
It's a six-day immersion into British pageantry that you won't want to miss.
Key Takeaways
The Magna Carta, a luxurious barge, offers a regal experience of British Royalty on lightly traveled UK waterways.
The Barge Lady Cruises provides a sophisticated and elegant experience with champagne welcome, gourmet meals, and guided tours of historical sites.
The barge cruise offers gastronomic celebrations with exquisite meal presentations and carefully paired international wines.
Barging allows for a leisurely exploration of England's waterways, visiting prominent castles and experiencing authentic Royal life.
Discovering Historic Castles and Mansions
I can't wait to explore the historic castles and mansions on this regal barge cruise through England's waterways. The thought of immersing myself in the rich history and stunning architecture is truly exciting.
The guided tours will provide a fascinating insight into the lives of the royals who once inhabited these grand estates. From the imposing walls of Hampton Court Palace, once home to King Henry VIII, to the elegant halls of Windsor Castle, I will have the opportunity to walk in the footsteps of kings and queens.
The intricate details and magnificent craftsmanship of these historic buildings will surely leave me in awe. This barge cruise promises to be a journey through time, where I can discover the stories behind these remarkable castles and mansions.
Sailing on the Magna Carta: A Regal Experience
Guests aboard the Magna Carta can indulge in a champagne welcome and gourmet meals served nightly while sailing on the UK's lightly traveled waterways. This regal barge offers a truly luxurious experience, with sleek design and refined accommodations fit for royalty.
As I stepped aboard, I was immediately welcomed with a glass of champagne, setting the tone for the exquisite journey ahead. Each evening, I was treated to gourmet meals that were a gastronomic celebration, expertly paired with international wines. The staff provided exceptional service, making me feel like a queen.
The leisurely barge life allowed me to relax in the hot tub or lounge on the open deck, taking in the picturesque scenery. Sailing on the Magna Carta was a truly royal experience, immersing me in the beauty of England's waterways.
Indulging in Gourmet Delights on the Barge Lady Cruise
Indulging in the gourmet delights on the Barge Lady Cruise was an exquisite culinary experience that left me craving for more. The gourmet dining experiences on the cruise were truly exceptional, with each meal being a celebration of culinary delights. Here are some highlights:
The meals were thoughtfully prepared and presented by Chef Carl Sherwin, who created exquisite dishes that delighted both the eyes and the taste buds.

Every evening, we were treated to sumptuous dining, where the flavors of the carefully selected ingredients came together harmoniously.

The staff provided a level of service fit for royalty, ensuring that every meal was a memorable experience.

International wines were expertly paired with each course, enhancing the dining experience even further.

From breakfast to dinner, the barge cruise offered a gastronomic adventure that showcased the best of gourmet cuisine.
The Barge Lady Cruise truly exceeded my expectations when it came to culinary delights, and I can't wait to experience it again.
Luxuriating in the Leisurely Barge Life
Relaxing in the hot tub and enjoying the open deck while cruising on the barge provides a leisurely and immersive experience of the British countryside. The gentle breeze rustles through my hair as I recline on the deck, soaking up the picturesque views of rolling green hills and quaint villages passing by. It's the perfect opportunity to unwind and let the stress of everyday life melt away.
As I sip a glass of local ale, I can't help but feel a sense of contentment. The barge takes us to charming pubs along the way, where we can mingle with the friendly locals and sample traditional British fare. It's a chance to truly immerse myself in the culture and traditions of this beautiful country.
The table below showcases some of the delightful pubs we get to visit during our barge cruise:
| Pub Name | Location | Specialties |
| --- | --- | --- |
| The Red Lion | Windsor | Fish and Chips |
| The Crown Inn | Cookham | Sunday Roast |
| The Boat House | Runnymede | Ploughman's Lunch |
| The King's Arms | Oxford | Real Ales |
| The Barge Inn | Clivedon Estate | Homemade Pies |
With each visit, I not only indulge in delicious food and drink, but also engage in conversations with locals, learning about their traditions and way of life. It's these moments that make the barge life truly special, as I get to relax on the open deck and experience the rich tapestry of British culture.
Immerse Yourself in British Pageantry on a Barge Holiday
Immersing myself in the rich traditions and grandeur of British pageantry, I am transported to a world of majestic castles, historic palaces, and iconic landmarks as I embark on a barge holiday through the UK's scenic waterways.
The experience is not only about leisurely cruising; it is about embracing barging etiquette and immersing oneself in royal traditions. From the moment I step aboard the barge, I am greeted with the utmost respect and courtesy, just as royalty would be.
The crew guides me through the customs and protocols of barge life, ensuring that I navigate the waterways with grace and elegance. As I cruise past magnificent castles and stately homes, I am reminded of the long-standing royal traditions that have shaped British history.
It is a truly regal experience, where every moment is steeped in tradition and grandeur.
Exploring Oxford's Famous Colleges on the Waterways
As we continue our regal barge holiday, one of the highlights is exploring Oxford's famous colleges from the waterways.
The serene beauty of Oxford's colleges is truly captivating when viewed from the water. Gliding along the river, I am able to appreciate the stunning architecture and lush green surroundings that make these colleges so renowned.
From the prestigious Christ Church College to the iconic Magdalen College, each institution exudes a sense of history and intellectual excellence.
As I capture the beauty of Oxford's colleges from the waterways, I can't help but imagine the countless scholars who have walked these hallowed grounds.
It's a truly immersive experience, allowing me to appreciate the rich heritage and academic prestige that Oxford represents.
Unveiling England's Waterways: A Regal Adventure
While cruising along England's picturesque waterways, I am constantly amazed by the hidden gems and breathtaking landscapes that unfold before my eyes.
One of the most regal adventures I experienced was on the Magna Carta, a luxurious barge offered by Barge Lady Cruises. Sailing on this majestic vessel was like stepping into a fairytale of British Royalty. The Magna Carta, with its sleek design and refined accommodations, made me feel like a true queen.
The journey took me to prominent castles and mansions, including a visit to Highclere Castle from Downton Abbey. The barge also offered a taste of British gastronomy, with gourmet meals and carefully paired wines.
As I lounged on the open deck, navigating the river, I couldn't help but feel like royalty myself.
Barging with Barge Lady Cruises on the Magna Carta was truly a journey through royalty.
Frequently Asked Questions
What Is the Cost of a Regal Barging Experience in England?
The cost of a regal barging experience in England can vary depending on the package. Regal barging packages offer a luxurious and immersive exploration of England's waterways, providing a unique and unforgettable holiday.
Are There Any Age Restrictions for Guests on the Magna Carta Barge?
Yes, there are age restrictions for guests on the Magna Carta barge. The barge offers accessibility options for a comfortable experience. The details can be obtained from the barge's website or by contacting their customer service.
Can Guests Request Specific Dietary Accommodations on the Barge Lady Cruise?
Yes, guests can request specific dietary accommodations on the Barge Lady Cruise. The staff is attentive to dietary restrictions and can create exquisite meal presentations tailored to individual needs.
Is There a Dress Code for the Evening Activities on the Barge?
There's no need to fret about dress codes on the barge. Evenings are filled with enchanting activities, where you can dress comfortably and enjoy the royal treatment.
Are There Any Additional Activities or Excursions Available During the Barge Cruise?
During the barge cruise, there are additional activities and excursions available for guests to enjoy. These include guided tours of Hampton Court Palace and Windsor Castle, as well as visits to Clivedon Estate and the village of Cookham.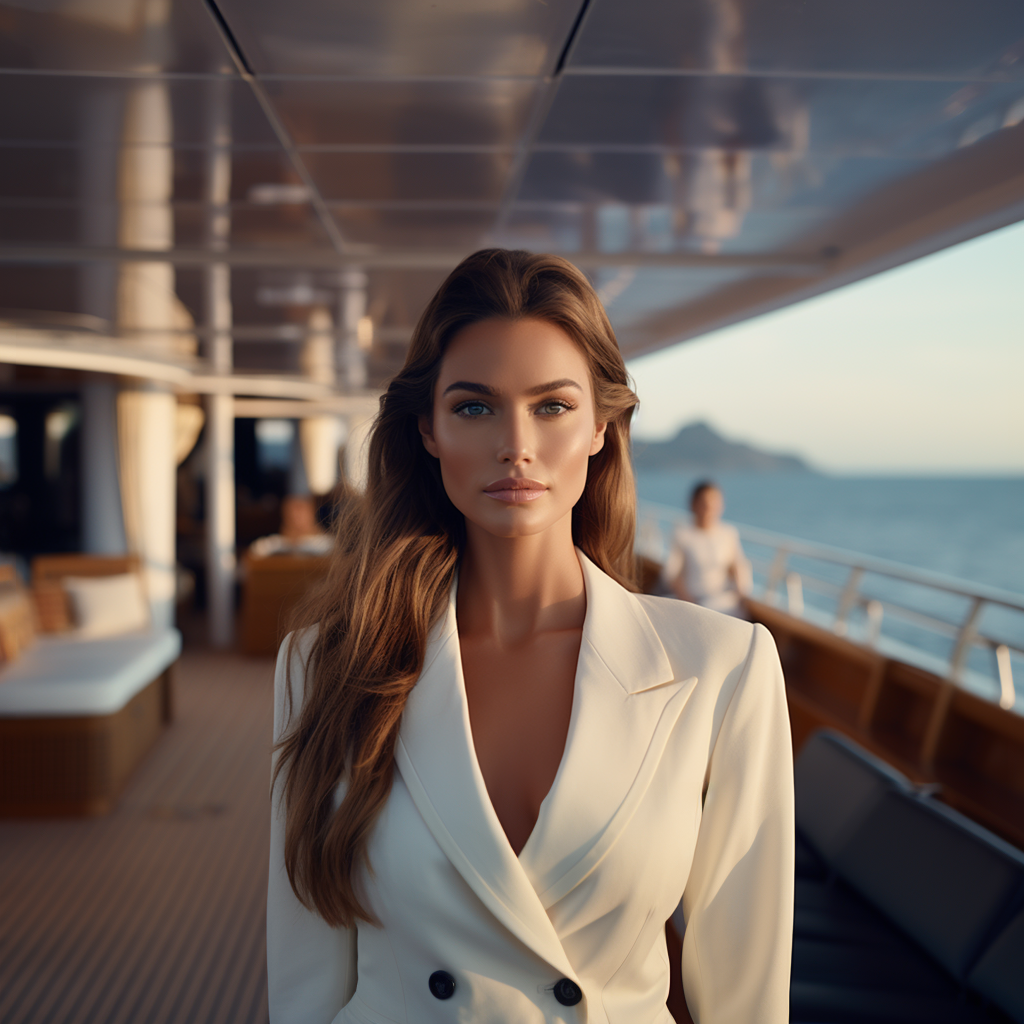 Claire, a creative soul with an unquenchable thirst for storytelling, is an integral part of the Voyager Info team. As a dedicated writer, she weaves captivating narratives that transport readers to enchanting cruise destinations and beyond.
Claire's love affair with writing began at an early age when she discovered the magic of words and their ability to craft worlds and emotions. Her innate curiosity led her to explore various literary genres, but it was travel writing that truly captured her heart. Drawing inspiration from her own globetrotting adventures and encounters with diverse cultures, Claire embarked on a journey to become a travel writer par excellence.