I can't wait to set sail on my dream cruise vacation!
But before I embark on this exciting adventure, I need to know exactly what's included and not included in my cruise fare.
From the comfort of my cabin to the delicious food options and thrilling entertainment, I want to make sure I have all the information I need to plan my budget.
So, let's dive in and explore what's included and what's not in my cruise fare!
Key Takeaways
Cabin is included in the fare but amenities vary depending on cruise line and cabin type.
Buffet offers a wide selection of international dishes, while specialty restaurants come at an additional cost.
Free shows and entertainment are included, but paid activities such as go-karts and simulated skydiving are available for an extra charge.
Gratuities, spa treatments, and extra activities like go-karts and roller coasters are not included in the cruise fare and require separate payment.
Cabin and Accommodations
The cabin is included in the fare, so I don't have to worry about any extra charges for my room. It's great to know that I can enjoy a comfortable and cozy space without any additional costs.
The cabin amenities vary depending on the cruise line and the type of cabin chosen. Typically, cabins come with standard features such as a bed, storage space, a private bathroom, and a television. Some higher-end cabins may offer additional amenities like a balcony, mini-fridge, or even a butler service.
As for room service options, many cruise lines offer 24-hour room service, allowing passengers to order food and beverages directly to their cabin. It's a convenient option for those who prefer dining in the privacy of their own room.
Food and Dining Options
I love the variety of food options available on a cruise, from the buffet to the main dining room.
The buffet is a great option for those who want a wide selection of dishes to choose from. They usually offer a range of cuisines, including international dishes, salads, soups, and desserts. It's a casual dining experience where you can try a little bit of everything.
On the other hand, specialty restaurants are a more upscale option. These restaurants often have a specific theme or cuisine, such as Italian, steakhouse, or seafood. While these restaurants come at an additional cost, they provide a more intimate and gourmet dining experience.
Whether you prefer the variety of the buffet or the elegance of the specialty restaurants, there are plenty of dining options to satisfy every palate on a cruise.
Entertainment and Activities
With a wide range of entertainment shows, activities, and movies, there is never a dull moment on a cruise ship. Here are some key things to know about the entertainment and activities on board:
Free shows: Cruise ships offer a variety of free entertainment shows, including Broadway-style performances, live music, comedy shows, and magic acts. These shows are included in the fare and provide great entertainment for guests of all ages.

Paid activities: While many activities on the ship are included in the fare, there are also some paid activities available for an additional charge. These can include go-karts, simulated skydiving, and even roller coasters. These activities offer a unique and thrilling experience for those looking for a little extra excitement on their cruise.
Additional Charges and Gratuities
When it comes to additional charges on a cruise, it's important to be aware of the cost of specialty restaurants and gratuities. Specialty restaurants offer a more upscale dining experience and usually have a cover charge. These restaurants offer a variety of cuisines and are a great option for a special night out. Gratuities, on the other hand, are the service charges that are automatically added to your onboard account. These charges typically amount to around $15 per person, per day, and are distributed among the ship's staff. It's important to budget for these charges as they are not included in the cruise fare. Additionally, spa treatments and services are not included in the fare and also come with an additional cost. So, be sure to factor in these extra charges when planning your cruise budget.
| Additional Charges | Description | Cost |
| --- | --- | --- |
| Specialty Restaurants | Upscale dining options | Varies |
| Gratuities | Service charges | $15pp/day |
| Spa Treatments | Various treatments | Varies |
Keywords: specialty restaurants, gratuities, spa treatments.
Extra Activities and Excursions
Go-karts, simulated skydiving, and roller coasters are some of the extra activities on a cruise that may require an additional charge. These paid activities provide an exciting and thrilling experience for passengers seeking adventure on their vacation. Cruise lines offer a variety of options to cater to different interests and age groups. From high-speed go-kart races to indoor simulated skydiving, these activities add an extra level of excitement to the onboard experience.
However, it is important to note that these activities are not included in the cruise fare and require separate payment. Additionally, when the ship docks at various ports, passengers have the opportunity to participate in shore excursions. These excursions, which are organized by the cruise line, offer a range of activities and experiences at the destinations visited, such as guided tours, water sports, and cultural explorations.
Similar to the paid activities onboard, shore excursions also require separate payment. It is advisable to plan and budget accordingly to enjoy these additional experiences during your cruise.
Frequently Asked Questions
Are There Any Additional Charges for Using the Gym on the Cruise Ship?
Yes, there may be additional charges for using the gym on the cruise ship. However, there are usually membership options available that allow guests to use the gym for free, just like in a resort.
Are Tender Boats Available for Free During Port Visits?
Yes, tender boats are available for free during port visits. They are included in the cruise fare and run the entire time the ship is in port. There are no additional fees for using them.
Do Specialty Restaurants on the Cruise Ship Require an Extra Charge?
Yes, specialty restaurants on the cruise ship require an extra charge. However, there are still plenty of included dining options. Onboard entertainment, such as daily shows and activities, is included in the fare.
Are Spa Treatments and Services Included in the Cruise Fare?
Spa treatments and services, like massages and facials, are not included in the cruise fare. They come with additional charges. However, the gym is free to use and offers great views.
Are There Any Additional Charges for Activities Like Go-Karts or Simulated Skydiving on the Ship?
Yes, there are additional charges for activities like go-karts and simulated skydiving on the ship. These are considered specialty activities and are not included in the cruise fare.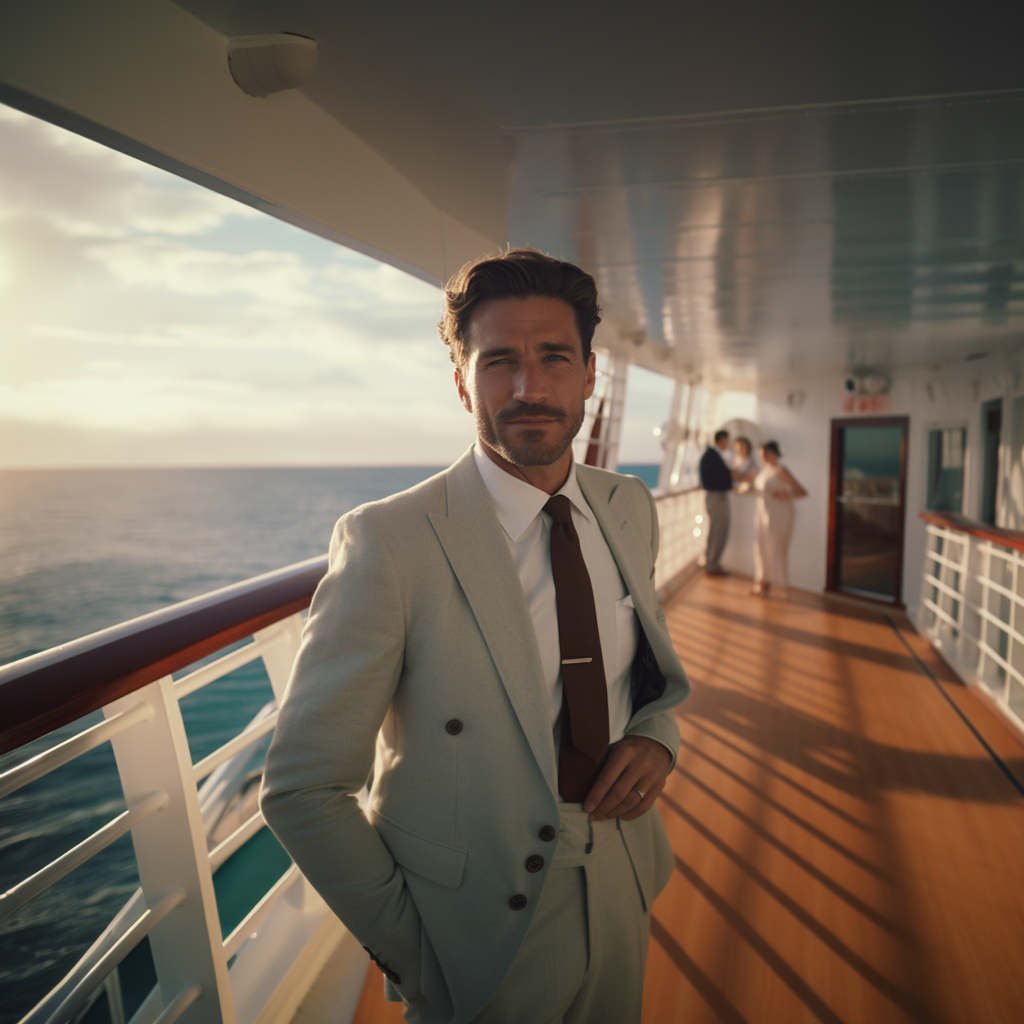 Alfons is the visionary leader and driving force behind Voyager Info's success. As the Editor in Chief, he brings a wealth of experience and an unwavering passion for travel to the helm of our cruise-centric platform.
With a lifelong fascination for exploring new horizons, Alfons discovered his love for the ocean and cruising at a young age. From sailing across pristine Caribbean waters to embarking on daring expeditions to far-flung destinations, he has amassed a treasure trove of first-hand experiences in the world of cruising.