I know what you're thinking – Disney cruises are just for kids and families, right? Well, let me tell you, that couldn't be further from the truth. As someone who has had the incredible opportunity to embark on a Disney cruise, I can confidently say that it is an experience like no other.
From the moment you step onboard, you are transported to a world of magic and wonder. And the best part? The destinations. Disney cruises take you to some of the most exotic ports around the world, from the crystal-clear waters of the Bahamas to the breathtaking glaciers of Alaska.
With a variety of itineraries to choose from, there is something for everyone. So, if you're ready to embark on a magical journey and explore the world in a truly unique way, join me as we dive into the enchanting world of Disney cruise destinations.
Key Takeaways
Disney cruises offer a variety of destinations including the Bahamas, the Caribbean region, Alaska, Europe, Australia, Bermuda, and the Northeastern US and Canadian coast.
Disney cruise ships depart from several ports including Port Canaveral, Miami, New Orleans, San Juan, Galveston, Vancouver, Brisbane, Melbourne, Sydney, and New York.
Disney cruise itineraries include visits to popular destinations such as Nassau, Castaway Cay, Cabo San Lucas, Mazatlan, Puerto Vallarta, Ensenada, Catalina Island, Ketchikan, Skagway, Juneau, Sitka, the Mediterranean, the British Isles, Scandinavian fjords, Australia, New Zealand, Bermuda, and the Northeastern US and Canadian coast.
Disney cruises offer the opportunity to explore beautiful destinations, experience the Panama Canal, visit glaciers and see wildlife in Alaska, explore various countries in Europe, and visit ports in the Northeastern US and Canada.
Disney Cruise Locations
I can choose from a range of Disney cruise locations, including the Bahamas, the Caribbean, Alaska, Europe, Australia, New Zealand, and even the Northeastern US and Canadian coast. Each destination offers its own unique charm and exciting experiences.
In the Bahamas and the Caribbean, I can soak up the sun on pristine beaches and explore vibrant coral reefs.
Alaska is a nature lover's paradise, with the opportunity to witness breathtaking glaciers and encounter fascinating wildlife.
Europe is full of history and culture, with top attractions like the Mediterranean and Scandinavian fjords.
Australia and New Zealand offer stunning landscapes and incredible adventures.
And for a closer-to-home experience, I can embark on a magical journey along the Northeastern US and Canadian coast, discovering off the beaten path destinations and charming coastal towns.
The options are endless, and each Disney cruise location promises an unforgettable experience.
Popular Destinations
Popular vacation spots for Disney cruises include the Bahamas, Caribbean region, Alaska, Europe, Australia, New Zealand, Bermuda, and the Northeastern US and Canadian coast.
These destinations offer a range of experiences and must-visit islands that will make your cruise truly magical.
In the Bahamas, you can explore the vibrant city of Nassau and enjoy the pristine beaches of Castaway Cay, Disney's private island paradise.
The Caribbean region offers a variety of ports, such as the stunning islands of St. Maarten, Jamaica, and Cozumel.
In Alaska, you can marvel at the breathtaking glaciers and spot wildlife in Ketchikan, Skagway, Juneau, and Sitka.
Europe is a dream destination with its rich history and charming cities like Barcelona, Rome, and Copenhagen.
Australia and New Zealand offer unique landscapes and cultural experiences.
Bermuda is known for its pink sand beaches and turquoise waters.
Lastly, the Northeastern US and Canadian coast provide a chance to explore cities like New York and Halifax while enjoying the beautiful coastal scenery.
Unique Itineraries
One of the unique itineraries offered by Disney cruises is a Panama Canal crossing with stops in Mexico and the Caribbean. This extraordinary journey allows you to experience the wonder of one of the world's greatest engineering marvels while exploring off the beaten path destinations.
Here are three highlights of this incredible itinerary:
Immerse yourself in the vibrant culture of Mexico as you visit charming coastal towns and indulge in delicious cuisine.

Discover the Caribbean's hidden gems, from secluded beaches to colorful underwater worlds teeming with marine life.

Marvel at the awe-inspiring Panama Canal, a feat of human ingenuity that connects the Atlantic and Pacific Oceans. Witness massive ships navigating through the locks and gain a deeper understanding of this monumental achievement.
Embark on this unforgettable adventure with Disney cruises and create cherished memories as you explore these unique destinations along the Panama Canal route.
Frequently Asked Questions
What are the age requirements for passengers on Disney cruises?
Age restrictions on Disney cruises ensure a safe and enjoyable experience for all guests. Children's activities are available for various age groups, from toddlers to teenagers. Come aboard and create magical memories for the whole family.
Are there any special activities or events for children on board Disney cruises?
There are plenty of special kids activities and entertainment options for children on Disney cruises. From character meet and greets to themed parties and interactive shows, there's always something fun and magical for the little ones on board.
Can passengers bring their own food and drinks on board?
Bringing outside food and drinks on Disney cruises is prohibited. The cruise line offers a wide variety of dining options and has strict policies to ensure the safety and enjoyment of all passengers.
Is there a dress code for dining on Disney cruises?
Yes, there is a dress code for dining on Disney cruises. On formal nights, guests are encouraged to dress up, with options ranging from suits and dresses to tuxedos and formal gowns.
Are there any restrictions on bringing pets on Disney cruises?
Pets are not allowed on Disney cruises, except for service animals. However, Disney does offer pet care services at their resorts and parks. Onboard entertainment for pets is not available, as the focus is on providing a magical experience for human guests.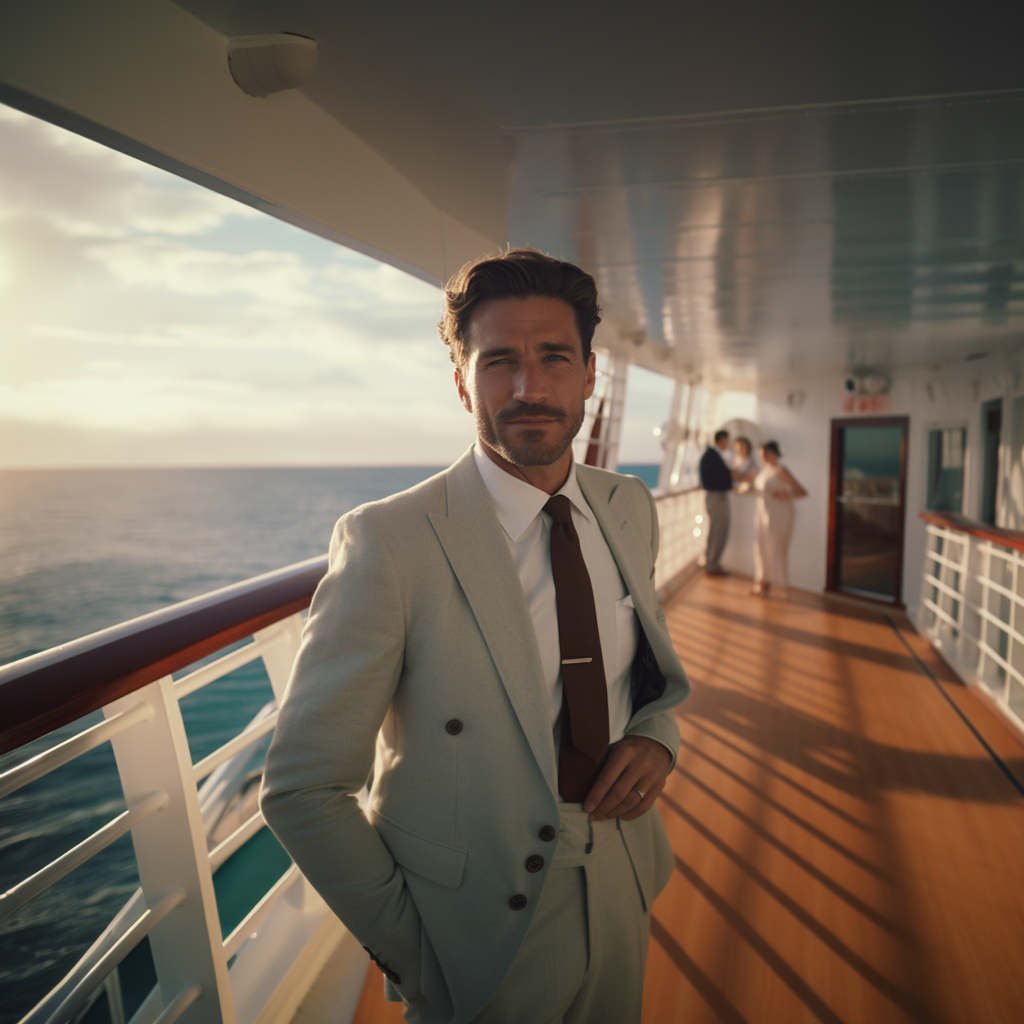 Alfons is the visionary leader and driving force behind Voyager Info's success. As the Editor in Chief, he brings a wealth of experience and an unwavering passion for travel to the helm of our cruise-centric platform.
With a lifelong fascination for exploring new horizons, Alfons discovered his love for the ocean and cruising at a young age. From sailing across pristine Caribbean waters to embarking on daring expeditions to far-flung destinations, he has amassed a treasure trove of first-hand experiences in the world of cruising.