I love cruising because it allows me to showcase my fashion sense and experiment with different styles. Whether it's a formal dinner or a themed party, there's always a dress code that encourages us to dress up and look our best.
And let's not forget the amazing photo opportunities! Cruising brings out my fashionable side, and I always make sure to elevate my outfits with trendy accessories.
Join me as we explore the world of fashionable cruising and get inspired by the stylish dress codes and style trends on board.
Key Takeaways
Cruises provide an opportunity to experiment with different styles and showcase our fashion sense.
Dress codes for different events and dining options are common on cruises.
People tend to be more relaxed and open to trying new fashion trends while on a cruise.
Dressing up enhances the overall cruise experience and creates memorable photos.
Resort Casual: a Popular Dress Code on Cruises
I love how resort casual is such a popular dress code on cruises. It's the perfect balance between relaxed and stylish, allowing you to look effortlessly chic while still feeling comfortable.
One of my favorite things about resort casual is the wide range of stylish footwear options available. From trendy sandals to fashionable sneakers, there's a shoe for every outfit and occasion.
And let's not forget about the beachwear options. Whether you're lounging by the pool or strolling along the sandy shores, resort casual allows you to showcase your personal style with beautiful cover-ups, flowy dresses, and vibrant swimwear.
Inner Fashion Plate: Cruising Brings Out Our Fashionable Side
Experiencing a cruise brings out my fashionable side as I get to showcase different styles and experiment with new looks. Fashionable cruising is all about embracing personal style and stepping out of your comfort zone. When it comes to packing for a cruise, it's important to be fashion forward and choose versatile pieces that can be mixed and matched. Here are some fashion forward packing tips to help you make the most of your stylish cruise:
| | Fashion Forward Packing Tips |
| --- | --- |
| 1 | Opt for lightweight fabrics that won't wrinkle easily, like linen or silk. |
| 2 | Pack versatile pieces that can be dressed up or down, such as a little black dress or a tailored blazer. |
| 3 | Don't forget to pack accessories like statement jewelry, scarves, and hats to elevate your outfits. |
| 4 | Experiment with different styles and trends, whether it's a vibrant print, a bold color, or a unique silhouette. |
Embrace the opportunity to showcase your fashion sense on your next cruise and have fun experimenting with your personal style. Remember, fashion is all about expressing yourself and feeling confident in what you wear. So pack your bags, set sail, and let your inner fashion plate shine!
Wrinkled Clothes Confession: Sometimes We Wear Wrinkled Clothes to Work
Wearing wrinkled clothes to work can sometimes happen due to a hectic morning routine. But here's the thing: wrinkled clothes can actually be a fashion statement.
Embracing imperfections is a trend that's gaining popularity in the fashion world. It's all about celebrating the beauty in the imperfect. Wrinkles can add character to your outfit and give it a laid-back, effortless vibe.
So instead of stressing about ironing every single wrinkle out of your clothes, why not embrace them? Pair a wrinkled blouse with some tailored pants and a statement accessory, and you've got yourself a chic and trendy look.
Fashion Inspiration: Cruises Provide an Opportunity to Experiment With Different Styles
Exploring different fashion trends on cruises allows me to step out of my comfort zone and discover new styles. It's exciting to see how people express themselves through their stylish outfits.
Cruises are the perfect opportunity to experiment with different fashion trends and showcase your personal style. From elegant evening gowns to casual resort wear, there's a wide range of fashion choices on board.
Fashion trends on cruises can vary depending on the destination and the crowd, but one thing is for sure – people love to dress up and look their best. Whether it's a themed party or a formal dinner, fashion plays a significant role in creating a memorable experience.
Dress Codes: Cruises Often Have Dress Codes for Different Events and Dining Options
Attending events and dining on cruises requires adhering to specific dress guidelines, ensuring a cohesive and elegant atmosphere throughout the ship. Understanding the different dress codes on cruises is essential for packing the right outfits for different cruise events. Here are some tips to help you navigate the dress codes and pack accordingly:
Resort Casual vs. Formal Attire:

Resort Casual: This dress code is relaxed and comfortable, suitable for daytime activities and casual dining.
Formal Attire: This dress code is more elegant and sophisticated, typically required for formal evenings and specialty dining.

Packing Essentials:

Resort Casual: Pack lightweight and breathable clothing like sundresses, shorts, and polo shirts. Don't forget comfortable shoes for walking around the ship.
Formal Attire: Pack formal dresses, suits, or cocktail attire for formal evenings. Accessories like ties, belts, and jewelry can elevate your look.

Tips for Packing:

Plan your outfits ahead of time to avoid overpacking.
Pack versatile pieces that can be mixed and matched for different occasions.
Consider the climate and activities of your cruise destination to pack accordingly.
By understanding the dress codes and packing essentials, you can ensure you're dressed appropriately for every event and dining experience on your cruise.
Social Environment: Cruising Encourages People to Dress up and Showcase Their Fashion Sense
I love how cruising creates a social environment that encourages me to showcase my personal fashion sense and dress up. It's the perfect opportunity to experiment with different styles and stay on top of the latest cruise fashion trends.
When it comes to fashion tips for cruises, one of the key things to keep in mind is the dress codes. Cruises often have different dress codes for various events and dining options, ranging from resort casual to formal attire. It's important to pack a range of outfits that suit these dress codes, ensuring you're prepared for any occasion.
Additionally, cruises provide a vacation mentality where people tend to be more relaxed and open to trying new trends. So don't be afraid to step out of your comfort zone and have fun with your fashion choices. Dressing up not only enhances the overall cruise experience but also creates memorable photos that capture the moments of your stylish adventure.
Vacation Mentality: People Tend to Be More Relaxed and Open to Trying New Fashion Trends on Cruises
When it comes to vacation fashion trends, cruises offer the perfect opportunity to embrace relaxation through style. As I mentioned earlier, cruising encourages people to dress up and showcase their fashion sense. But what sets vacation fashion apart is the freedom to try new trends and experiment with different styles. On a cruise, people tend to be more relaxed and open to stepping out of their fashion comfort zones.
To give you a glimpse of the vacation fashion trends that are currently making waves, here's a table showcasing some popular styles:
| Trend | Description | Example |
| --- | --- | --- |
| Maxi dresses | Flowy and comfortable | A vibrant floral maxi dress |
| Tropical prints | Fun and vibrant patterns | A Hawaiian shirt paired with shorts |
| Straw hats | Sun protection with a stylish touch | A wide-brimmed straw hat |
| Espadrille sandals | Casual yet chic footwear | Lace-up espadrilles with a platform sole |
Embracing relaxation through style is all about finding that perfect balance between comfort and fashion. So, on your next cruise, don't be afraid to try new trends and make a fashion statement while enjoying a well-deserved vacation.
Capturing Moments: Dressing up Enhances the Overall Cruise Experience and Creates Memorable Photos
Dressing up on a cruise enhances the overall experience and creates lasting memories captured in memorable photos. It's not just about looking good, but also about the joy of embracing different fashion styles and expressing yourself.
On a cruise, you have the perfect opportunity to showcase your fashion sense in stunning locations and create fashionable photography moments that will be cherished forever. Whether it's a glamorous evening gown for a formal dinner or a stylish beachwear for a day by the pool, every outfit can be a chance to create a memorable fashion moment.
Stylish Accessories: Elevating Your Cruise Outfits With Trendy Accessories
Accessorizing my cruise outfits with trendy pieces adds a touch of sophistication and elevates my overall look. Whether it's formal nights or a relaxing beach day, having the right accessories can make all the difference. For formal nights, statement jewelry like chandelier earrings or a bold cocktail ring can instantly glam up any outfit. Pairing it with a sleek clutch and strappy heels completes the elegant ensemble. On a beach day, a wide-brimmed hat not only protects me from the sun but also adds a stylish touch. A colorful sarong or a chic straw tote bag are must-haves for carrying essentials while lounging by the pool. With these trendy accessories, I feel confident and ready to make a fashion statement on my cruise vacation.
| Formal Nights | Beach Day |
| --- | --- |
| Statement jewelry | Wide-brimmed hat |
| Sleek clutch | Colorful sarong |
| Strappy heels | Chic straw tote bag |
Frequently Asked Questions
What Are Some Specific Examples of Dress Codes for Different Events and Dining Options on Cruises?
Dress codes for formal events on cruises include black-tie or cocktail attire. For dinner, casual chic outfits are popular. It's important to check with the cruise line for specific guidelines and recommendations to ensure you're dressed appropriately.
How Can I Incorporate Trendy Accessories Into My Cruise Outfits?
To incorporate trendy accessories into my cruise outfits, I can start by selecting statement pieces like bold sunglasses or a chic straw hat. Mixing and matching different accessories can add a stylish touch to my wardrobe.
Are There Any Specific Fashion Trends or Styles That Are Particularly Popular on Cruises?
On cruises, there are many popular fashion trends and styles to inspire your outfits. From resort casual to glamorous evening wear, cruise fashion offers a chance to experiment and showcase your personal style.
What Are Some Tips for Capturing Stylish and Memorable Photos While on a Cruise?
When it comes to capturing stylish and memorable photos on a cruise, I have some tips. Pay attention to posing, lighting, and composition. Also, pack efficiently for a stylish cruise wardrobe to enhance your photos.
Are There Any Specific Fashion Brands or Designers That Are Known for Their Cruise Wear Collections?
I love how certain fashion brands and designers have become synonymous with cruise wear collections. They bring a touch of luxury and elegance to the high seas, making every voyage a stylish affair.
Conclusion
In conclusion, cruising isn't just a relaxing and enjoyable vacation option—it's also a chance to show off our fashion sense and try out different styles. Whether we're embracing the resort casual dress code or dressing up for special events, cruises bring out our inner fashion plate. With a more relaxed and open mindset, we can experiment with new fashion trends and enhance our cruise outfits with stylish accessories.
So, next time you're planning a vacation, consider a cruise and let your fashion sense sail away with you. You never know what fashionable coincidences may await you on board.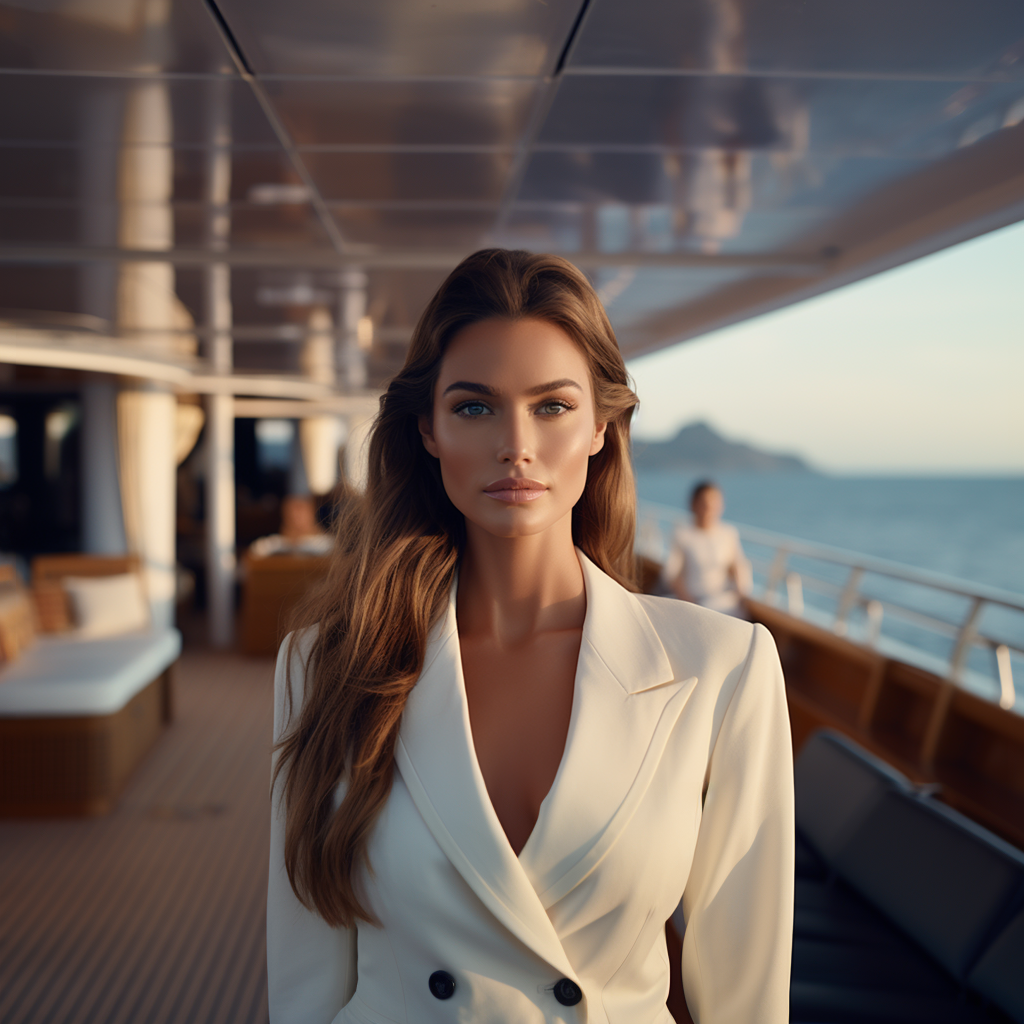 Claire, a creative soul with an unquenchable thirst for storytelling, is an integral part of the Voyager Info team. As a dedicated writer, she weaves captivating narratives that transport readers to enchanting cruise destinations and beyond.
Claire's love affair with writing began at an early age when she discovered the magic of words and their ability to craft worlds and emotions. Her innate curiosity led her to explore various literary genres, but it was travel writing that truly captured her heart. Drawing inspiration from her own globetrotting adventures and encounters with diverse cultures, Claire embarked on a journey to become a travel writer par excellence.