As I step aboard the magnificent Volendam, I am filled with excitement for the adventure that lies ahead.
The Grand Australia and New Zealand Voyage promises to take me on a 94-day journey through iconic destinations in the South Pacific.
From the vibrant Great Barrier Reef to the picturesque landscapes of New Zealand, this cruise offers an unforgettable exploration of these breathtaking regions.
With 43 ports of call and a variety of onboard activities and dining experiences, this grand voyage is truly a dream come true.
Key Takeaways
The Grand Australia and New Zealand Voyage offered by Holland America Line is a 94-day journey that departs from The Port of San Diego on January 3, 2024, and returns on April 6, 2024.
The voyage includes visits to popular tourist destinations such as the Great Barrier Reef, Hawaii, the South Pacific, and New Zealand, with overnight calls in major cities like Perth, Sydney, Auckland, and Papeete.
There are a total of 43 ports of call, including 17 all over the Australian continent, and special highlights include 2 days sailing through the Great Barrier Reef and cruising in Torres Strait and Milford Sound.
Onboard, guests can enjoy a variety of fun shipboard activities, entertainment, and an elevated dining experience featuring local ingredients, as well as access to the ship's amenities and facilities.
The Ultimate Itinerary: Exploring Iconic Destinations
I can't wait to explore iconic destinations on the Grand Australia and New Zealand Voyage. This voyage offers a once-in-a-lifetime opportunity to immerse myself in the breathtaking natural wonders and vibrant cultures of these incredible places.
From snorkeling in the crystal-clear waters of the Great Barrier Reef to experiencing the rich traditions of the South Pacific Islands, this itinerary promises unforgettable adventures. I am excited to witness the diverse marine life and vibrant coral reefs of the Great Barrier Reef, and to indulge in the laid-back island lifestyle of Hawaii.
In New Zealand, I look forward to exploring the stunning landscapes of Milford Sound and experiencing the unique Maori culture. This voyage is the perfect blend of exploring natural wonders and cultural immersion.
Unforgettable Port Calls: Discovering Australia and New Zealand
Departing from The Port of San Diego on January 3, 2024, I'll have the opportunity to explore 17 ports of call all over the Australian continent during the Grand Australia and New Zealand Voyage.
Sydney Opera House: This iconic landmark is a must-see attraction in Sydney. Its unique design and vibrant performances make it a cultural hub.

Uluru: Located in the heart of Australia, this sacred rock formation is a spiritual and awe-inspiring sight. Witnessing the colors change during sunrise or sunset is an unforgettable experience.

Milford Sound: Nestled in New Zealand's Fiordland National Park, this stunning natural wonder will leave you in awe. The towering cliffs, cascading waterfalls, and abundant wildlife make it a must-visit destination.
In these Australian and New Zealand ports, you'll have the chance to immerse yourself in the local culture. From exploring the vibrant markets in Melbourne to learning about the indigenous Maori culture in Tauranga, each port offers unique cultural experiences. Whether it's trying traditional delicacies, participating in traditional dances, or visiting historical sites, these ports will leave you with a deeper understanding of the rich heritage of Australia and New Zealand.
Onboard Delights: Fun and Entertainment on the Grand Voyage
During the Grand Australia and New Zealand Voyage, guests can enjoy a variety of fun shipboard activities and entertainment options onboard the ship Volendam.
From the moment you step foot on the ship, you'll be immersed in a world of excitement and adventure. Take part in thrilling onboard activities such as cooking demonstrations, dance classes, and trivia contests that will keep you entertained throughout the journey.
And don't forget about the special guests onboard! You might have the chance to meet renowned chefs, talented musicians, or even famous authors who will share their expertise and insights with you.
Whether you're looking for a night of laughter at the comedy club or a relaxing evening listening to live music, the ship Volendam has it all.
Get ready for an unforgettable experience filled with onboard delights and endless entertainment.
Culinary Delights: Indulging in Local Flavors
Indulging in the local flavors onboard the ship Volendam is a delightful culinary experience. From the moment I step foot on the ship, I am transported to a world of gastronomic delights.
Here are a few highlights of the local food experiences and culinary workshops available onboard:
Local Food Experiences:

Savor the taste of freshly caught seafood from the Great Barrier Reef, prepared by expert chefs.

Sample the unique flavors of New Zealand, from succulent lamb dishes to creamy Pavlova desserts.

Culinary Workshops:

Join a hands-on cooking class and learn to prepare traditional Australian dishes like kangaroo steak and damper bread.

Discover the secrets of Tahitian cuisine in a workshop led by local chefs, where you'll create dishes bursting with tropical flavors.
The ship Volendam truly embraces the culinary heritage of the destinations visited, providing guests with an immersive and unforgettable dining experience.
Captains Grand Voyage Dinner: A Night of Elegance and Celebration
Attending the Captains Grand Voyage Dinner onboard the ship Volendam is a night filled with elegance, celebration, and delectable cuisine.
As I step into the beautifully decorated dining room, I am greeted by the soft glow of candlelight and the soothing melodies of live music.
The atmosphere is buzzing with excitement as guests, dressed in their finest attire, gather to commemorate this special occasion.
The table settings are impeccable, adorned with elegant china, sparkling glassware, and intricate floral arrangements.
The menu is a masterpiece, showcasing a variety of gourmet dishes crafted with the finest ingredients. From succulent seafood to tender cuts of meat, every bite is a culinary delight.
As the evening progresses, speeches are made, toasts are raised, and laughter fills the air, creating a sense of camaraderie and joy.
This Captains Grand Voyage Dinner truly embodies the spirit of elegance and celebration, making it a memorable highlight of the journey.
Beyond Australia and New Zealand: Exploring Other Grand Voyages
I can't wait to discover the wide range of exciting destinations and itineraries that Holland America Line offers for their longer scheduled voyages. The Grand Australia and New Zealand Voyage is just one of the incredible options available. But beyond this grand voyage, there are other hidden gems and unique experiences waiting to be uncovered.
Here are three other grand voyages that caught my attention:
Grand Africa Voyage: Embark on a journey through diverse landscapes, from the savannahs of Kenya to the ancient wonders of Egypt. Explore vibrant markets, encounter wildlife on thrilling safaris, and immerse yourself in the rich cultures of Africa.

Grand World Voyages: Sail around the world, visiting iconic cities, remote islands, and everything in between. From the historic sites of Europe to the exotic wonders of Asia, this voyage offers a truly global exploration.

Grand South America and Antarctica Voyages: Experience the breathtaking beauty of Antarctica and the vibrant cultures of South America. Discover the remote wilderness of the White Continent and explore iconic cities like Buenos Aires and Rio de Janeiro.
With Holland America Line's grand voyages, there's always something new and exciting to uncover. Get ready to embark on a journey of a lifetime and create unforgettable memories.
Choosing Your Adventure: Voyage Durations and Destinations
Sailing with Holland America Line allows me to choose from a range of voyage durations and explore various captivating locations.
When it comes to voyage duration options, I have the choice between short and extended trips. For those seeking a shorter adventure, there are voyages that last a few weeks, allowing you to experience the highlights of Australia and New Zealand.
On the other hand, if you have more time to spare, you can opt for the Grand Australia and New Zealand Voyage, which lasts over three months. This extended journey offers a comprehensive exploration of both countries, immersing you in their stunning landscapes, vibrant cities, and rich cultures.
Whether you choose the shorter option or decide to embark on the grand voyage, Australia and New Zealand are both exceptional destinations that will leave you in awe of their natural beauty and unique experiences.
Frequently Asked Questions
What Are the Amenities and Facilities Available on Board the Volendam Ship?
Onboard the Volendam ship, there are a variety of dining options available, offering delicious meals featuring local ingredients. Additionally, the ship boasts a luxurious onboard spa and wellness facilities for guests to relax and rejuvenate during their voyage.
Are There Any Age Restrictions or Requirements for Guests on the Grand Australia and New Zealand Voyage?
There are no age restrictions or specific guest requirements for the Grand Australia and New Zealand Voyage. Holland America Line welcomes guests of all ages to experience the iconic destinations on this unforgettable journey.
Can You Provide More Information About the Special Guests Who Will Be on Board During the Voyage?
During the Grand Australia and New Zealand Voyage, there will be special guests on board. They will enhance the onboard experience with their performances and presentations, adding excitement and entertainment to the journey.
What Are Some of the Fun Shipboard Activities and Entertainment Options Available to Guests?
There's so much to do onboard! From exciting shipboard activities like poolside games and fitness classes to captivating entertainment options like Broadway-style shows and live music performances, guests will never be bored.
How Often Does Holland America Line Add New Itineraries and Destinations for Their Grand Voyages?
Holland America Line continuously adds new itineraries and destinations for their grand voyages, catering to different regions and interests. Planning for an extended voyage on Holland America Line involves selecting from a range of durations and destinations.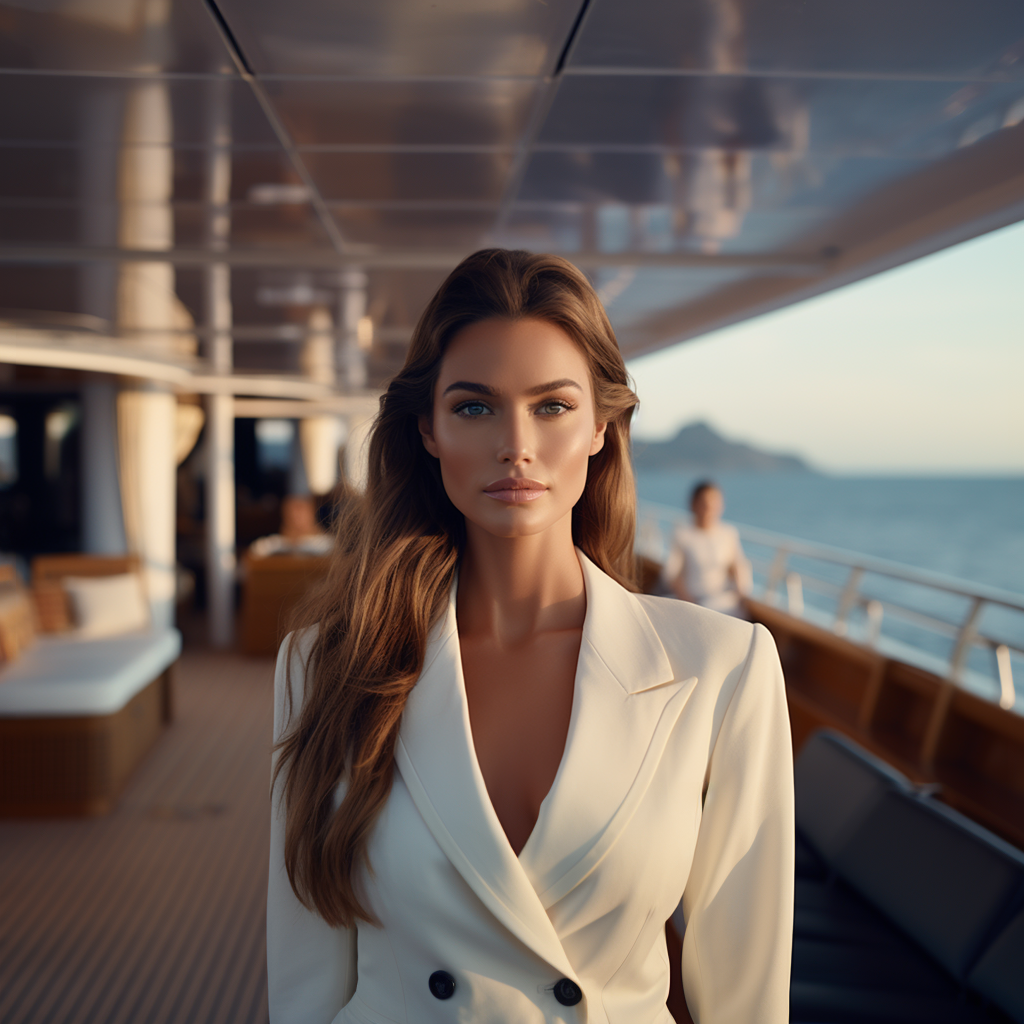 Claire, a creative soul with an unquenchable thirst for storytelling, is an integral part of the Voyager Info team. As a dedicated writer, she weaves captivating narratives that transport readers to enchanting cruise destinations and beyond.
Claire's love affair with writing began at an early age when she discovered the magic of words and their ability to craft worlds and emotions. Her innate curiosity led her to explore various literary genres, but it was travel writing that truly captured her heart. Drawing inspiration from her own globetrotting adventures and encounters with diverse cultures, Claire embarked on a journey to become a travel writer par excellence.