I've always had a fascination with the wild and untamed beauty of Africa. The thought of embarking on a luxury safari, surrounded by breathtaking landscapes and majestic wildlife, has always stirred my sense of adventure. And when it comes to exquisite accommodations, The Silo Hotel in Cape Town immediately comes to mind. With its trendy and eclectic vibe, this award-winning hotel offers stunning views of Table Mountain and the VA Waterfront. But that's just the beginning. From luxury lodges in Botswana to sustainable eco-tourism experiences with Wilderness Safaris, Africa truly has it all. Join me on a journey through the world of luxury safari and exquisite accommodations in Africa, where every moment is an unforgettable adventure.
Key Takeaways
The Silo Hotel in Cape Town offers luxury accommodations with views of Table Mountain and the VA Waterfront.
Wilderness Safaris provides authentic and luxurious safari experiences that focus on conservation and benefit the local community.
Other luxury accommodations in Africa include Segera in Kenya and North Island in Seychelles, which offer exclusivity and stunning natural surroundings.
Journeys Unforgettable is a personal concierge service that specializes in tailor-made itineraries for passionate and luxury-seeking travelers.
The Silo Hotel: Trendy and Eclectic Accommodations in Cape Town
I love staying at The Silo Hotel in Cape Town because it offers trendy and eclectic accommodations with stunning views of Table Mountain and the VA Waterfront. The design and architecture of The Silo Hotel is truly remarkable. Housed in a former grain silo, the building has been transformed into a luxurious hotel with a modern twist. The unique cylindrical shape of the silo is complemented by the sleek lines and contemporary furnishings inside. One of my favorite features of the hotel is the rooftop pool, where guests can take a dip while enjoying panoramic views of Table Mountain and the VA Waterfront. It's the perfect spot to relax and soak up the beauty of Cape Town.
Luxury Accommodations in Botswana: Kings Pool, Vumbura Plains, and Abu Camp
Guests can enjoy authentic and exquisite rooms with private pools at camps such as Kings Pool, Vumbura Plains, and Abu Camp in Botswana. These luxury accommodations not only provide a luxurious stay, but also contribute to wildlife conservation efforts in the region. Botswana is known for its rich biodiversity and these camps play a crucial role in preserving the natural habitat and protecting endangered species. From the moment you step foot in these camps, you are immersed in a unique cultural experience. The local staff warmly welcome you and share their deep knowledge of the land and its inhabitants. You can participate in guided safari expeditions, where you have the opportunity to witness magnificent wildlife up close. These luxury safari camps in Botswana offer a perfect blend of comfort, adventure, and a chance to be a part of wildlife conservation efforts.
Wilderness Safaris: Authentic Safari Experiences and Sustainable Eco-Tourism
Wilderness Safaris ensures an authentic and pampered experience, offering calm and relaxation in the midst of nature.
Immerse yourself in the beauty of the African wilderness
Encounter wildlife in their natural habitat
Contribute to sustainable conservation efforts
At Wilderness Safaris, you can witness the real-life displays of the bush environment while enjoying the comfort and luxury of their safari camps. Each camp has its own unique appeal, providing a truly immersive experience. But what sets Wilderness Safaris apart is their commitment to sustainable eco-tourism. They follow the precept of the Long Run Initiative, focusing on conservation, culture, community, and commerce. By practicing sustainable tourism, they ensure that the local community benefits from their presence and that the wildlife and ecosystems are preserved for future generations. So not only will you have authentic wildlife encounters, but you can also feel good knowing that your journey supports sustainable conservation efforts.
Exclusivity and Fashion at Segera in Kenya and North Island in Seychelles
Segera in Kenya and North Island in Seychelles offer a combination of exclusivity, stylish surroundings, and stunning natural beauty. When it comes to exclusivity and fashion, Segera in Kenya is the epitome of luxury. The timber and thatched villas provide a sense of elegance, while the extensive African art collection adds a unique touch. The views from the villas are simply breathtaking, showcasing the beauty of the surrounding landscapes. On the other hand, North Island in Seychelles is a haven of exclusivity and luxury. With its white-sand beaches and lush tropical forests, it creates a paradise-like atmosphere. Guests can indulge in various activities such as snorkeling, diving, yoga, and spa treatments, ensuring a truly unforgettable experience. Both destinations offer a blend of privacy, fashion, and natural beauty, making them the perfect choice for those seeking a luxurious and exclusive getaway.
Journeys Unforgettable: Tailor-Made Itineraries for Passionate Luxury Travelers
When planning my luxurious African adventure, Journeys Unforgettable's tailor-made itineraries catered to my passionate and adventurous spirit. With their personalized concierge service, they created a trip that exceeded all my expectations. From the moment I arrived in Africa, every detail was taken care of, ensuring a seamless and indulgent experience. Journeys Unforgettable's attention to detail and intimate knowledge of the continent allowed them to curate the perfect itinerary, filled with tailor-made luxury experiences. From staying in exquisite accommodations to indulging in world-class cuisine and embarking on unforgettable safari expeditions, every moment was designed to create lasting memories. Their close partnerships with premiere wildlife lodges and hotels meant that I was able to experience Africa's beauty and wildlife in the most extraordinary way. Journeys Unforgettable truly understands the needs of luxury-seeking travelers and delivers an unparalleled journey of a lifetime.
Frequently Asked Questions
What Are Some Unique Amenities Offered at the Silo Hotel in Cape Town?
The Silo Hotel in Cape Town offers unique amenities such as a rooftop pool and luxurious furnishings. With breathtaking views of Table Mountain and the VA Waterfront, it's the perfect retreat for a silent and relaxing beach resort experience.
How Does Wilderness Safaris Contribute to Conservation Efforts in Africa?
Wilderness Safaris' conservation efforts in Africa are commendable. They prioritize conservation, culture, community, and commerce through sustainable eco-tourism. Their luxury accommodations contribute to wildlife preservation, creating a positive impact on the environment.
What Are Some Activities and Experiences Offered at Segera in Kenya?
At Segera in Kenya, you can indulge in a range of activities and experiences. From exploring the stunning surroundings and African art collection to enjoying snorkeling, diving, yoga, and spa treatments, Segera offers something for everyone.
Can You Provide Examples of Tailor-Made Itineraries Offered by Journeys Unforgettable?
Journeys Unforgettable offers tailor-made itineraries for luxury accommodations and safari experiences. One example is a personalized safari in Botswana, combining stays at Kings Pool, Vumbura Plains, and Abu Camp for an unforgettable wildlife adventure.
How Can Readers Access the Digital Subscription of Porthole Cruise and Travel Magazine?
To access the digital subscription of Porthole Cruise and Travel Magazine, readers can visit their website. Subscribers enjoy benefits like exclusive travel deals, the latest news in cruise and travel, in-depth articles, and information on onboard cuisine and entertainment.
Conclusion
After exploring the world of luxury safaris and exquisite accommodations in Africa, I am left in awe of the remarkable experiences that await passionate travelers. From the trendy and eclectic Silo Hotel in Cape Town to the authentic and breathtaking Kings Pool, Vumbura Plains, and Abu Camp in Botswana, the options are truly extraordinary. Wilderness Safaris' commitment to conservation and sustainable eco-tourism offers a serene and rejuvenating safari experience. And for those seeking exclusivity and fashion, Segera in Kenya and North Island in Seychelles are perfect choices. With Journeys Unforgettable's tailor-made itineraries, the possibilities are endless. Happy travels!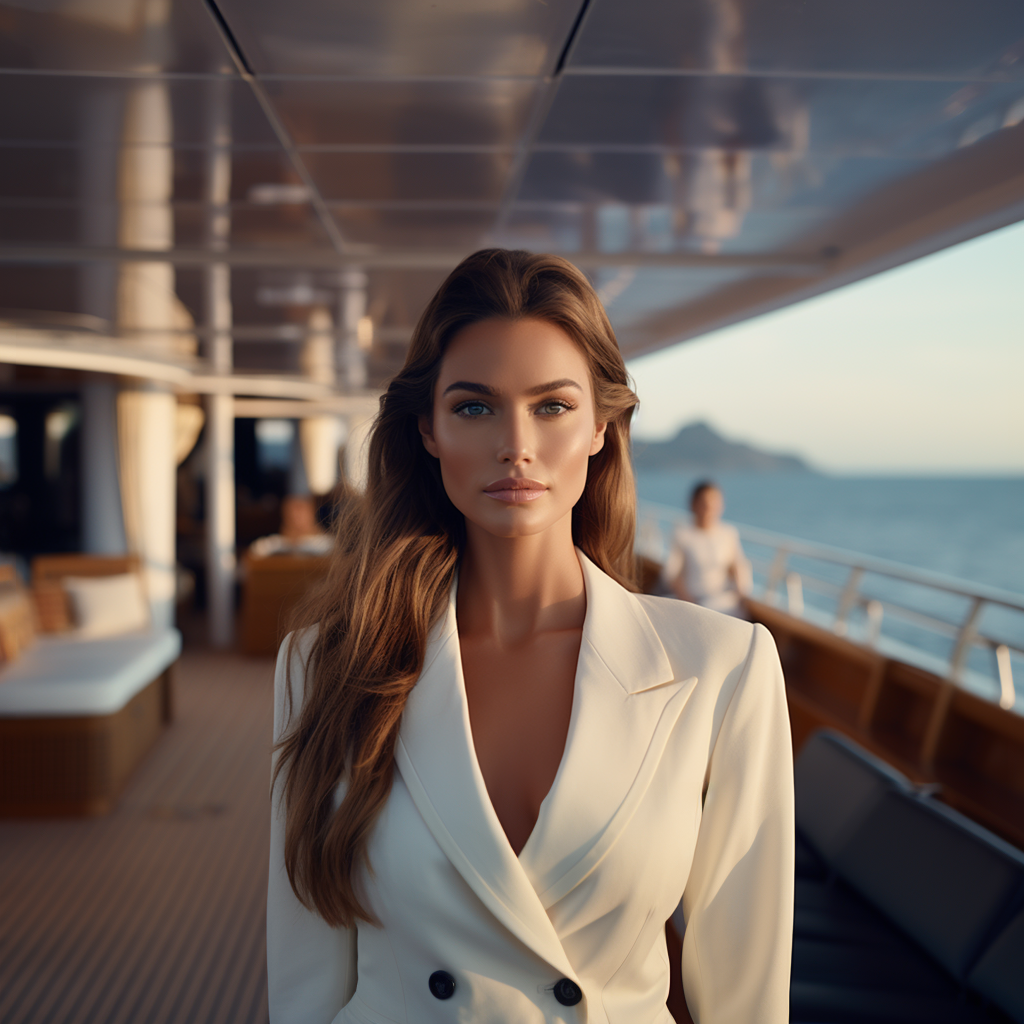 Claire, a creative soul with an unquenchable thirst for storytelling, is an integral part of the Voyager Info team. As a dedicated writer, she weaves captivating narratives that transport readers to enchanting cruise destinations and beyond.
Claire's love affair with writing began at an early age when she discovered the magic of words and their ability to craft worlds and emotions. Her innate curiosity led her to explore various literary genres, but it was travel writing that truly captured her heart. Drawing inspiration from her own globetrotting adventures and encounters with diverse cultures, Claire embarked on a journey to become a travel writer par excellence.