I have some exciting news to share with you: MSC Cruises has just welcomed its largest cruise ship ever built in Italy, MSC Seascape!
This magnificent ship, the second Seaside EVO ship, offers an incredible array of outdoor spaces that allow guests to connect with the sea like never before.
With 2,270 cabins, including suites and staterooms with balconies, this ship provides a luxurious and comfortable experience.
Get ready for six brand-new productions, 98 hours of onboard entertainment, and an exhilarating amusement ride called ROBOTRON.
MSC Seascape also boasts environmentally friendly technologies, making it a sustainable choice for your next cruise adventure.
Key Takeaways
MSC Seascape is the largest cruise ship built in Italy and is part of the Seaside class
The ship offers extensive outdoor spaces and a waterfront promenade to connect guests with the sea
It features six brand-new productions and 98 hours of onboard entertainment, including a thrilling amusement ride called ROBOTRON
MSC Seascape has environmentally friendly technologies, including systems to reduce emissions and advanced wastewater treatment systems.
Delivery and Ceremony
I attended the delivery ceremony of MSC Seascape, the largest cruise ship built in Italy. The water that touched the hull during the floating-out ceremony was presented to the captain.
The ceremony was filled with delivery traditions and marked an important milestone for MSC Cruises. Shipowner Gianluigi Aponte, founder of MSC Group, was present, along with Pierfrancesco Vago, Executive Chairman of MSC Cruises, and Pierroberto Folgiero, CEO of Fincantieri.
The event honored maritime traditions and showcased the collaboration between the shipyard and MSC Cruises. It was a momentous occasion that celebrated the completion of the shipbuilding process and the beginning of a new adventure for MSC Seascape.
The attendance of the shipowner highlighted the significance of this delivery and the commitment of MSC Cruises to providing exceptional cruise experiences.
Ship Features
The second Seaside EVO ship, completed with nearly 140,000 square feet of outdoor space and a waterfront promenade, invites guests to enjoy the Caribbean scenery. The ship offers a variety of features that allow guests to connect with the sea and make the most of the beautiful outdoor spaces.
With 2,270 cabins, including suites and staterooms with balconies, there are ample opportunities for guests to enjoy the views and fresh air. The ship's design is focused on creating a connection with the Caribbean scenery, ensuring that guests can fully immerse themselves in the breathtaking views.
The outdoor spaces on MSC Seascape provide plenty of room for relaxation, whether it's lounging by one of the six swimming pools or enjoying a meal at one of the 11 dining venues, many of which offer Al Fresco dining options.
Overall, MSC Seascape's ship features are designed to enhance the guest experience and allow them to fully appreciate the stunning Caribbean scenery.
Entertainment and Activities
Guests on board MSC Seascape can enjoy six brand-new productions and 98 hours of onboard entertainment. This includes a thrilling amusement ride called ROBOTRON, which is sure to provide an adrenaline rush for those seeking an exhilarating experience.
In addition to the thrilling amusement ride, MSC Seascape also offers designated kid-friendly spaces. These spaces ensure that children have a safe and enjoyable environment to play and have fun. Equipped with innovative options, these spaces provide entertainment and activities tailored specifically for younger guests.
Whether it's exploring the ship's six swimming pools, dining at one of the 11 venues, or simply lounging at the 19 bars and lounges, MSC Seascape offers a wide range of entertainment and activities to suit every guest's preferences.
Itineraries
Departing from Miami, the itineraries offered by MSC Seascape provide a Caribbean experience with stops at stunning destinations such as Ocean Cay MSC Marine Reserve, Nassau, San Juan, Puerto Plata, Cozumel, George Town, and Ocho Rios.
The Eastern Caribbean itinerary takes you to pristine Ocean Cay MSC Marine Reserve, where crystal-clear turquoise waters and white sandy beaches await. Explore the vibrant city of Nassau, known for its colorful architecture and rich history. Immerse yourself in the culture and charm of San Juan, Puerto Rico, with its cobblestone streets and historic sites. Discover the beautiful beaches and lush landscapes of Puerto Plata, a hidden gem in the Dominican Republic.
The Western Caribbean itinerary offers a different set of breathtaking destinations:
Experience the vibrant underwater world of Cozumel, Mexico, with its stunning coral reefs and marine life.
Visit George Town in the Cayman Islands, where you can relax on pristine beaches or explore the vibrant local culture.
Explore the lush rainforests and cascading waterfalls of Ocho Rios, Jamaica.
And of course, don't forget to spend some time at the incredible Ocean Cay MSC Marine Reserve, where you can enjoy the beauty of nature and indulge in various activities.
Environmental Features
Attending the delivery ceremony, I witnessed the presentation of water that touched the hull during the ship's floating-out ceremony to the captain. It was a symbolic gesture that honored maritime traditions.
MSC Seascape, the largest cruise ship built in Italy, boasts several environmental features. The ship utilizes selective catalytic reduction systems, which can reduce nitrogen oxide emissions by up to 90%. Additionally, it is equipped with a hybrid exhaust gas cleaning system that removes 98% of sulfur oxide from emissions. These technologies contribute to a more sustainable and eco-friendly operation.
MSC Seascape also implements advanced wastewater treatment and waste management systems. Energy-efficiency adjustments and an underwater noise management system further enhance its environmental performance.
With these features, MSC Seascape demonstrates a commitment to minimizing its impact on the environment while providing an exceptional cruising experience.
Onboard Accommodations
Moving on from the environmental features, let's explore the onboard accommodations of the MSC Seascape.
As a guest on this remarkable cruise ship, you can expect a wide range of onboard amenities and a variety of cabin options to suit your preferences. With a total of 2,270 cabins, including suites and staterooms with balconies, there is something for everyone.
The cabins are designed with comfort and style in mind, providing a cozy retreat during your voyage. You can choose from different cabin categories based on your needs and budget. Whether you prefer a spacious suite with luxurious amenities or a comfortable stateroom with a balcony to enjoy the breathtaking views, MSC Seascape has it all.
Rest assured, your stay onboard will be a truly memorable experience.
Dining and Culinary Experiences
When it comes to dining and culinary experiences onboard, I am excited to explore the wide range of options available to me.
MSC Seascape offers an impressive selection of culinary options that are sure to satisfy any palate. With 11 dining venues and 19 bars and lounges, there is something for everyone.
From casual Al Fresco dining to elegant fine dining experiences, the ship has it all. The menus feature a variety of cuisines, including international dishes and local specialties. Whether I'm in the mood for fresh seafood, juicy steaks, or vegetarian delights, I can find it all onboard.
The dining experiences are not just about the food, but also about the ambiance. With stunning ocean views and stylish decor, every meal is a feast for the senses.
I can't wait to indulge in the delectable culinary delights that await me onboard MSC Seascape.
MSC Seascape's Unique Offerings
I'm fascinated by the unique offerings onboard MSC Seascape, Italy's largest cruise ship that has joined MSC Cruises. From the thrilling amusement ride called ROBOTRON to the designated kid-friendly spaces with innovative options, there is something for everyone on this magnificent ship.
Let me paint a picture for you of the unique offerings on MSC Seascape:
Outdoor Connectivity:
The ship offers nearly 140,000 square feet of outdoor space, allowing guests to connect with the sea and enjoy the Caribbean scenery. A waterfront promenade invites guests to take leisurely strolls and soak in the beautiful ocean views.

Innovative Kid-Friendly Spaces:
There are dedicated areas designed specifically for children, providing them with engaging and interactive experiences. These spaces offer innovative options such as games, activities, and educational programs, ensuring that children have a memorable and enjoyable time onboard.
MSC Seascape truly stands out with its outdoor connectivity and innovative kid-friendly spaces, making it an ideal choice for a fantastic cruise experience.
Frequently Asked Questions
What Are the Safety Measures and Protocols in Place on MSC Seascape to Protect Guests and Crew During the COVID-19 Pandemic?
Safety measures and health protocols on MSC Seascape prioritize the well-being of guests and crew during the COVID-19 pandemic. Enhanced cleaning, regular testing, social distancing, and mask-wearing are implemented to ensure a safe and enjoyable cruise experience.
Are There Any Restrictions or Requirements for Passengers to Disembark at the Various Ports of Call on the Itineraries Offered by MSC Seascape?
Passenger requirements and port restrictions vary on different itineraries. It's important to check the specific guidelines for each port of call before disembarking. Safety measures are in place to protect guests and crew during the pandemic.
Can Guests Book Shore Excursions and Activities in Advance for Their Cruise on MSC Seascape?
Yes, guests can book shore excursions and activities in advance for their cruise on MSC Seascape. The ship offers a variety of options to explore ports of call and enjoy onboard activities.
What Are the Options Available for Guests With Dietary Restrictions or Food Allergies at the Dining Venues on MSC Seascape?
Guests with dietary restrictions or food allergies can enjoy a variety of options at the dining venues on MSC Seascape. The ship offers a range of dietary options and follows strict safety protocols to ensure a safe and enjoyable dining experience for all guests.
Are There Any Age Restrictions or Guidelines for Children to Participate in the Onboard Entertainment and Activities on MSC Seascape?
Are there age restrictions or guidelines for children to participate in the onboard entertainment and activities on MSC Seascape? What are the guidelines for children to enjoy the exciting entertainment and activities available on MSC Seascape?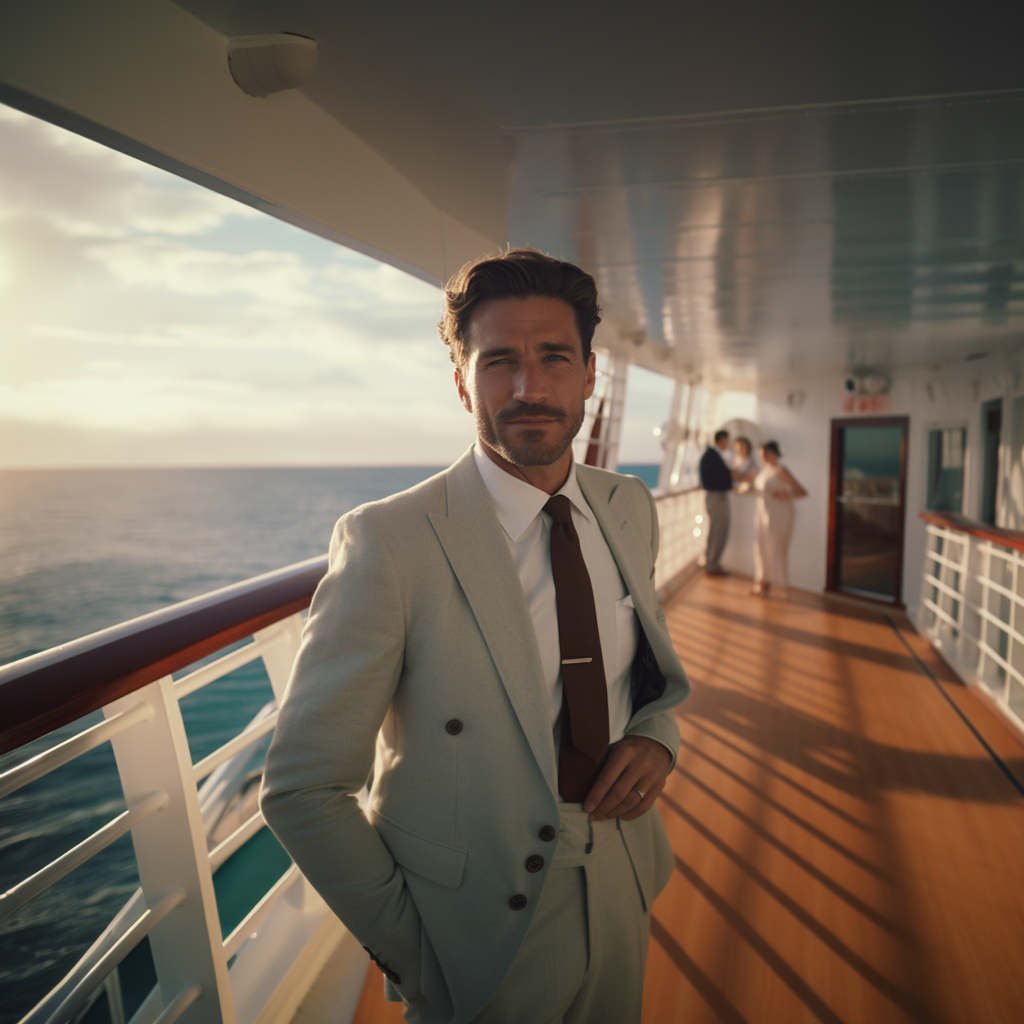 Alfons is the visionary leader and driving force behind Voyager Info's success. As the Editor in Chief, he brings a wealth of experience and an unwavering passion for travel to the helm of our cruise-centric platform.
With a lifelong fascination for exploring new horizons, Alfons discovered his love for the ocean and cruising at a young age. From sailing across pristine Caribbean waters to embarking on daring expeditions to far-flung destinations, he has amassed a treasure trove of first-hand experiences in the world of cruising.