Hey there, fellow travelers! Get ready to set sail on an incredible adventure with the revamped Norwegian Spirit.
This stunning ship is undergoing a major transformation, bringing you new amenities and exciting itineraries that will leave you breathless.
Indulge in mouthwatering Italian cuisine at Onda, by Scarpetta, and unwind at the blissful Bliss Ultra Lounge.
Plus, get ready to explore 10 new ports of call, including Bali, Jakarta, and Tokyo.
Join me as we embark on an unforgettable journey through Asia and beyond.
Let's dive into the world of the Revamped Norwegian Spirit together!
Key Takeaways
Upgraded staterooms and new venues like Onda, by Scarpetta, offer a more luxurious and unforgettable cruise experience.
Onda, by Scarpetta, provides an authentic Italian dining experience with signature dishes and a luxurious ambiance.
The Norwegian Spirit now offers a variety of dining options, sleek design, onboard spas, and vibrant nightlife options.
The ship's itinerary includes exploration of 10 new ports of call, allowing guests to immerse in different cultures and uncover hidden treasures.
Norwegian Spirit Renovations: A Fresh Look and New Amenities
I can't wait to see the fresh look and new amenities on the Norwegian Spirit after its renovations. The Norwegian Cruise Line is going all out to enhance the onboard experience for passengers.
The staterooms have been upgraded to provide a more luxurious and comfortable stay. But that's not all, they've also added exciting new venues on board. Onda, by Scarpetta, is a new authentic Italian restaurant that will surely delight food enthusiasts.
Other new venues include Taste, The Local Bar and Grill, Garden Cafe, The Great Outdoors Bar, and Waves Pool Bar. And if you're in the mood for some entertainment, there's Bliss Ultra Lounge, Spinnaker Lounge, and Humidor Cigar Lounge.
With these renovations, the Norwegian Spirit is set to offer a truly unforgettable cruise experience.
Indulge in Authentic Italian Cuisine at Onda, by Scarpetta
Savor the authentic flavors of Italian cuisine at Onda, by Scarpetta, where delectable dishes await. Here are four reasons why you should indulge in this Italian culinary experience:
Onda's signature dishes: From homemade pasta to mouthwatering seafood, Onda offers a wide range of dishes that showcase the best of Italian cuisine. Each dish is carefully crafted using authentic Italian ingredients, ensuring a truly remarkable dining experience.

Fine dining ambiance: Step into Onda and be transported to a world of elegance and sophistication. The restaurant boasts a luxurious and intimate atmosphere, perfect for a romantic dinner or a special celebration. Impeccable service and attention to detail complete the fine dining experience.

Scarpetta's renowned cuisine: Onda is a collaboration between Norwegian Cruise Line and Scarpetta, a renowned Italian restaurant brand. With a reputation for excellence, Scarpetta brings its expertise and passion for Italian cuisine to Onda, guaranteeing an unforgettable dining experience.

Authentic Italian ingredients: Onda takes pride in sourcing the finest ingredients to create authentic Italian dishes. From ripe tomatoes to fragrant herbs, every ingredient is carefully selected to ensure the highest quality and the most authentic flavors.
Immerse yourself in the world of Italian cuisine at Onda, by Scarpetta, and indulge in an unforgettable dining experience that will transport your taste buds to the heart of Italy.
Exciting New Venues on Board: Taste, The Local Bar and Grill, Garden Cafe, and More
Taste, The Local Bar and Grill, Garden Cafe, and more are some of the exciting new venues on board Norwegian Spirit. These additions provide a variety of dining options to suit every taste. Whether you're craving a juicy burger, a fresh salad, or a comforting bowl of soup, you'll find it all at these new venues.
And it's not just about the food – the atmosphere is equally impressive. The sleek and modern design creates a welcoming and vibrant ambiance that will make you feel right at home.
But the fun doesn't stop there. After a delicious meal, unwind and relax at the new onboard spas. Rejuvenate and pamper yourself with a soothing massage or a rejuvenating facial.
And as the sun sets, discover the vibrant nightlife options on board. Dance and party the night away at Bliss Ultra Lounge, Spinnaker Lounge, or Humidor Cigar Lounge. Norwegian Spirit has truly transformed into a haven for relaxation, indulgence, and entertainment.
Unwind and Socialize at Bliss Ultra Lounge, Spinnaker Lounge, and Humidor Cigar Lounge
When I step into Bliss Ultra Lounge, Spinnaker Lounge, or Humidor Cigar Lounge, I immediately feel the vibrant energy and inviting atmosphere.
Bliss Ultra Lounge is the epitome of nightlife and entertainment on the Norwegian Spirit. The sleek and modern design, along with the pulsating music and lively crowd, creates an electrifying experience. Whether you're dancing the night away or enjoying a signature cocktail at the bar, this hotspot is guaranteed to keep the party going.
On the other hand, Spinnaker Lounge provides a more laid-back setting with panoramic views of the ocean. It's the perfect spot to relax and enjoy live performances or socialize with fellow passengers.
Lastly, the Humidor Cigar Lounge offers a luxurious retreat for cigar enthusiasts. With its plush seating, cozy ambiance, and a selection of premium cigars, it's the ideal place to unwind and indulge in some well-deserved relaxation.
Norwegian Spirit Itinerary Updates: Explore 10 New Ports of Call
Visiting ten new ports of call on the Norwegian Spirit's itinerary is an incredible opportunity to explore exotic destinations and immerse myself in different cultures. From the vibrant streets of Bali to the bustling city of Tokyo, these new additions to the itinerary promise to uncover cultural gems and hidden treasures. To give you a glimpse of the diverse experiences that await, here is a table showcasing some of the exciting ports of call:
| Port of Call | Country |
| --- | --- |
| Bali | Indonesia |
| Jakarta | Indonesia |
| Surabaya | Indonesia |
| Beppu | Japan |
| Kumamoto | Japan |
| Nagoya | Japan |
| Tokyo | Japan |
| Taipei | Taiwan |
| Yangon | Myanmar |
Each port has its own unique charm and attractions, offering a chance to explore ancient temples, sample local cuisine, and shop for traditional crafts. The Norwegian Spirit's updated itinerary truly opens doors to unforgettable adventures. So pack your bags and get ready to embark on a journey of discovery and cultural immersion.
Discover Bali, Jakarta, Surabaya, and More: First-Time Destinations for Norwegian Cruise Line
Exploring the vibrant destinations of Bali, Jakarta, Surabaya, and more on the Norwegian Spirit's itinerary is a thrilling adventure that promises to immerse me in new cultures and create unforgettable memories.
Jakarta: Known for its bustling streets, Jakarta offers a fascinating blend of modernity and tradition. I can explore its vibrant markets, visit historical landmarks like the National Monument, and indulge in the local cuisine.

Surabaya: As Indonesia's second-largest city, Surabaya is a cultural hub filled with fascinating attractions. I can visit the House of Sampoerna to learn about the city's rich history, explore the vibrant Chinatown, and immerse myself in the local arts scene.

Bali: Famous for its stunning beaches and lush landscapes, Bali is a paradise for nature lovers. I can relax on the pristine beaches, visit ancient temples like Tanah Lot, and experience the unique Balinese culture.

Beppu: Located in Japan, Beppu is renowned for its hot springs and natural beauty. I can soak in the therapeutic waters of the onsens, explore the stunning Beppu Park, and indulge in delicious local cuisine.
Embarking on this Norwegian Spirit journey will allow me to explore the cultural wonders of Jakarta and Surabaya, as well as experience the natural beauty of Bali and Beppu.
From Greece to South Africa: Unforgettable Itineraries on Norwegian Spirit
Sailing on the Norwegian Spirit will take me on unforgettable journeys from Greece to South Africa. I can't wait to embark on this adventure and experience the beauty and diversity of these two incredible destinations.
Starting in Greece, I'll have the opportunity to go Greek island hopping, exploring the charming villages, ancient ruins, and stunning beaches that these islands are known for.
From there, the Norwegian Spirit will take me to South Africa, where I'll have the chance to encounter the country's incredible wildlife. Whether it's going on safari to see the Big Five in Kruger National Park or visiting the penguins at Boulders Beach, South Africa offers a wealth of amazing wildlife experiences.
This itinerary promises to be an incredible journey filled with cultural discoveries and unforgettable wildlife encounters.
Sailings From Rome, Dubai, Singapore, and Beyond: Choose Your Dream Departure Point
I'm thrilled to have the opportunity to embark on incredible journeys from Rome, Dubai, Singapore, and beyond.
When it comes to choosing a departure point for a cruise, two cities stand out: Dubai and Singapore. Both offer unique experiences, but which one is better?
Dubai boasts a modern skyline, luxurious resorts, and a vibrant culture. On the other hand, Singapore is known for its cleanliness, diverse cuisine, and beautiful gardens.
Exploring lesser-known destinations is also a highlight of Norwegian Spirit's new itineraries. From Bali to Tokyo to Yangon, these cruises will take you off the beaten path and uncover hidden gems.
Embark on a Journey Through Asia: From Tokyo to Taipei, Experience the Best of the East
From Tokyo to Taipei, I can't wait to immerse myself in the vibrant cultures and stunning landscapes of Asia.
In Tokyo, the nightlife is legendary, with its neon-lit streets and endless entertainment options. From trendy clubs to cozy izakayas, there is something for everyone in this bustling metropolis. As the sun sets, the city comes alive with energy and excitement.
And then there's Taipei, known for its mouthwatering street food. I can already imagine myself strolling through the bustling night markets, indulging in steaming bowls of beef noodle soup, crispy pork dumplings, and bubble tea. The aromas and flavors will surely transport me to a culinary paradise.
With so much to see, taste, and experience, my journey through Asia promises to be an unforgettable adventure.
Frequently Asked Questions
What Are Some of the New Amenities on Board the Renovated Norwegian Spirit?
The renovated Norwegian Spirit offers new amenities such as a spa and wellness facilities, providing a relaxing and rejuvenating experience. Additionally, enhanced entertainment options onboard ensure a vibrant and enjoyable atmosphere for all passengers.
Can You Provide More Details About the Dining Options at Onda, by Scarpetta?
Sure! Onda, by Scarpetta, is a culinary gem on the revamped Norwegian Spirit. With its authentic Italian cuisine and elegant ambiance, it stands out among the ship's dining options. Reservations are recommended, and prices vary.
What Are Some of the Highlights of the New Venues on Board, Such as Taste, the Local Bar and Grill, and Garden Cafe?
Some highlights of the new venues on board the Norwegian Spirit include Taste, The Local Bar and Grill, and Garden Cafe. These exciting additions offer a variety of delicious dining options and a vibrant atmosphere.
Tell Us About the Atmosphere and Offerings at Bliss Ultra Lounge, Spinnaker Lounge, and Humidor Cigar Lounge.
Bliss Ultra Lounge, Spinnaker Lounge, and Humidor Cigar Lounge offer a vibrant nightlife experience. The atmosphere is luxurious and sophisticated, making it the perfect place to relax and enjoy a drink or cigar.
Which Are the 10 New Ports of Call That Norwegian Spirit Will Visit, and What Makes Them Unique Destinations?
The 10 new ports of call on Norwegian Spirit are Bali, Jakarta, Surabaya, Beppu, Kumamoto, Nagoya, Tokyo, Taipei, and Yangon. Each destination offers unique cultural experiences and stunning landscapes for travelers to explore.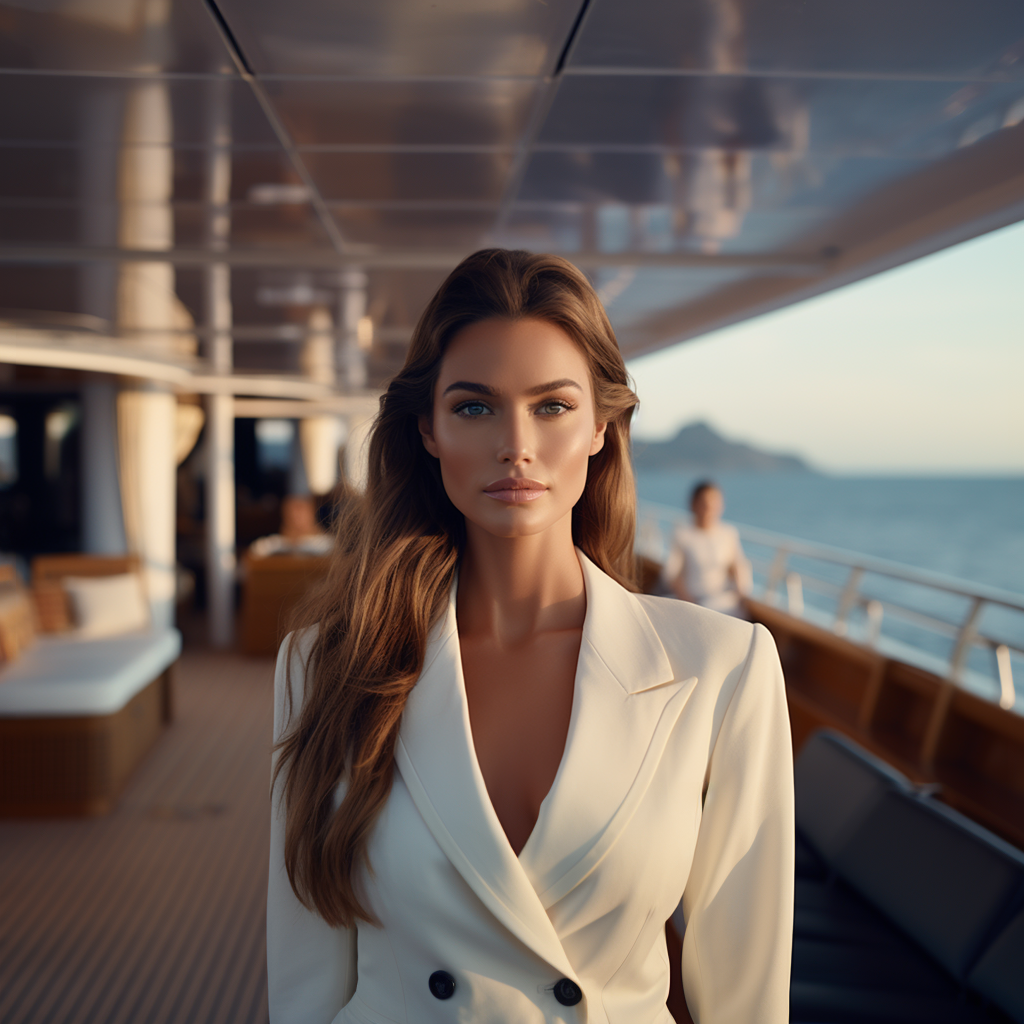 Claire, a creative soul with an unquenchable thirst for storytelling, is an integral part of the Voyager Info team. As a dedicated writer, she weaves captivating narratives that transport readers to enchanting cruise destinations and beyond.
Claire's love affair with writing began at an early age when she discovered the magic of words and their ability to craft worlds and emotions. Her innate curiosity led her to explore various literary genres, but it was travel writing that truly captured her heart. Drawing inspiration from her own globetrotting adventures and encounters with diverse cultures, Claire embarked on a journey to become a travel writer par excellence.