As a discerning traveler, I have always sought out upscale all-inclusive cruise experiences that offer the perfect blend of luxury and immersion. Silversea Silver Moon checks all the boxes, providing a truly exceptional voyage.
From the luxurious accommodations and attentive service to the innovative S.A.L.T. program, every aspect of this cruise is designed to exceed expectations.
With a range of dining options, including the exquisite Atlantide and the casual charm of The Grill, there is something to satisfy every palate. And with the S.A.L.T. program's curated cocktails and regional cuisine, I can truly experience the flavors of each destination.
Whether I'm enjoying live music performances or indulging in culinary demonstrations, Silver Moon ensures that I am entertained and engaged throughout my journey.
With a generous passenger-space ratio and a plethora of amenities, including a large swimming pool and whirlpools, this cruise offers the ultimate in relaxation and rejuvenation.
Silversea Silver Moon is the epitome of a high-end vacation, and I can't wait to embark on this remarkable adventure.
Key Takeaways
Silversea Silver Moon is dedicated to providing a luxurious and upscale experience for travelers.
The cruise offers an all-inclusive package that includes drinks, butler service, and WiFi.
The cuisine on Silver Moon is diverse, with a range of options including regional cuisine, French gourmet experiences, and Asian menus.
The ship features a variety of amenities, including a spa, swimming pool, hands-on cooking lessons, and a cigar lounge.
Overview of Silversea Silver Moon
I really like the fact that Silversea Silver Moon offers an all-inclusive package that includes drinks, butler service, and WiFi. It's such a great benefit to have everything taken care of, allowing me to truly relax and enjoy my cruise experience.
One of the features that I absolutely love is the Zagara Spa. It offers a range of luxurious treatments, a salon for pampering sessions, and a state-of-the-art fitness center. Whether I want to indulge in a massage, get a new hairstyle, or work out, the spa has it all.
The all-inclusive package also means that I can enjoy all these amenities without any additional charges. It's the perfect way to unwind and rejuvenate while sailing on the Silver Moon.
Cuisine on Silver Moon
La Terrazza serves a buffet breakfast and lunch, and offers an a la carte dinner. When it comes to dining on Silver Moon, guests are in for a treat. The ship's culinary offerings are diverse and cater to various tastes.
Here are three specialty restaurants that provide unique dining experiences:
Kaiseki: This Asian-inspired restaurant offers a menu filled with exquisite flavors and delicate presentations. From sushi to tempura, guests can indulge in a range of traditional Japanese dishes.

La Dame: If you're looking for a gourmet French experience, La Dame is the place to be. With its elegant ambiance and refined menu, this restaurant promises an unforgettable dining experience.

S.A.L.T. Kitchen: As part of the innovative S.A.L.T. program, S.A.L.T. Kitchen offers regional cuisine that reflects the destinations visited. With Voyage and Terrain menus, guests can explore the flavors of the world while onboard.
In addition to these specialty restaurants, the S.A.L.T. program on Silver Moon enhances the culinary offerings and shore excursions for guests. Whether you're a food enthusiast or an adventurous traveler, Silver Moon has something to satisfy your appetite.
Subdued Atlantide Serves Breakfast, Dinner, and Lunch on Sea Days
Atlantide, one of the specialty restaurants on Silver Moon, offers breakfast, dinner, and lunch exclusively on sea days. The ambiance in Atlantide is subdued, creating a serene atmosphere for guests to enjoy their meals. With its elegant décor and attentive service, Atlantide provides a sophisticated dining experience. The menu options at Atlantide are diverse and enticing. For breakfast, guests can choose from a variety of delicious options such as omelettes, pancakes, and pastries. During lunch, Atlantide offers a selection of appetizers, salads, and main courses, including seafood, poultry, and vegetarian dishes. For dinner, guests can indulge in gourmet delicacies like lobster bisque, filet mignon, and chocolate soufflé. Whether it's starting the day with a satisfying breakfast or savoring a decadent dinner, Atlantide is a wonderful choice for a memorable dining experience on Silver Moon.
| Breakfast | Lunch | Dinner |
| --- | --- | --- |
| Omelettes | Salads | Lobster bisque |
| Pancakes | Seafood | Filet mignon |
| Pastries | Poultry | Chocolate soufflé |
| | Vegetarian | |
S.A.L.T. Kitchen Offers Regional Cuisine With Voyage and Terrain Menus
The S.A.L.T. Kitchen on Silver Moon offers a culinary journey through regional cuisine with its Voyage and Terrain menus. As a guest on board, I am thrilled to have the opportunity to experience the S.A.L.T. program benefits and enhancements.
The menus are carefully curated to showcase the flavors and traditions of different regions around the world. Each dish tells a story, highlighting the unique ingredients and cooking techniques of the region. From the vibrant spices of Asia to the hearty flavors of Europe, the S.A.L.T. Kitchen truly captures the essence of regional cuisine.
Whether I choose the Voyage menu for a taste of the sea or the Terrain menu for a land-based culinary adventure, I am guaranteed a memorable dining experience that celebrates the diversity of global cuisine.
S.A.L.T. Bar Curates Bespoke Cocktails Tied to the Destination
As I approach the S.A.L.T. Bar on Silver Moon, I am excited to discover a menu of bespoke cocktails that have been carefully crafted to reflect the unique flavors and spirits of the destination. The S.A.L.T. Bar is known for creating one-of-a-kind drink experiences that transport guests to different places around the world. From the moment you take your first sip, you can taste the essence of the destination in each bespoke cocktail. The bar's talented mixologists use locally sourced ingredients and traditional techniques to create these unique drink recipes. Whether you're in the mood for a refreshing tropical concoction or a bold and complex flavor profile, the S.A.L.T. Bar has something for everyone. So sit back, relax, and let your taste buds embark on a journey of their own with these extraordinary bespoke cocktails.
| Cocktail Name | Destination Inspiration |
| --- | --- |
| Moonlight Margarita | Mexican beaches at sunset |
| Zen Garden Martini | Tranquil Japanese gardens |
| Caribbean Breeze | Tropical paradise of the Caribbean |
| Tuscan Sunset | Romantic vineyards in Tuscany |
| Spice Market Mule | Exotic flavors of the Middle East |
| Island Oasis | Pristine beaches of the Maldives |
Each drink is meticulously crafted using the finest spirits and ingredients, ensuring a truly exceptional and unforgettable drink experience. The S.A.L.T. Bar's dedication to creating bespoke cocktails that capture the essence of each destination sets it apart from other bars on board. Whether you're a seasoned cocktail connoisseur or simply looking to try something new and exciting, the S.A.L.T. Bar offers a wide range of options to suit every palate. So raise your glass and embark on a journey of taste and discovery with these unique and delicious bespoke cocktail creations.
La Terrazza Serves Buffet Breakfast and Lunch, a La Carte Dinner
When I dine at La Terrazza on Silver Moon, I can enjoy a buffet breakfast and lunch, followed by a delectable a la carte dinner.
The menu options at La Terrazza are diverse and cater to various tastes and preferences. For breakfast, I can indulge in a wide array of dishes, including freshly baked pastries, seasonal fruits, yogurt, and made-to-order omelets.
During lunchtime, I have the option to choose from a selection of appetizers, salads, soups, and main courses, all prepared with the finest ingredients.
In the evening, the ambiance at La Terrazza transforms into an intimate and elegant setting perfect for a memorable dinner experience. The a la carte menu features delectable Italian specialties, such as homemade pasta, succulent seafood, and mouthwatering desserts.
Whether it's a leisurely breakfast, a light lunch, or a sophisticated dinner, La Terrazza offers an exquisite dining experience that satisfies every palate.
The Grill Transforms Into Hot Rocks for Casual Outdoor Grilling
I love how The Grill on Silver Moon transforms into Hot Rocks, offering a fun and casual outdoor grilling experience. It's one of my favorite dining options on the ship, and here's why:
The sizzling sensation: As soon as you step into Hot Rocks, you're greeted with the tantalizing aroma of sizzling meats and seafood. The sound of the grill crackling adds to the excitement.

Interactive dining: At Hot Rocks, you become the chef! Each table is equipped with a superheated volcanic rock, where you can cook your own meal to perfection. It's a unique and engaging dining experience that brings out the inner chef in everyone.

Scenic views: Set outdoors, Hot Rocks offers breathtaking views of the ocean as you enjoy your meal. Whether it's a stunning sunset or a star-filled sky, the ambiance adds an extra touch of magic to your dining experience.
Outdoor grilling on Silver Moon doesn't get any better than this. So grab your tongs, gather your friends and family, and get ready for a memorable meal at The Grill's Hot Rocks experience.
Kaiseki Features Asian Menu With Surcharge
Kaiseki offers an Asian-inspired menu that comes with an additional charge. As a passenger on Silver Moon, I couldn't resist the opportunity to embark on a culinary journey and explore the cultural significance of kaiseki cuisine.
The kaiseki dining experience showcases the artistry and precision of Japanese cooking, with each dish carefully crafted to reflect the season and the chef's creativity. The flavors are delicate, yet bold, with a perfect balance of textures and tastes.
While there is an extra cost associated with this experience, I believe it is well worth it. The attention to detail, the exquisite presentation, and the unique flavors make the kaiseki dining experience a truly memorable one. It is a chance to immerse oneself in the rich culinary heritage of Asia and indulge in a truly extraordinary meal.
La Dame Offers French Gourmet Experience With Surcharge
Indulging in the French gourmet experience at La Dame comes with an additional charge, but the exquisite flavors and impeccable service make it a truly decadent dining option.
La Dame offers an upscale dining experience, showcasing the finest French cuisine with a surcharge. Onboard Silver Moon, guests have a range of gourmet dining options, but La Dame stands out for its refined atmosphere and culinary excellence.
The menu features classic French dishes prepared with the utmost care and attention to detail. Each bite is a symphony of flavors, as every ingredient is thoughtfully selected and expertly executed. From the velvety texture of the foie gras to the delicate balance of the sauces, the dishes at La Dame are a testament to the artistry of French cuisine.
The attentive staff ensures that every aspect of the dining experience is flawless, providing personalized service and a warm ambiance. For those seeking a fine dining experience on Silver Moon, La Dame is the ultimate choice.
Spaccanapoli Serves Naples-Style Pizzas Al Fresco
Serving authentic Naples-style pizzas al fresco, Spaccanapoli offers a delightful dining experience with its delicious thin-crust creations and charming outdoor setting. The ambiance at Spaccanapoli is warm and inviting, with the aroma of freshly baked pizzas filling the air. The restaurant's outdoor seating area provides the perfect spot to enjoy your meal while taking in the surrounding scenery.
Now, let's talk about the best pizza toppings that Spaccanapoli has to offer. From classic Margherita with its perfect combination of tomato sauce, mozzarella, and basil, to the indulgent Prosciutto e Funghi topped with savory prosciutto and earthy mushrooms, there is a pizza topping to satisfy every palate. Don't forget to try the spicy Diavola with its fiery combination of spicy salami and chili flakes.
So grab a slice and savor the flavors of Spaccanapoli's mouthwatering pizzas in a picturesque outdoor setting.
Arts Café Provides Light Snacks and Caffeinated Options
When I visited the Arts Café on Silver Moon, I enjoyed their selection of light snacks and caffeinated options. The café had a cozy and inviting ambiance, with comfortable seating and beautiful artwork displayed on the walls. It was the perfect place to relax and unwind after a day of exploring.
The variety of caffeinated options available was impressive, from freshly brewed coffees to specialty teas. I opted for a delicious cappuccino, which was expertly prepared by the friendly barista.
The snack menu offered a range of tasty treats, from pastries and sandwiches to fruit and yogurt parfaits. Whether you needed a quick pick-me-up or a light bite, the Arts Café was the ideal spot to satisfy your cravings.
24-Hour All-Around Dining Available for In-Room or Public Areas
I can enjoy 24-hour all-around dining on Silver Moon, whether in my stateroom or in the public areas. It's incredibly convenient to have dining options available at any time of the day or night.
Here are five reasons why I love the 24-hour dining on Silver Moon:
Variety of choices: From buffet breakfast and lunch at La Terrazza to gourmet French cuisine at La Dame, there's something to satisfy every craving.

In-room dining: Sometimes, I just want to relax in my stateroom and enjoy a meal in privacy. With the convenience of in-room dining, I can have delicious food delivered right to my door.

Late-night snacks: Whether it's a midnight snack or an early morning bite, I can always find something to eat. The Arts Café provides light snacks and caffeinated options round the clock.

Flexibility: No matter what time my hunger strikes, I never have to worry about finding a place to eat. The 24-hour dining options ensure that I'm always well-fed.

Convenience: Having access to all-around dining allows me to make the most of my time on board. I can dine whenever and wherever I want, without any restrictions.
With the 24-hour dining options and the convenience of in-room dining, Silver Moon truly takes care of all my culinary needs.
Features on Silver Moon
After indulging in the delectable cuisine and enjoying the 24-hour all-around dining options on Silversea Silver Moon, it's time to explore the incredible features this luxurious ship has to offer.
From interactive experiences to rejuvenating spa treatments, Silver Moon truly knows how to cater to its upscale clientele.
One of the standout features onboard is the Zagara Spa, where guests can unwind and pamper themselves with a wide range of treatments. Whether you're in need of a relaxing massage, a rejuvenating facial, or a refreshing body scrub, the skilled therapists at Zagara Spa will ensure that you leave feeling revitalized and refreshed.
In addition to the spa, Silver Moon also offers a fitness center for those who want to stay active during their voyage. Equipped with state-of-the-art equipment, this fitness center provides the perfect setting for your workout routine.
With its interactive experiences and luxurious spa treatments, Silver Moon truly goes above and beyond to create an unforgettable cruise experience.
Frequently Asked Questions
Are There Any Additional Charges for the S.A.L.T. Program Activities and Experiences on Silver Moon?
Yes, there are additional charges for some of the S.A.L.T. program activities and experiences on Silver Moon. While the all-inclusive package includes many amenities, certain offerings may have a surcharge.
Can Veranda Suites Be Upgraded to Include a Balcony?
Yes, veranda suites on Silver Moon can be upgraded to include a balcony. This provides a wonderful outdoor space to enjoy the views and fresh air while cruising in style and comfort.
Is There a Dress Code for Dining in the Different Restaurants on Silver Moon?
There is a dress code for dining in the different restaurants on Silver Moon. It's important to adhere to dining etiquette and dress appropriately for the occasion.
Are There Any Age Restrictions for Using the Zagara Spa and Fitness Center?
There are no age restrictions at the Zagara Spa and Fitness Center. Guests of all ages can enjoy the benefits, such as rejuvenating treatments, salon services, a well-equipped fitness center, and a relaxing atmosphere.
Can the Royal, Grand, and Owners Suites Be Booked Separately or Are They Only Available as Connected Suites With a Standard Suite?
Yes, the Royal, Grand, and Owners suites can be booked separately or as connected suites with a standard suite. They offer larger living areas and additional amenities for a more luxurious experience onboard.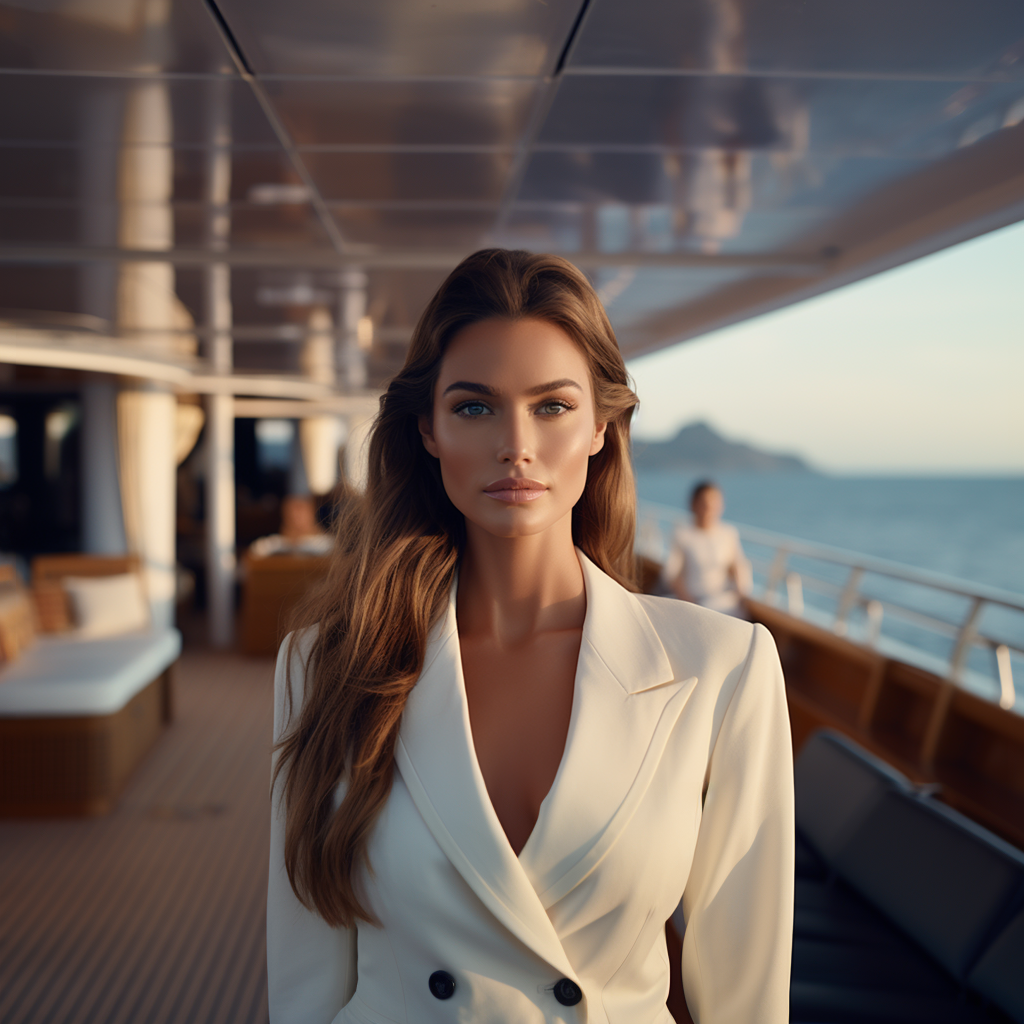 Claire, a creative soul with an unquenchable thirst for storytelling, is an integral part of the Voyager Info team. As a dedicated writer, she weaves captivating narratives that transport readers to enchanting cruise destinations and beyond.
Claire's love affair with writing began at an early age when she discovered the magic of words and their ability to craft worlds and emotions. Her innate curiosity led her to explore various literary genres, but it was travel writing that truly captured her heart. Drawing inspiration from her own globetrotting adventures and encounters with diverse cultures, Claire embarked on a journey to become a travel writer par excellence.