I have found the ultimate escape on the Regal Princess.
This luxurious cruise ship offers a diverse range of activities and entertainment options for passengers of all ages. From expansive open decks and quiet retreats to well-equipped fitness centers and engaging shows, there is something for everyone onboard.
Get ready to unwind, relax, and embark on an unforgettable journey filled with relaxation, excitement, and endless fun.
Join me as we explore the wonders of the Regal Princess and indulge in the ultimate escape.
Key Takeaways
The Regal Princess offers a variety of entertainment options including live music, captivating production shows, and interactive game shows.
The ship provides a range of culinary delights with buffet breakfasts, diverse international cuisines for lunch, and gourmet dishes for dinner.
Guests can relax and rejuvenate at the Lotus Spa, which offers luxurious treatments and a serene atmosphere.
The Regal Princess allows for exploration of ports of call, with shore excursions showcasing vibrant culture, ancient ruins, and crystal clear waters for snorkeling.
Ship Features: A Relaxing Haven Onboard
I love how the Regal Princess offers expansive open decks, an aft pool, and the Retreat Pool and The Sanctuary for a relaxing and peaceful getaway onboard.
The ship features a serene atmosphere and a truly relaxing ambiance that allows passengers to escape from the hustle and bustle of everyday life.
The open decks provide ample space to unwind and take in the breathtaking views of the sea.
The aft pool offers a quiet retreat where you can soak up the sun and enjoy a refreshing swim.
For those seeking ultimate relaxation, the Retreat Pool and The Sanctuary offer a tranquil oasis with luxurious amenities and serene surroundings.
Whether you prefer lounging by the pool or finding a peaceful spot to read a book, the Regal Princess has everything you need for a rejuvenating and blissful vacation.
Activities and Entertainment: Endless Fun and Excitement
There are numerous activities and entertainment options available on the Regal Princess, providing endless fun and excitement for passengers of all ages.
From outdoor activities to live music and shows, there is something for everyone to enjoy on this magnificent ship.
Step out onto the expansive open decks and engage in a variety of outdoor activities such as batting cage, putting on fake grass, shooting simulator, and outdoor Zumba.
For those seeking relaxation, there is the Retreat Pool and The Sanctuary, offering a tranquil retreat.
In the evenings, indulge in the vibrant nightlife with live music in multiple lounges, casino action, and comedians to keep you entertained.
The main theater presents captivating production shows like Bravo and Fiera!, while the Movies Under the Stars screen allows you to enjoy an outdoor cinema experience.
Get ready to be immersed in a world of endless fun and excitement on the Regal Princess.
Princess Live!: Captivating Performances and Engaging Contests
Princess Live! features captivating performances and engaging contests that entertain passengers of all ages. It's the ultimate talent showcase and interactive game show experience onboard the Regal Princess. Here's why you shouldn't miss out:
Talent Showcase: Prepare to be amazed as talented individuals take the stage to showcase their skills. From singers and dancers to magicians and comedians, there's something for everyone. You'll be left in awe by the incredible talent onboard.

Interactive Game Shows: Get ready to participate in exciting game shows that will have you on the edge of your seat. Test your knowledge, compete against fellow passengers, and win amazing prizes. It's an interactive experience that will keep you entertained and engaged throughout.

Entertainment for All Ages: Princess Live! offers entertainment that appeals to passengers of all ages. Whether you're traveling with family or friends, you'll find something enjoyable and captivating. It's the perfect opportunity to create lasting memories and have a fantastic time onboard the Regal Princess.
Don't miss out on the unforgettable experiences that Princess Live! has to offer. Get ready to be entertained, amazed, and have the time of your life.
Nighttime Entertainment: Unwind and Dance the Night Away
At night, live music fills the multiple lounges onboard, creating a vibrant atmosphere perfect for dancing and letting loose.
The Regal Princess knows how to throw a dance party like no other. From the moment the sun sets, the ship comes alive with energetic beats and infectious rhythms. Whether you're a seasoned dancer or just looking to have some fun, there's a spot for everyone to groove to their favorite tunes.
The late night shows are also a must-see, featuring talented performers who will captivate you with their incredible talent. So put on your dancing shoes and get ready to party the night away.
The Regal Princess is the ultimate destination for those who want to unwind and dance until dawn.
Shows and Movies: Spectacular Performances and Cinematic Experiences
I love experiencing the spectacular performances and cinematic experiences onboard the ship.
The Regal Princess offers a variety of shows and movies that are sure to captivate and entertain.
One of the highlights is the opera-inspired performances, such as Bravo, a magnificent show featuring a soprano and orchestra. The powerful vocals and stunning music create a truly unforgettable experience.
Additionally, the ship offers outdoor cinema experiences with their Movies Under the Stars screen. Imagine watching your favorite films while lounging under the open sky, surrounded by the beauty of the ocean. It's the perfect way to unwind and enjoy a cinematic experience like no other.
Whether you're a fan of opera or simply love watching movies under the stars, the Regal Princess has something for everyone.
Indulge in Culinary Delights: Dining Options for Every Taste
The dining options onboard offer a wide range of culinary delights to satisfy every taste. From casual eateries to elegant dining venues, there is something for everyone to enjoy.
Start your day with a delicious breakfast at the buffet, where you can choose from a variety of fresh fruits, pastries, and made-to-order omelettes.
For lunch, indulge in a diverse selection of international cuisines at the specialty restaurants. From Italian classics to Asian fusion, there are plenty of options to please your palate.
And when it comes to dinner, prepare yourself for a culinary experience like no other. Indulge in gourmet dishes prepared by world-class chefs, and savor the flavors of each meticulously crafted dish.
Whether you're a foodie or simply enjoy good food, the dining options onboard will surely leave you satisfied and longing for more culinary experiences.
Relaxation and Rejuvenation: Pamper Yourself at the Lotus Spa
Pampering myself at the Lotus Spa is an incredible way to relax and rejuvenate onboard the ship. The spa treatments offered here are top-notch, providing a blissful escape from the stresses of everyday life. The skilled therapists use a combination of techniques to soothe both the body and the mind.
Here are three reasons why the Lotus Spa is a must-visit:
Indulge in luxurious spa treatments that will leave you feeling pampered and refreshed.
Experience a variety of relaxation techniques, such as aromatherapy and hot stone massages, that will melt away tension and promote deep relaxation.
Enjoy the serene and tranquil atmosphere of the spa, complete with soothing music and a peaceful ambiance.
Whether you're in need of a little self-care or simply want to treat yourself to some well-deserved relaxation, the Lotus Spa is the perfect place to unwind and rejuvenate.
Explore the Ports of Call: Unforgettable Adventures Ashore
Exploring the ports of call during my cruise is an opportunity for unforgettable adventures ashore. From the moment I step off the ship, I am immersed in the vibrant culture and rich history of each destination.
The shore excursions offered by Regal Princess are designed to showcase the best of each port, allowing me to truly experience the beauty and uniqueness of each place. Whether it's exploring ancient ruins, snorkeling in crystal clear waters, or simply strolling through charming cobblestone streets, there is something for everyone.
And let's not forget about the local cuisine! Each port offers a chance to indulge in delicious regional dishes and flavors, from fresh seafood to traditional street food. Exploring the ports of call is not just a way to see the world, but also an opportunity to taste it.
Frequently Asked Questions
Are There Any Onboard Activities Specifically Designed for Children?
Yes, there are onboard activities specifically designed for children. The ship offers kids' clubs and spacious and age-appropriate spaces for kids to enjoy. There are also daily activities listed in the Princess Patter and Regal Princess app.
Can Passengers Participate in the Princess Pop Star Contest?
Yes, passengers can participate in the Princess Pop Star contest. It's a fun and exciting singing competition onboard. Additionally, there are age-appropriate children's activities available to keep the little ones entertained throughout the cruise.
What Types of Shows Are Featured in the Main Theater?
Broadway style shows and comedy shows are featured in the main theater on the Regal Princess. Guests can enjoy live performances, including opera-influenced shows like Bravo, and contemporary hits in Fiera!.
Is There a Disco Scene for Dancing Onboard?
Yes, there is a disco scene for dancing onboard. The ship offers a vibrant nightlife with live music, a dance floor, and a disco ambiance. It's the perfect place to let loose and have fun.
What Dining Options Are Available for Passengers With Specific Dietary Restrictions?
For passengers with specific dietary restrictions, Regal Princess offers a range of options. There are vegan-friendly choices, ensuring a satisfying and delicious dining experience. Additionally, gluten-free options are available, accommodating various dietary needs.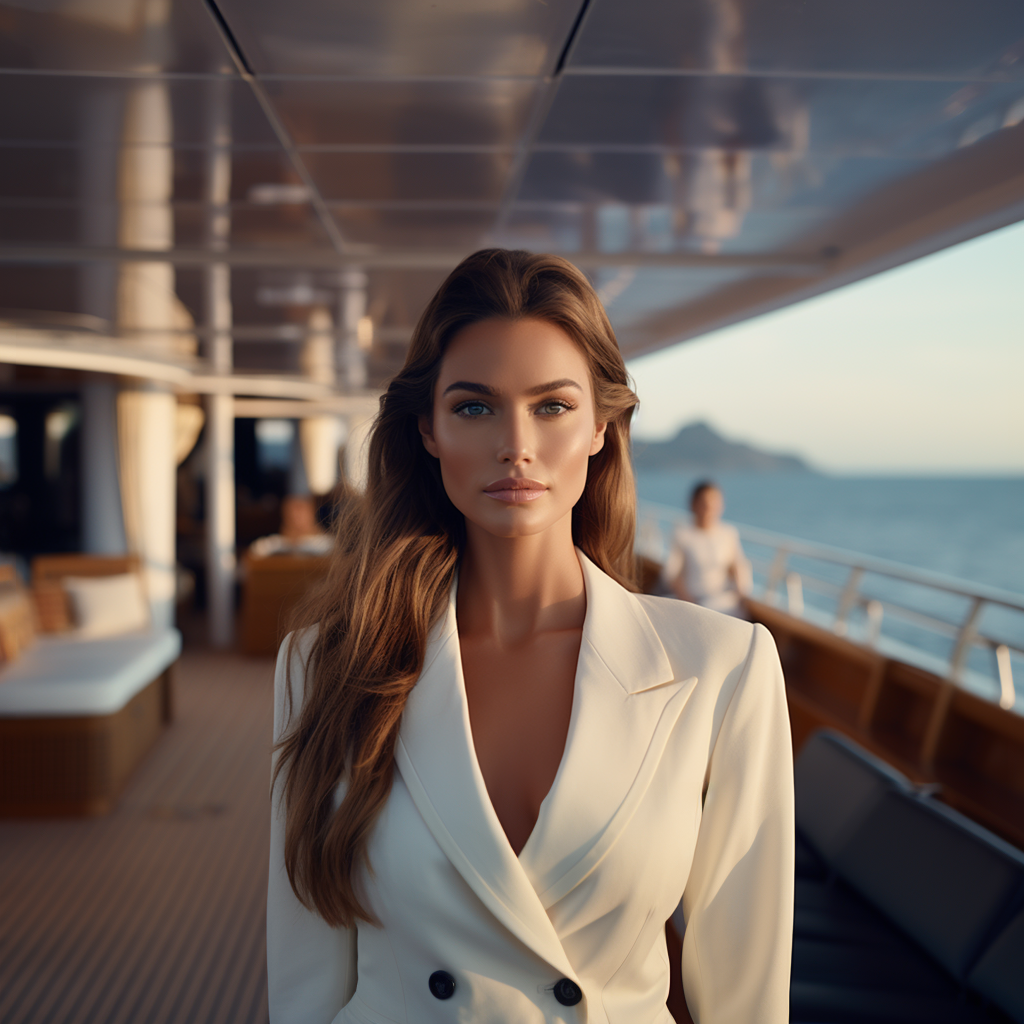 Claire, a creative soul with an unquenchable thirst for storytelling, is an integral part of the Voyager Info team. As a dedicated writer, she weaves captivating narratives that transport readers to enchanting cruise destinations and beyond.
Claire's love affair with writing began at an early age when she discovered the magic of words and their ability to craft worlds and emotions. Her innate curiosity led her to explore various literary genres, but it was travel writing that truly captured her heart. Drawing inspiration from her own globetrotting adventures and encounters with diverse cultures, Claire embarked on a journey to become a travel writer par excellence.