As a Sydney local, I can confidently say that exploring the city's ferry escapes is an absolute must.
Did you know that there are three popular destinations just a short ferry ride away?
Manly Beach, with its stunning shoreline and beachside dining options, is a favorite among locals and tourists alike.
Mosman Bay offers a tranquil bay to stroll around, while Watsons Bay boasts the romantic ambiance of Doyles Restaurant.
With an Opal card in hand, let's uncover Sydney's best ferry experiences together.
Key Takeaways
Manly Beach, Mosman Bay, Watsons Bay, and Circular Quay are popular ferry destinations in Sydney.
Each destination offers unique experiences, such as stunning views, tranquil beauty, romantic retreats, and vibrant attractions.
Sydney's ferry cuisine is diverse, with options for delicious food and fresh seafood at various destinations.
Exploring lesser-known ferry destinations allows for discovering hidden gems and supporting local businesses.
Manly Beach: A Popular Day Trip
Manly Beach is a popular day trip for Sydneysiders, and I can take a large ferry that accommodates beachgoers and tourists.
As I step onto the ferry, I can feel the excitement building. The ferry ride itself is a delightful experience, offering stunning views of the Sydney Harbour Bridge and the iconic Opera House.
Once I arrive at Manly Beach, I can't wait to indulge in the dining experience at Manly's 16 Foot Skiff Club. Located along the Esplanade, this club is open to the public, although only members can reserve seating.
The food is well-prepared, and they specialize in serving fresh fish. It's a perfect way to satisfy my cravings after a day of sun, sand, and surf.
Mosman Bay: Tranquility by the Water
As I step off the ferry at Mosman Bay, I am immediately greeted by the tranquil beauty of the bay and the inviting walk along Centenary Drive. The air is crisp and fresh, carrying the scent of the ocean and the surrounding bushland. I can't help but be captivated by the natural beauty that surrounds me. The bay is teeming with life, from the gentle waves lapping against the shore to the birds soaring overhead. It's a haven for nature lovers and photographers alike, offering endless opportunities to explore and capture the beauty of Mosman Bay through photography. The table below highlights some of the key attractions and experiences that await visitors in this picturesque location:
| Explore Nature in Mosman Bay | Capture the Beauty Through Photography | Enjoy the Tranquil Atmosphere |
| --- | --- | --- |
| Walk along Centenary Drive, taking in the stunning bay views | Photograph the unique flora and fauna found along the shoreline | Find a quiet spot to sit and relax, immersing yourself in the serenity of the surroundings |
| Visit the Mosman Rowers Club and dine in their nautical-themed dining room | Capture the sunlight dancing on the water, creating beautiful reflections | Take a leisurely stroll along the bay, enjoying the peace and quiet |
| Indulge in bistro-style fish and chips on the outside balcony | Frame the picturesque bay against the backdrop of the Sydney skyline | Observe the local wildlife, such as pelicans and dolphins, in their natural habitat |
| Explore the nearby bushland and discover hidden walking trails | Experiment with different angles and compositions to capture the essence of the bay | Listen to the soothing sounds of the water and let your worries melt away |
Exploring nature in Mosman Bay is a truly rewarding experience, offering a peaceful escape from the hustle and bustle of the city. Whether you're a professional photographer or simply enjoy capturing moments of natural beauty, Mosman Bay provides the perfect backdrop for your creative endeavors. So grab your camera and immerse yourself in the tranquility of this stunning bay.
Watsons Bay: A Romantic Harbor Retreat
When I arrive at Watsons Bay, I am immediately enchanted by the romantic atmosphere and picturesque harbor views. It feels like a secluded retreat, perfect for a romantic getaway.
One of the highlights of Watsons Bay is the renowned Doyles Restaurant, a Sydney icon that has been serving fresh seafood since the 1880s. With its friendly service and stunning harbor views, it is recognized as one of Sydney's most romantic dining options.
Getting to Watsons Bay is easy, thanks to the ferry routes and schedules available at transportnsw.info. You can board the ferry at various wharfs, including Circular Quay, Pyrmont Bay, and Barangaroo.
Tips for Exploring Sydney's Ferries
I find it helpful to purchase an Opal card for easy transport while exploring Sydney's ferry system. It's a convenient way to hop on and off the ferries as I discover hidden gems around the city.
Here are some tips for making the most of your ferry adventures:
Discover Manly Beach: Take the large ferry and enjoy a day trip to this popular beach destination. Don't miss the chance to dine at Manly's 16 Foot Skiff Club along the Esplanade. Their well-prepared food and fresh fish are a must-try for any foodie.

Explore Mosman Bay: Hop on a short ferry ride from Circular Quay and walk around the tranquil bay along Centenary Drive. Visit the Mosman Rowers Club with its nautical theme and enjoy bistro-style fish and chips on the outside balcony.

Indulge at Watsons Bay: Take a ferry to this beautiful spot and dine at Doyles Restaurant, a Sydney icon known for its fresh seafood and harbor views. It's recognized as one of Sydney's most romantic restaurants, so be sure to try their seafood platter for two and champagne.

Useful tips: Purchase an Opal card for easy transportation, check ferry routes and timetables at transportnsw.info, and remember that Circular Quay is the main ferry terminal. Don't forget to explore other popular destinations like Pyrmont Bay and Barangaroo Wharfs.
Exploring Sydney's ferry system allows you to uncover hidden gems and indulge in must-try local cuisine. So grab your Opal card and embark on a ferry adventure to experience the best of Sydney's waterfront.
Getting Around With an Opal Card
Using an Opal card makes it easy to navigate Sydney's transportation system and explore the city's various attractions. Not only can you use it on ferries, but also on buses, trains, and light rail.
This card offers many benefits, such as discounted fares and the convenience of not having to carry cash. With an Opal card, you can easily hop on and off different modes of transportation, allowing you to explore Sydney at your own pace.
Whether you want to visit the iconic Manly Beach, take a leisurely stroll around Mosman Bay, or dine at Watsons Bay's famous Doyles Restaurant, an Opal card will be your ticket to discovering these incredible destinations.
Circular Quay: Gateway to Sydney's Ferries
Arriving at Circular Quay, the ferry terminal offers a gateway to explore Sydney's stunning harbor and its many attractions. Here are some of the best places to eat near Circular Quay:
The Rocks: This historic neighborhood is home to a variety of dining options, from cozy cafes to upscale restaurants. Don't miss the chance to try some local seafood at one of the waterfront eateries.

Opera Bar: Located right next to the iconic Sydney Opera House, this outdoor bar offers stunning views of the harbor. Enjoy a refreshing cocktail or indulge in some delicious Australian cuisine while taking in the breathtaking scenery.

Bulletin Place: If you're looking for a unique dining experience, head to Bulletin Place. This hidden gem specializes in seasonal cocktails and serves up a menu of inventive dishes made with locally sourced ingredients.
Exploring Circular Quay's attractions and enjoying a delicious meal go hand in hand, making it the perfect destination for food lovers and sightseers alike.
Pyrmont Bay and Barangaroo Wharfs: Must-Visit Destinations
Located near Circular Quay, the Pyrmont Bay and Barangaroo Wharfs are two must-visit destinations for exploring Sydney's harbor. These vibrant wharfs offer a range of attractions that cater to both locals and tourists alike.
At Pyrmont Bay, you can immerse yourself in the lively atmosphere of Darling Harbour. The wharf is surrounded by trendy bars, restaurants, and shops, making it the perfect place to experience Sydney's vibrant nightlife. Whether you're in the mood for a delicious seafood dinner or a fun night out with friends, Pyrmont Bay has something for everyone.
On the other hand, Barangaroo Wharf offers a different kind of charm. This modern waterfront precinct is home to a variety of cultural experiences, from art installations to outdoor performances. You can stroll along the picturesque waterfront promenade, admire the stunning views of the Sydney Harbour Bridge, or relax in one of the many beautiful parks.
Both Pyrmont Bay and Barangaroo Wharfs have their own unique appeal, and exploring their attractions is a must for anyone looking to make the most of their time in Sydney. So, whether you're seeking a fun night out or a peaceful day by the water, these wharfs have got you covered.
Getting a Taste of Sydney's Ferry Escapes
I love exploring the different wharfs in Sydney and experiencing the diverse culinary delights they have to offer.
Sydney's ferry cuisine is a hidden gem along the ferry routes. One of my favorite spots is Manly Beach, a popular day trip for both locals and tourists. After a relaxing ferry ride, I head to the 16 Foot Skiff Club along the Esplanade. This club, open to the public, serves up well-prepared food and fresh fish.
Another great stop is Mosman Bay, just a short ferry ride from Circular Quay. I love walking around the tranquil bay and visiting the Mosman Rowers Club, with its nautical theme and spacious dining room.
And who can forget Watsons Bay? Doyles Restaurant, a Sydney icon, offers fresh seafood, friendly service, and stunning harbor views.
With so many hidden gems along the ferry routes, Sydney's culinary scene is a delight to explore.
Discovering Sydney's Best Ferry Experiences
After getting a taste of Sydney's ferry escapes and experiencing the vibrant destinations like Manly Beach, Mosman Bay, and Watsons Bay, it's time to delve deeper into discovering Sydney's best ferry experiences.
One of the things I've come to appreciate is the importance of sustainable tourism. By exploring lesser-known ferry destinations, we can contribute to the preservation of these hidden gems. These destinations may not be as popular as the well-known spots, but they offer unique experiences and a chance to support local businesses.
From secluded beaches to charming waterfront villages, Sydney's lesser-known ferry destinations have a lot to offer. So, hop on a ferry, embrace the spirit of adventure, and uncover the hidden treasures that Sydney has to offer.
It's time to explore the untapped beauty of Sydney's best ferry experiences.
Frequently Asked Questions
What Are Some Other Popular Day Trips for Sydneysiders Besides Manly Beach?
Some popular day trips for Sydneysiders include Mosman Bay and Watsons Bay. Mosman Bay offers a tranquil walk and a visit to the nautical-themed Mosman Rowers Club. Watsons Bay is known for Doyles Restaurant, a romantic spot with stunning harbor views.
Can You Reserve Seating at the 16 Foot Skiff Club at Manly Beach if You Are Not a Member?
No, you cannot reserve seating at the 16 Foot Skiff Club at Manly Beach if you are not a member. However, there are other great Sydney ferry routes and non-member access to clubs.
What Is the Nautical Theme of the Mosman Rowers Club?
The nautical decor at the Mosman Rowers Club creates an immersive experience. It's like stepping into a maritime museum with pictures of rowing teams lining the walls. And if you're looking for delicious seafood, you can't go wrong with the popular dishes at Doyle's Restaurant.
Are There Any Vegetarian Options Available at Doyles Restaurant in Watsons Bay?
Yes, Doyle's restaurant in Watsons Bay offers a variety of vegetarian options to cater to different dietary preferences. The availability of vegetarian dishes ensures that there is something for everyone to enjoy at this iconic Sydney restaurant.
Are There Any Discounts Available for Using an Opal Card for Ferry Transport in Sydney?
Yes, there are Opal card discounts available for ferry transport in Sydney. It's a great way to save money while exploring the city's beautiful harbors. Take advantage of the discounts and enjoy the scenic views.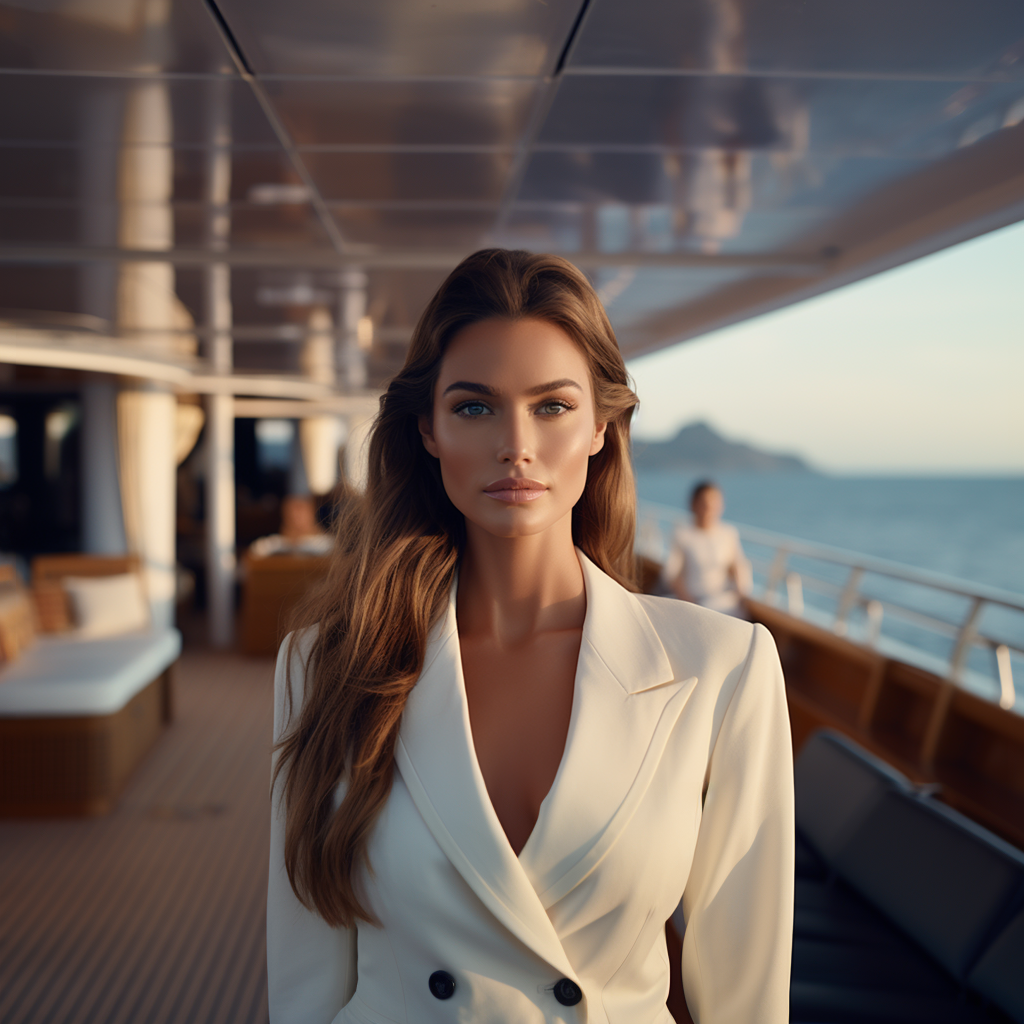 Claire, a creative soul with an unquenchable thirst for storytelling, is an integral part of the Voyager Info team. As a dedicated writer, she weaves captivating narratives that transport readers to enchanting cruise destinations and beyond.
Claire's love affair with writing began at an early age when she discovered the magic of words and their ability to craft worlds and emotions. Her innate curiosity led her to explore various literary genres, but it was travel writing that truly captured her heart. Drawing inspiration from her own globetrotting adventures and encounters with diverse cultures, Claire embarked on a journey to become a travel writer par excellence.